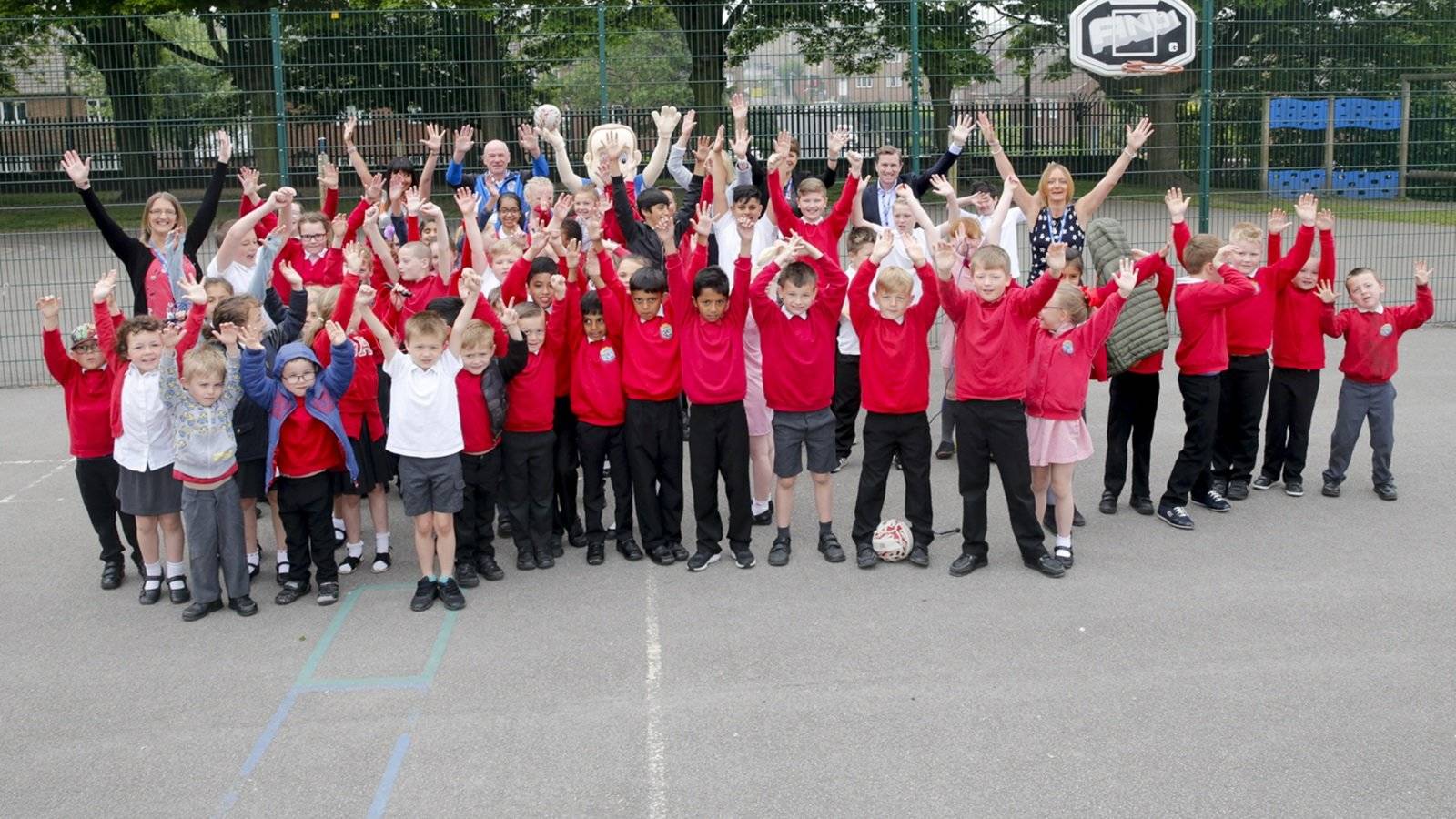 22 May

One Million Breakfasts Served As Another Club Opens

The Huddersfield Town Foundation served its one millionth breakfast on Monday 21 May 2018, whilst opening its 28th 'Early Kick-Off' Breakfast Club at Healey Junior, Infant and Nursery School.

The campaign aiming to provide children all over Kirklees and the surrounding area with a nutritious and healthy start to the day hit this magnificent landmark as the Breakfast Clubs continue to expand.

At the launch, pupils from Healey JI & Nursery School arrived at 8am to get their free, delicious breakfast and were met by Captain Booth, who was very popular with the youngsters!

As they ate, the children played with lego and chatted with Town Foundation staff about their forest school and their favourite subjects; one of which was the SSE Wildcats Football Club hosted by Foundation Coach Ruby Marlow.

Following breakfast, the school children played football with Town Chairman Dean Hoyle as well as basketball and skipping! Captain Booth also took part in the activities.

In attendance at the Breakfast Club launch were members of the Town Foundation team and trustees including Dean Hoyle along with Jeanette Cartwright from Kirklees Catering.

Huddersfield Town Foundation's Operations and Events Manager, Julie Sheffield commented:

"It's an absolutely magnificent achievement for us to serve our one millionth breakfast to children in local schools and it couldn't have come at a better time as we launched our 28th 'Early Kick-Off' Breakfast Club at Healey Junior, Infant and Nursery School.

"We have seen a lot of interest in the Breakfast Clubs from schools in Kirklees and the surrounding area and launching this one today, once again, shows us how big of an impact this scheme is having on the local community.

"The children had great smiles on their faces and were full of energy, ready to start their day.

"I'd like to thank everyone involved in the Town Foundation from the trustees, staff and partners for their time and continued support with the breakfast clubs."

Town's Chairman Dean Hoyle, alongside his wife Janet, set-up the 'Early Kick-Off' Breakfast Club in 2012, with a clear idea of helping young people in Huddersfield and the wider community.

Since the original launch in October 2012, the Breakfast Clubs have grown from strength to strength now working with 28 different schools to provide children with a nutritious healthy breakfast.

The Town Foundation has now served one million breakfasts to children in the local area, making a big difference to the lives of many.

Should you wish to learn more about the Huddersfield Town Foundation, please email Julie on julie.sheffield@htafc.com or call 01484 503773.