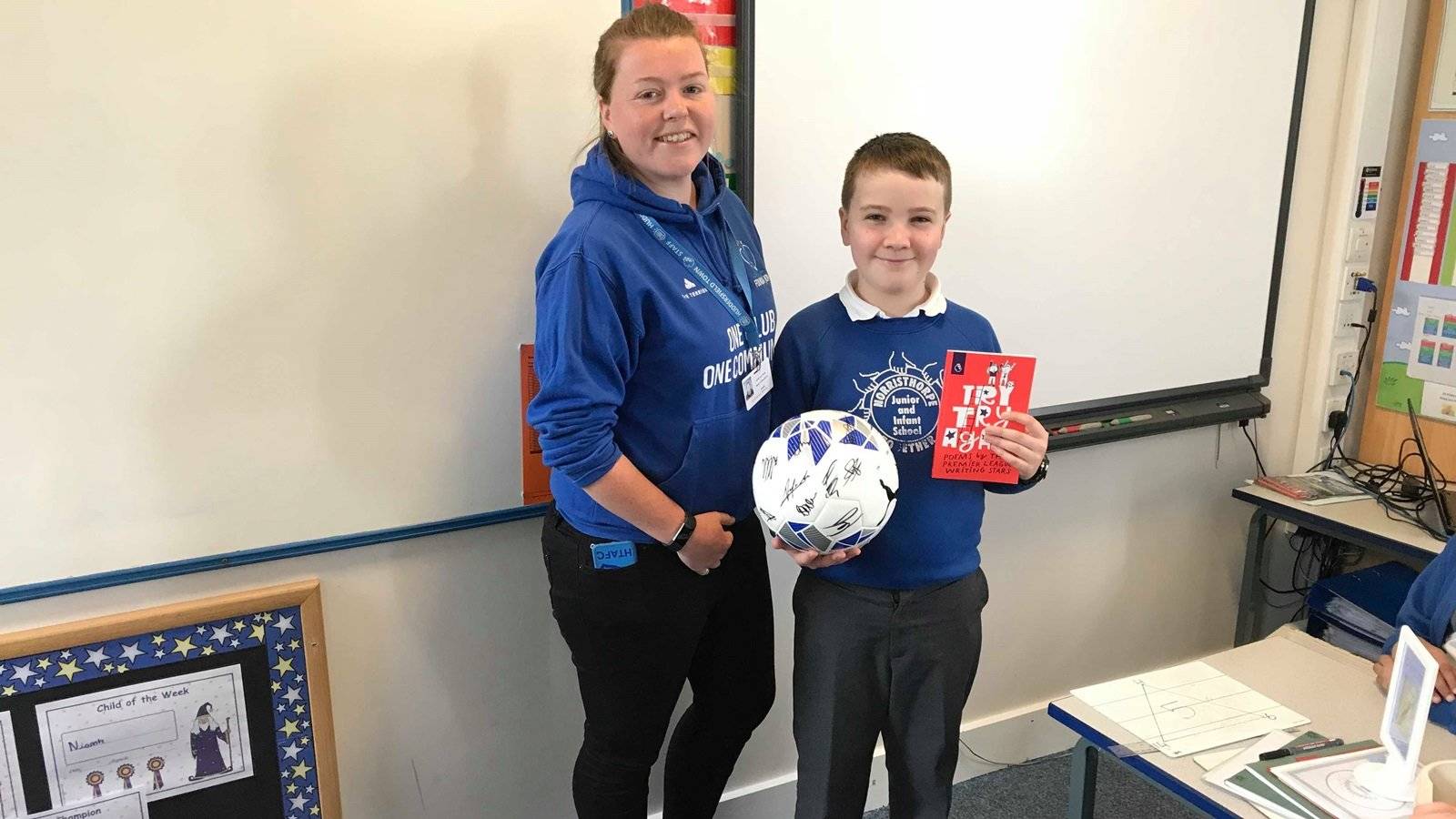 29 May

Young Supporter Wins Poetry Competition

A Year 6 student from Norristhorpe Junior & Infant school was named the Key Stage 2 Regional winner of the Premier League Writing Stars competition.

Young student, Thomas, was one of over 25,000 other pupils from across the country to submit an entry directly to the Premier League and is the second Yorkshire and Humber regional winner to come from Kirklees this year.

The competition, ran by the Premier League, challenged students up and down the country to write a poem about this year's key theme of 'Resilience'.

After being named as a winner in Yorkshire, Thomas, was met by the Town Foundation's Head of Education Katie Suttron, who presented him with a ball signed David Wagner's First Team squad and the book his poem was published in, which had been signed by his favourite player Jonas Lössl.

Thomas was the second lucky student in the Yorkshire region to win a Premier League Writing Stars prize as Key Stage 1 student William Quinn of Netherton Infant and Junior School also won a prize.

The winning poems featured in an illustrated book comprising of all the other Premier League Writing Stars winning poems from different regions including thoe of the National winners.

Katie Suttron, Head of Education for the Town Foundation commented:

"I would like to say well done to Thomas for writing such a fantastic poem; it's a great example of what can happen when you work hard!

"With 'Resilience' being an important part of the fabric of Huddersfield Town, it was great to see one of our supporters recognised for his writing on this subject.

"You could see the delight on Thomas' face when he received a signed ball and the book signed by Jonas. I'm sure it'll be a moment that he will never forget."

If you would like to learn more about the Premier League Primary Stars programme visit www.PLPrimaryStars.com or contact the Town Foundation's Primary Stars Coordinator adam.davies@htafcfoundation.com.