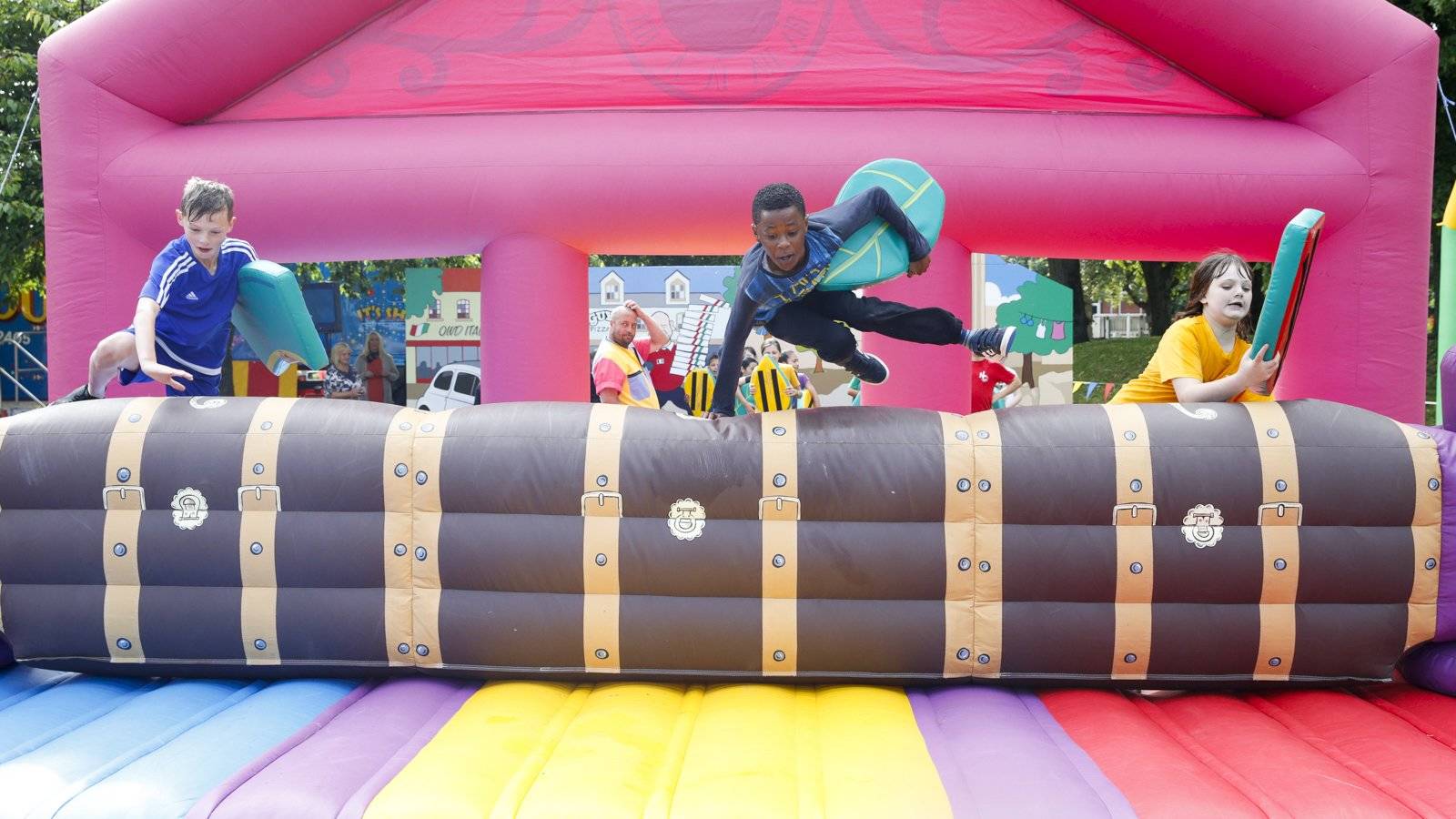 20 Jun

Local Children Enjoy Its A Knockout Event

The Town Foundation hosted its annual Graham Fisher's Wet & Wild 'It's a Knockout' competition on Wednesday 13 and Friday 15 June 2018 at Leeds Road Playing Fields.

This year saw 23 local schools pit against one another for the winning trophy in teams of 10 pupils from their year five & six classes.

The invited schools were already involved with the Foundation in some capacity on initiatives such as the Breakfast Clubs, The Primary & Reading Stars programmes and the Lunchtime and After-School coaching sessions.

The children navigated over a variety of different fun & wild obstacles such as Cross the Railway Station to build the Poison Ivy, around the world in 80 days to fuel the hot air balloon & took a ride on the wild mouse.

Three teams battled it out for gold, silver and bronze in the hour-long individual races and were awarded points that would add-up to determine an overall winner.

Even the teachers helping out got involved, with all of them getting soaked head-to-toe, and most of them not having a spare change of clothes!

Each session ended with a giant conga erupting and the winning schools collecting their trophies.

Huddersfield Town Foundation's Operations and Events Manager, Julie Sheffield commented:

"What a fantastic couple of days of fun we had on our second Schools 'It's a Knockout' event!  "It's great that we can put on events like this one and see the smiles on the kids' faces for what was a couple of days of unrivalled fun!

"I would also like to say a massive thank you to Graham Fishers It's a Knockout Team who stayed and extra day for the kids due to Storm Hector!"

"This is one of a number of exciting events put on by the Town Foundation. If you would like to get your school involved with the Foundation and join in with events like this, please don't hesitate to get in touch."

If you want to know more about this or any other of the fantastic Town Foundation initiatives, please contact Julie Sheffield on Julie.sheffield@htafc.com or 01484 503773.