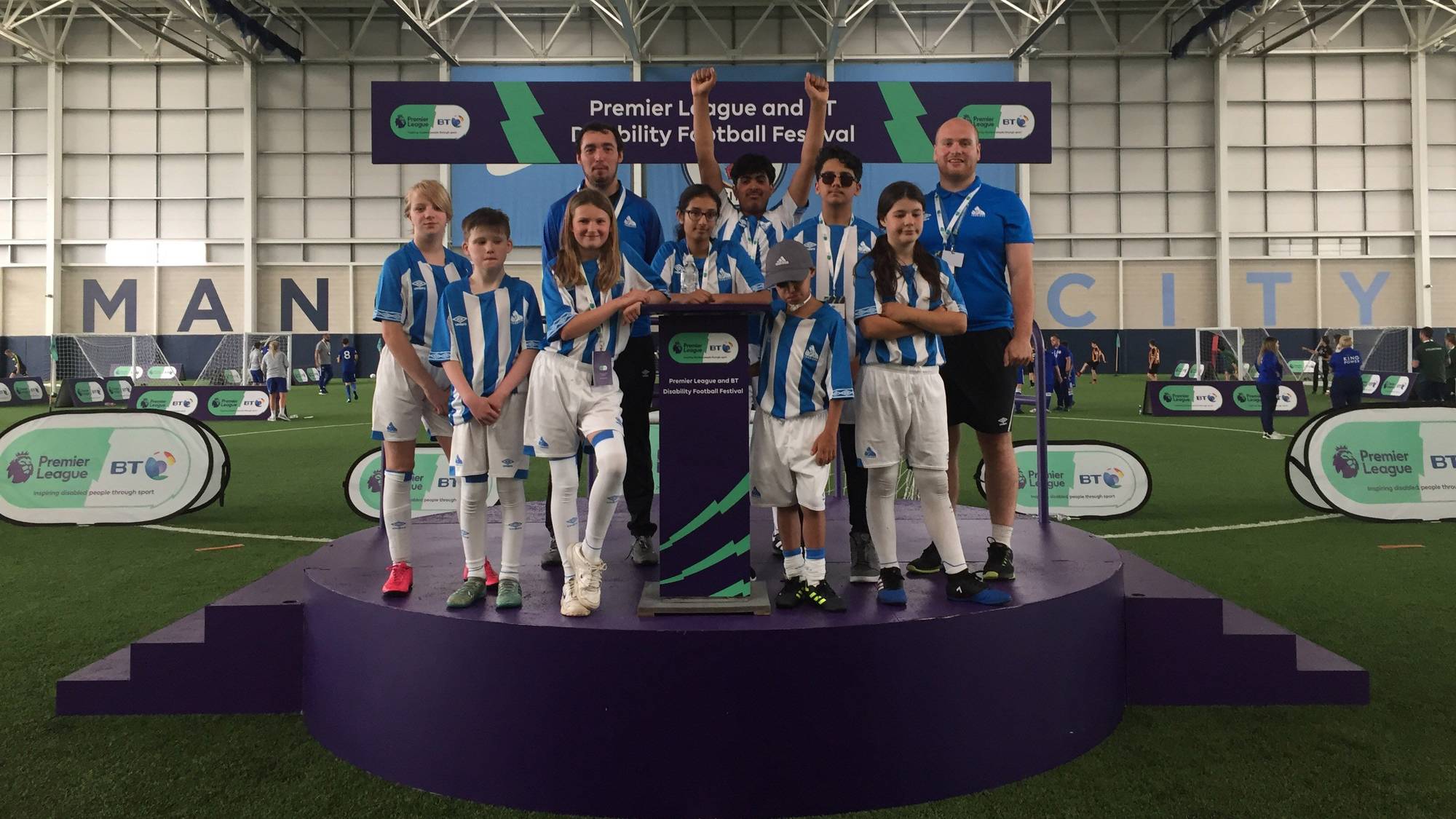 24 Jul

Town Foundation Disability Team Attends Football Festival

The Town Foundation took a disabled football team to the Premier League & BT Disability Football Festival held in Manchester on Tuesday 17 July 2018.

4 girls and 4 boys under the age of 16 made up the team, with some of their disabilities including visual impairment, hearing impairment, learning disabilities and dual needs – a combination of disabilities.

Jake Humphreys & Abi Stephens hosted the event welcoming special guests John Hartson and Joleon Lescott along with Freestyler Liv Cooke – who is the world's youngest freestyle champion at just 18.

Players enjoyed a range of activities across the day including a skills station that tested their dribbling, shooting, turning, tricks & flicks and teamwork skills.

The team was then put into a group along with Manchester City, Aston Villa and Spurs – giving them the chance to put their skills into practice in a football tournament.

They won their first game against Spurs 6-0 before being unlucky to lose against Aston Villa and Man City in the other two games.

The players then got the chance to have their photo with the prestigious Premier League Trophy, wrapping up a fantastic day enjoyed by all!

Isaac Keighley, Disability Coordinator at The Town Foundation commented:

"To be able to access events like this is fantastic and each member of our team had a brilliant day out; whilst being able to develop their football skills.

"It was great to see so many smiles on faces and everyone enjoying themselves. It was also great to see people being able to communicate through sign language with each other from different teams and the social interactions.

"On our way back after the event each member of our team stated how they had enjoyed the day and how they would love to be able to attend a similar festival in the future. There will be a lot more disability sport sessions hosted by the Foundation for people of all ages, so keep your eyes out for these"

The Town Foundation aims to improve the quality of life for people across Huddersfield & the West Yorkshire area and being able to engage with events like these are just one of a number of ways they look to achieve this.

For more information please email Isaac.keighley@htafcfoundation.com.