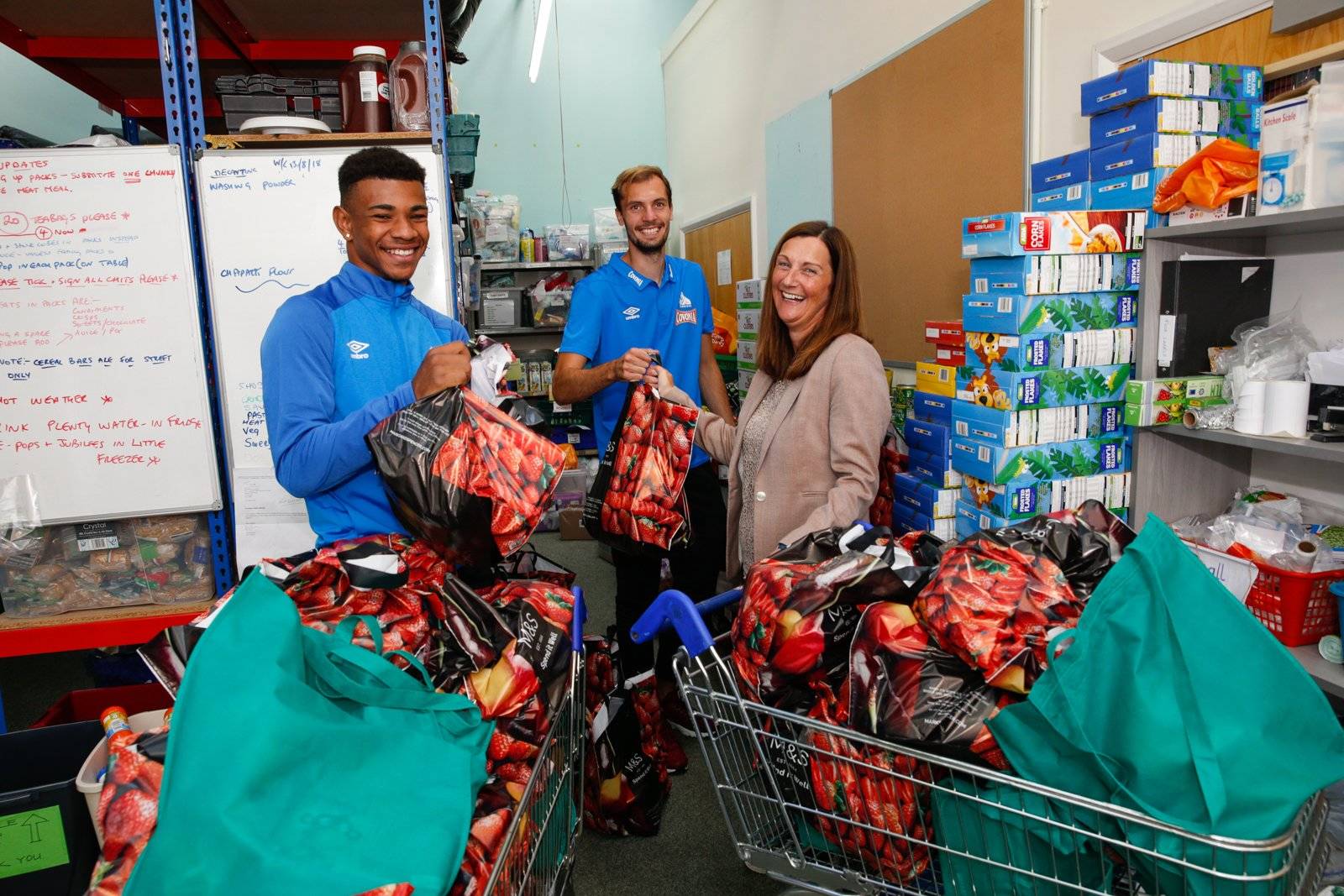 20 Aug

Town Players See Impact Of Local Foodbank Initiative

Two members of Huddersfield Town's First Team squad paid a visit to a local foodbank to see the impact of generous donations from Town supporters through the 'Fans for Foodbank' initiative.
Summer recruit Juninho Bacuna & weekend goal scorer Jon Gorenc Stanković visited The Welcome Centre on Lord Street to see, first-hand, the work that the Foodbank does to support those in need in the local community.
Trustees Janet Hoyle and Caroline Lee were also in attendance as the players spent time in the warehouse helping to package food parcels to be distributed to local families in need; comprising of staple foods such as cereal, beans, pasta and cans of tuna.
The summer holidays present a challenge for parents having to source two additional meals each day that would normally be catered for using initiatives such as Free School Meals and the Town Foundation's Breakfast Clubs during term time.
The Welcome Centre has seen an increase of around 50 food parcels being collected during the summer holidays each day this is in addition to the 40 already distributed during term time.
Huddersfield Town supporters continued from last season to support 'Fans for Foodbanks' and clubbed together at the first home game to make donations. Branded wheelie bins were placed around the John Smiths Stadium for fans to make their contributions. The

donations from that first game went into the family food parcels distributed by the Welcome Centre.
Janet Hoyle, Trustee at the Town Foundation commented:
"The food packs are going out to local children who are entitled to free school meals and might struggle to have a good meal during the school holidays.
"The Foundation runs Breakfast Clubs in and around Huddersfield and they are needed. The children who get fed at school sometimes don't get the same support at weekends, so come the holidays they need that extra bit of help.
"We like to get involved to help people wherever we can, and this joins us together with the supporters who love to help. We currently do foodbank collections, we also sell food vouchers via our club shop for people to give to those who are homeless, and we look to do as much as we possibly can."
The Fans for Foodbanks Campaign run by the Town Foundation & HTSA saw over 2,000 donations made by Huddersfield Town supporters last season and the aim is to continue to support this throughout the 2018/19 Premier League campaign.
Don't forget to bring your contributions to Saturday's game against Cardiff City and look out for the donation stations around the ground.