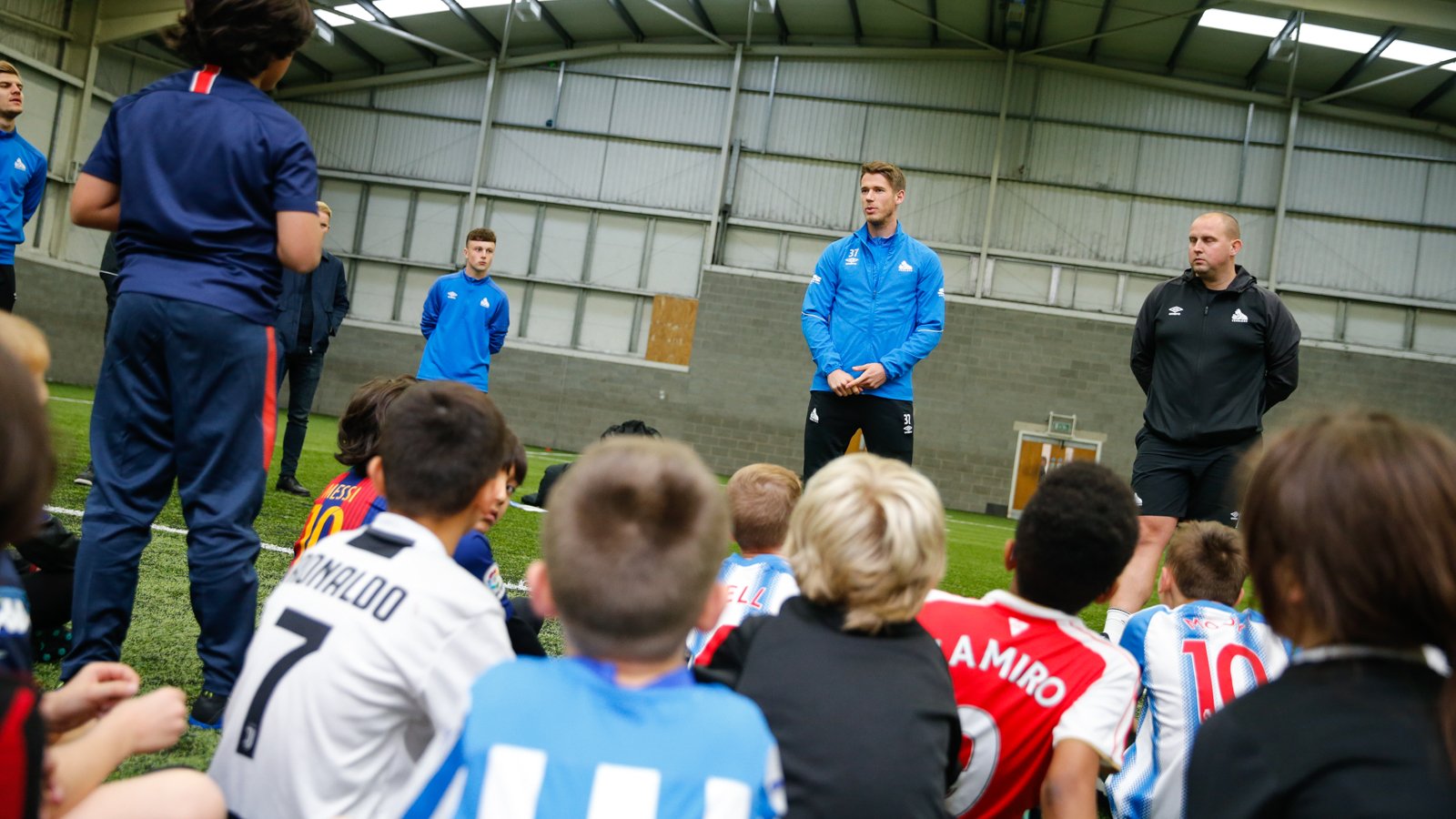 02 Nov

Erik Durm Visits Tomorrows Terriers

Huddersfield Town defender Erik Durm surprised the children at the Town Foundation's Tomorrow's Terriers Football Camp on Friday 2 November 2018.

Erik made a special trip to see the youngsters and to offer them incredibly valuable advice during the football session.

The World Cup winner saw the excellent work that the Town Foundation coaches were doing before having selfies and signing autographs for the youngsters who took part in the football camp.

That means in the space of a week, children attending the camps have met Head Coach David Wagner and Erik Durm! You never know who else you'll meet!

Tomorrow's Terriers is a Football Development Programme delivered by The Huddersfield Town Foundation in partnership with Kirklees Active Leisure (KAL).

The Tomorrow's Terriers sessions are the perfect way for your child to have fun, learn new skills and keep active, as well as being part of the community.

Each session consists of different skill games to improve passing, shooting and running with the ball before going into matches and tournaments.

These sessions run weekly throughout the year, you can find your nearest session in the table below:
Day

Venue

Time

Ages

Monday

Leeds Road Sports Complex

HD2 1YY

5pm-6pm

4*-13 -year olds

Monday

Dewsbury Sports Centre

WF12 8EN

5.30pm-6.30pm

4*-13 -year olds

Tuesday

Huddersfield Leisure Centre

HD1 4BP

5.30pm-6.30pm

4*-13 -year olds

Thursday

Colne Valley Leisure centre HD7 5AB

3.50pm-4.45pm (4-7 years only) & 4.50pm-5.45pm (7-13 years only)

4*-13-year olds

(Places are limited)

Saturday

Batley Sports and tennis centre

WF17 0QD

9am-10am

4*-13 -year olds

Saturday

Dewsbury Sports centre

WF12 8EN

11am-noon

4*-13 -year olds
*Please note all 4 – year olds attending must have started school
Tomorrow's Terriers Football Camps run in all school holidays. Our next camp will take place on the 2, 3 and 4 January at Leeds Road Sports Complex from 10am – 3pm, prices start from as little as £10 per day.
To book your place call KAL on 01484 766131 or visit www.kal.org.uk.