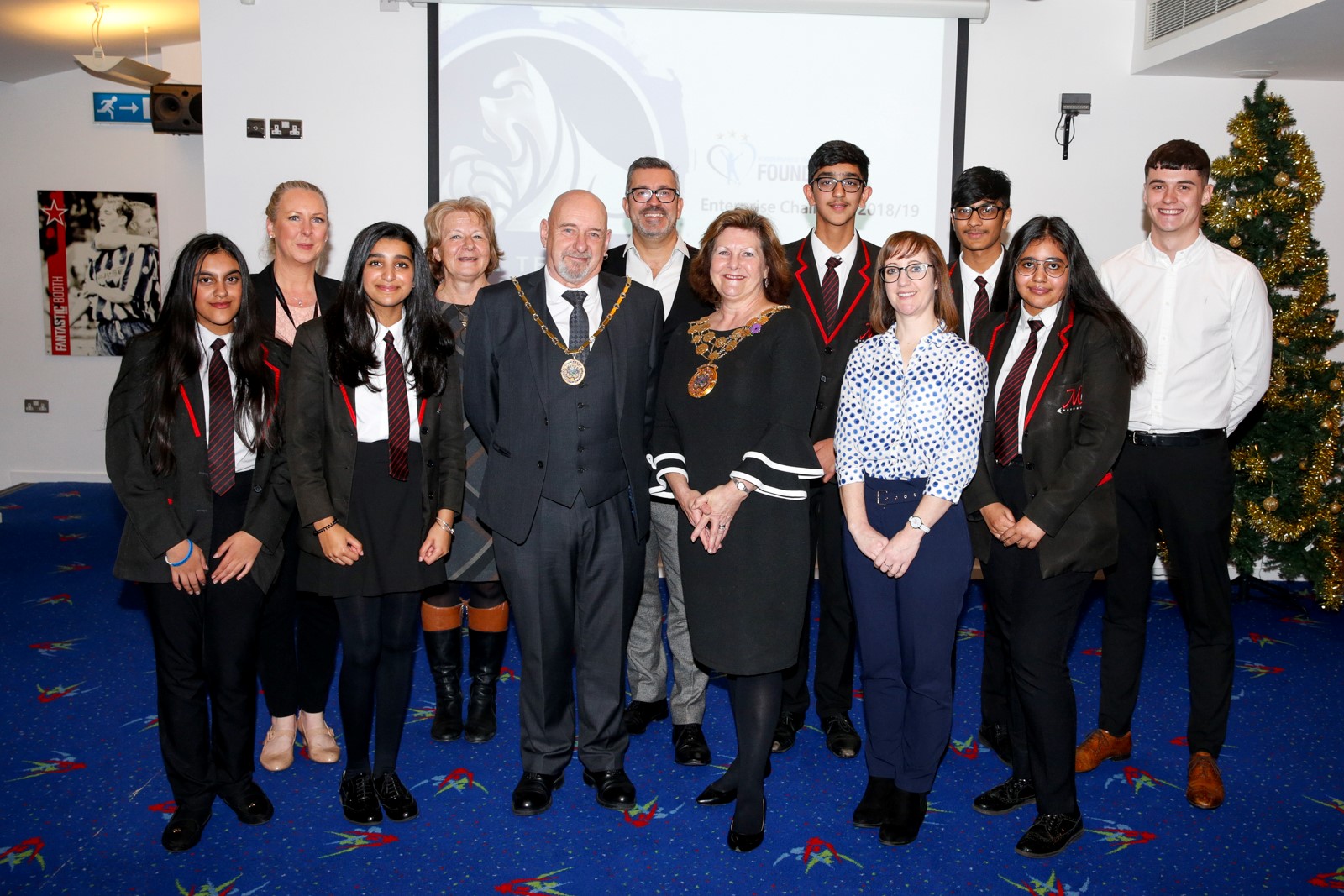 10 Dec

Local Schools Compete In Premier League Enterprise Challenge

Moor End Academy will represent Huddersfield Town in the Enterprise Challenge
Six schools across Kirklees competed to win over a panel of four judges
Judges included Huddersfield Town's Commercial Director Sean Jarvis
Students# business acumen challenged by Richard Scudamore
The Huddersfield Town Foundation carried out the Premier League Enterprise Challenge Club Heats on 6 December 2018 at the John Smith's Stadium.
The day saw students from Westborough High School, Salendine Nook High School Academy, Newsome High School, Moor End Academy and North Huddersfield Trust School compete against each other to decide how best to engage more 18-23-year-olds with Huddersfield Town's match days.
Students were invited to spend the morning attending workshops delivered by local organisations and businesses including C&K Careers, University of Huddersfield, KAL and Earnest & Young LLD, who offered students a range of career and employment advice post-school.
Each school is part of the Town Foundation's newly implemented Steps to Success Programme, and mentor Adam Lunn told us how the Enterprise Challenge benefits the Town Foundation.
"It strengthens the links between local secondary schools across Kirklees and our link with Huddersfield Town and wider businesses.
"It gives students the opportunity to come up with an idea that is beneficial on a much larger scale. It's a community club and the local community coming together."
After a lot of deliberating from the judges Moor End Academy was successful in winning them over and progressing to the next stage.
Huddersfield Town's Commercial Director, Sean Jarvis, wanted to make it clear that choosing a winner wasn't a straight forward decision.
"It was a really tough decision, and I know now how Theresa May feels when it comes to Brexit!
"It could have gone to each and every one because in every presentation that was made there was a real positive.
"There was just one school that edged it a little bit and did that tiny bit more to answer the brief in a way that we felt was right, and so they were the ones that actually went on to win. On another day, with another day's work, any of the other five could have won!"
Moor End Academy will represent Huddersfield Town and go onto the Play-Offs to compete against schools from Blackpool FC, Burnley FC, Hull City FC and Manchester City FC on Wednesday 23 January 2019 which will be held at Huddersfield Town in the Fantastic Media Suite at John Smith's Stadium.
For more information about PL Enterprise Challenge, please visit our website https://www.htafcfoundation.com/ and/or contact adam.lunn@htafcfoundation.com.