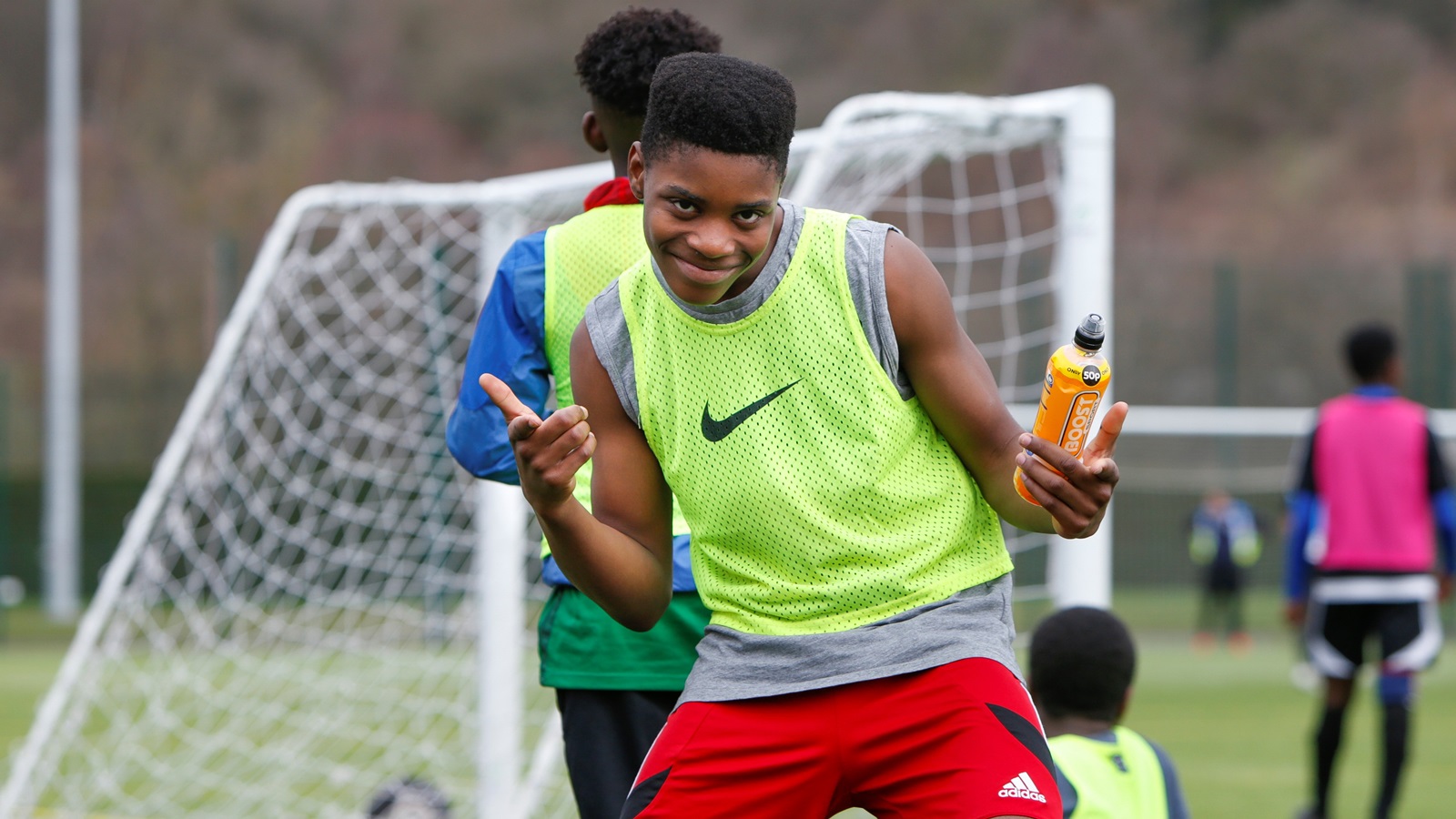 21 Dec

TOWN FOUNDATION'S KICKS PROGRAMME INSPIRES YOUNGSTER

The Huddersfield Town Foundation's Premier League Kicks programme is making a real statement by inspiring youngsters across Kirklees.

The Premier League Kicks programme provides young people aged between eight and 19 with the opportunity to get involved in free football sessions.

During the multi-sport sessions, educational workshops and the youth voice sessions, the youngsters from different backgrounds and communities are encouraged to come together.

The Kicks programme also provides the youngsters with opportunities including; match day tickets, player visits, stadium tours, museum trips, excursion trips and voluntary roles.

14-year-old male participant Amari David is a regular at the Town Foundation's Kicks sessions. The youngster was born in Huddersfield with Caribbean parents from Jamaica and Trinidad & Tobago.

Amari found out about the Kicks programme through a flyer given to him by a friend and has enjoyed the sessions ever since.

"I love that the sessions are free. Alfie (Kick Coordinator) has shown belief in me and really helped me develop as a goalkeeper," said the 14-year-old.

"I have met some new friends and I have gained personal skills which I have used in school."

Amari has been selected for several competitions and events including: Doncaster Regional Kicks competition; Kumon Y'all Tournament; Unified Festival; Kicks vs Sheffield United and the National Football Museum Tour.

Alfie Butwell, the Town Foundation's Kicks Coordinator has commented:

"Amari is a great role model to his peers. Kicks has allowed Amari to understand that there are alternate paths for him to follow where he can succeed.

"He has grown as an individual with the support of our coaches and is now making good decisions for himself and encouraging people around him to do better.

"We enjoy his presence at all the sessions he attends."

The 14-year-old aspires to become a professional footballer but understands the challenges he may face. His back-up plan is to be a football coach or a chef, and the Town Foundation is helping him to assist that by placing him through a volunteer process to gain experience and to complete his Youth Football Leaders' Award.

The Huddersfield Town Foundation will continue to support Amari in making steps towards his future.

Janet Hoyle, Trustee to the Huddersfield Town Foundation is in full support of the programme and commented:

"As a Trustee, I'm delighted to see the transformative impact on individual lives offered by the Town Foundation in partnership with the Premier League, through opportunities for young people to engage in their communities."

To find out more about the Town Foundation's Premier League Kicks programme please contact Alfie Butwell via 07741 671064 or alfie.butwell@htafcfoundation.com.