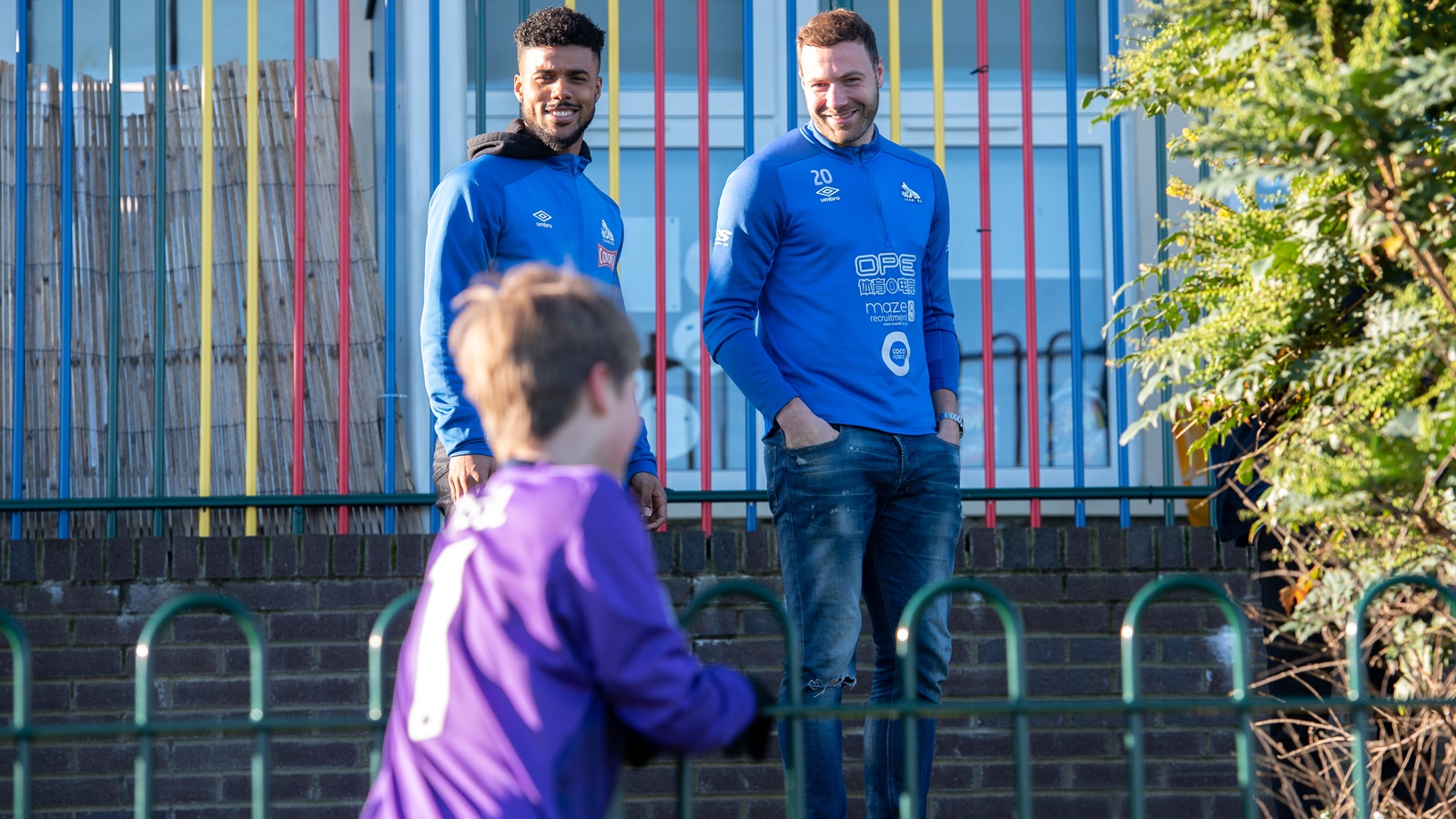 15 Feb

TOWN FOUNDATION GIVES PREMIER STAR JONNY A DAY TO REMEMBER

Some special guests from Huddersfield Town visited a young fan Jonny at Southgate SEN school.

BT arrived to film the progress of Jonny, who has been participating in revolutionary sessions improving numeracy and literacy via football, facilitated by the Huddersfield Town Foundation.

The Huddersfield Town Foundation provide one on one Premier Stars teaching to boost Jonny's literacy and numeracy skills utilising the power of football, particularly Huddersfield Town.

A typical session lasts between 45-60 minutes and begins with Jonny reading a biography of a Huddersfield Town player of his choice.

Additionally, he also used the numbers of numerous players to answer different numeracy questions. For example, Schindler + Kachunga =. Jonny would have to write down both Schindler and Kachunga's number before working out the answer to the question.

The final bit of classwork would be to write a match report for the previous game, with an emphasis on the attendance, the team news, the goal scorers before providing a summary of the game. In the free time remaining, Jonny plays football with the Huddersfield Town Foundation coaches.

However, the session on 17 January 2019 was a special one for Jonny as he shone in front of BT Sport cameras, joined by Laurent Depoitre and his personal hero, Elias Kachunga.

In the session prior, Jonny interviewed the Huddersfield Town players – these questions included 'what is your favourite away ground?', 'who is the toughest player you have played against?' and 'how do you feel when the fans sing your name?'.
The next surprise for Jonny was a framed signed shirt from Elias and Laurent which he was very happy with, and quickly began identifying each players signature.
Jonny then had the chance to ask the players for a photograph and autograph, before he went out to the field to play football with the Huddersfield Town Foundation coaches, inspired by his meeting with his heroes. This was his chance to showcase his skills and play a 10-minute match against the coaches. Like most weeks, Jonny finished the session on the winning side and as the top goal scorer.
Overall, this was a brilliant day, with Jonny's favourite part of the day being 'meeting the players and asking them questions', before saying it was 'the best day of his life'. Jonny's Mother, Rachel, highlighted how 'he'll (Jonny) remember this day for the rest of life and his self esteem has been given a huge boost!'.
Town Foundation's Disability Co-Ordinator commented:
"The proudest part for me is the fact that he wrote me and the other Huddersfield Town Foundation coaches a Christmas card, I didn't realise this at the time, but his Mum told me this was the first time Jonny had written in 6 months and he wanted to write it."
Watch the full BT Sport documentary below on #HTTV!