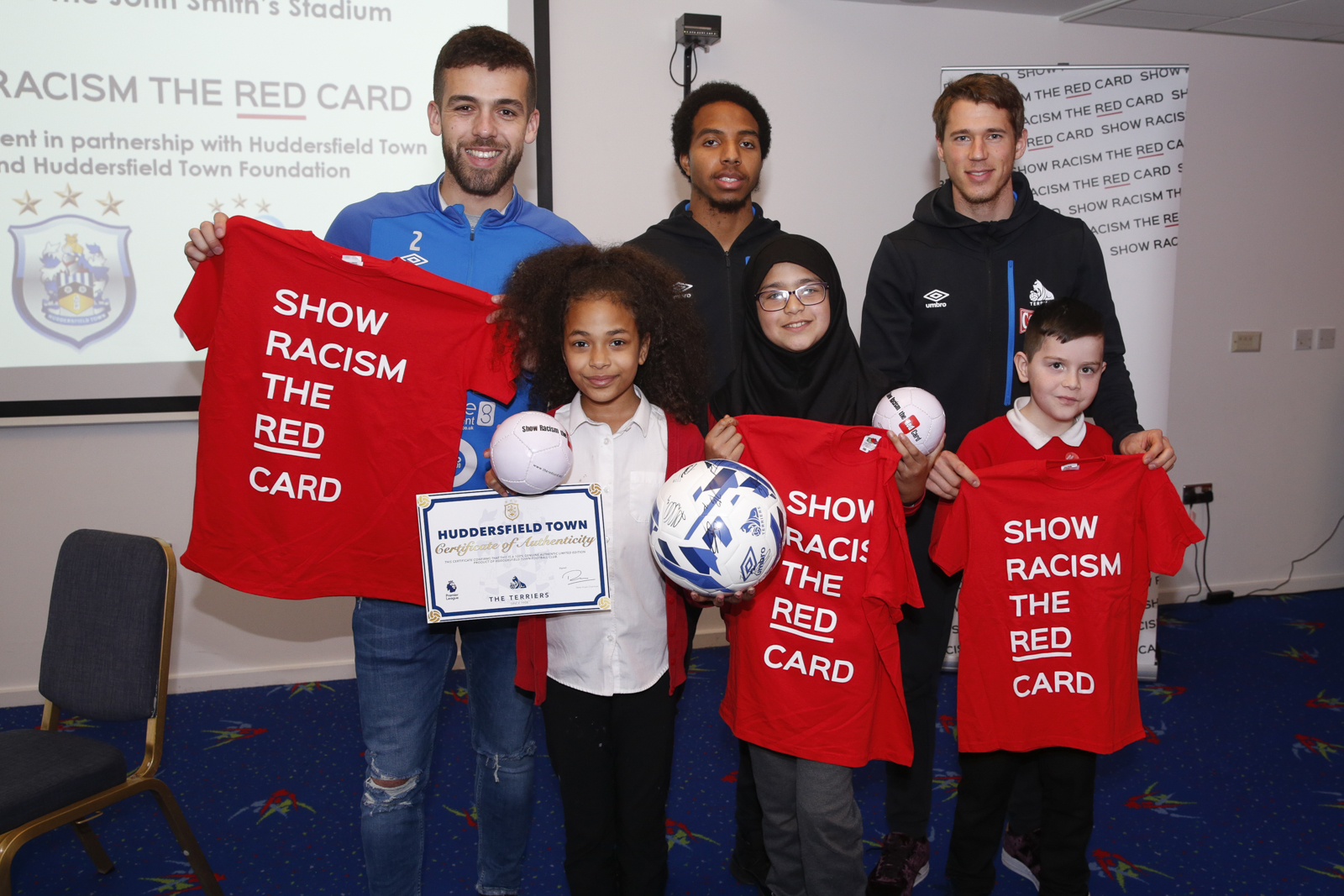 13 Mar

TOWN FOUNDATION HOLDS SHOW RACISM THE RED CARD EVENT

90 pupils were thoroughly engaged at the Huddersfield Town Foundation's educational 'Show Racism the Red Card' event held at the John Smith's Stadium on Thursday 7 March 2019.

Howard Park Community School, Healey Junior and Infant School, and Skelmanthorpe Academy attended the event where pupils learned about identity, culture and racism.

The day kicked off with a tour of the John Smith Stadium, followed by a PSHE lesson provided by Abbi Andiyapan, Head of Inclusion and Health, and Katie Suttron, Head of Education and Sport, from the Huddersfield Town Foundation.

The 'One Club, One Community Against Hate Crime' lesson is designed to help the pupils explore and understand identity and culture. Within the lesson pupils explored the identities of celebrities such as Huddersfield Town defender Terence Kongolo as well as other well-known celebrities such as JK Rowling, Justin Bieber and Katy Perry. Pupils then explored their own identities before taking part in a task to help them understand the meaning of culture and the importance of embracing the multi-cultural society in which they live.

Watch a recap of the day on #HTTV!

The afternoon saw the pupils participate in a racism and stereotyping exercise led by Show Racism the Red Card campaign worker, Ben Holman.

Following the end of SRtRC's lesson, the pupils were surprised by three members of Jan Siewert's First Team squad!

Tommy Smith, Erik Durm, and Demeaco Duhaney all took to the stage, alongside Huddersfield Town Foundation's Head of Inclusion and Health, Abbi Andiyapan, for a Q&A on their experiences of racism.

The pupil with the best question of the day won a signed Huddersfield Town football provided by the Club. All attending pupils received a signed item from Town's First Team players and a goody-bag.

Ben Holman, from Show Racism the Red Card, highlighted why events like this are so important.

"For a lot of the young people it's the first time that they're having these conversations," said Ben.

"It's a really good age to speak to them because they're Year 5/6, so they're starting to create their world view when they start paying attention to the media and their parents and friends and they start developing their own views."

"It's just before they go to high school so it's a really good age to have conversations with them about what racism is and who they can report it to if they see it or if they experience it."

"We've had the players down as well which is part of the organisation's philosophy – initialising high profile footballers to pass on a positive message to young people and as you'll have seen in the room when the footballers are giving their advice and talking about their experiences the kids really listen, and we've found it a really powerful way to have these conversations with young people."

To find out more information or to get your school involved contact Huddersfield Town Foundation on 01484 503 773 or via email on abbi@htafcfoundation.com.