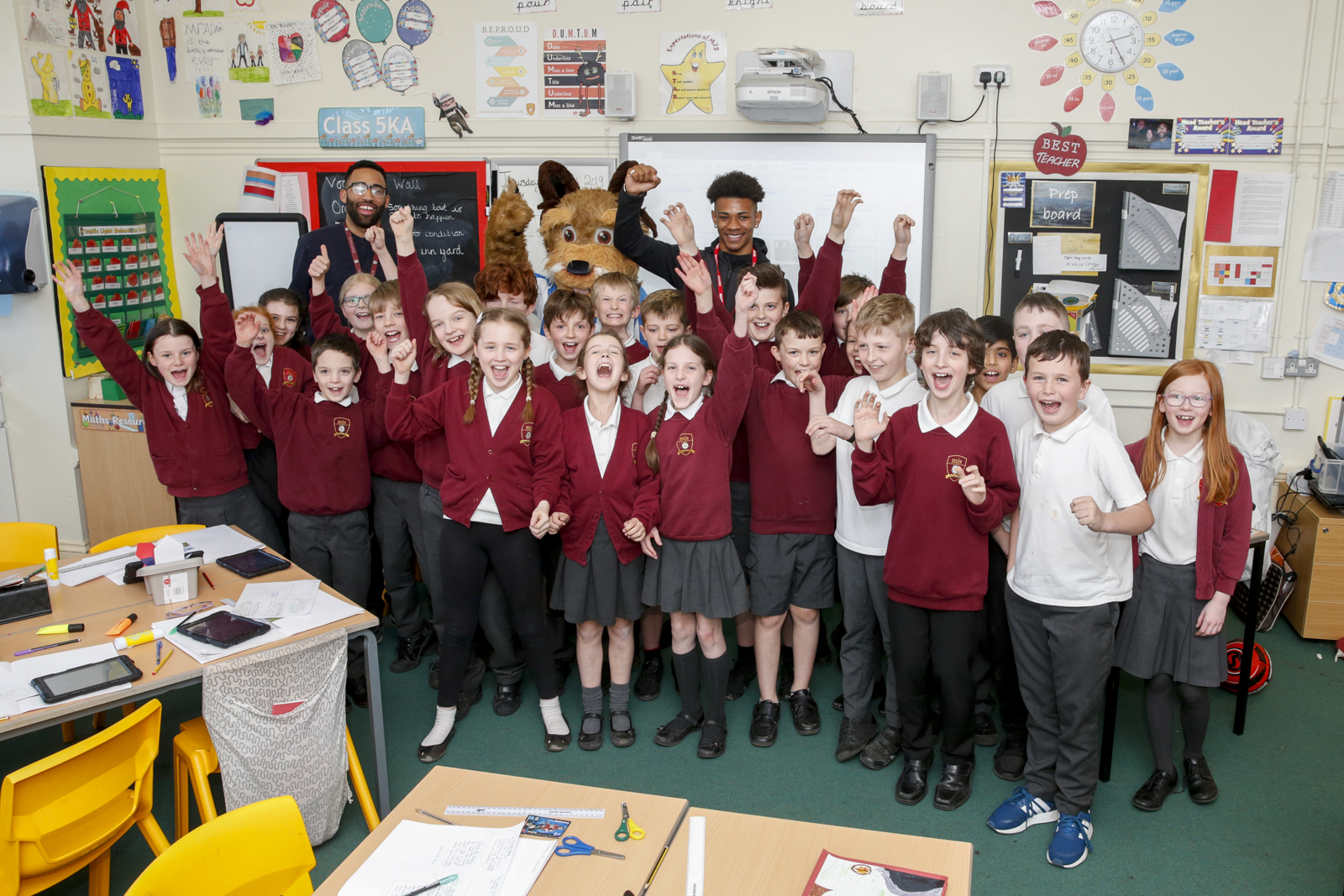 19 Apr

FIRST TEAM PLAYERS INVOLVED IN THE COMMUNITY

Players from the Huddersfield Town First Team went to inspire young children at two recent Town Foundation events.

Dutch midfielder Juninho Bacuna went to reward Marsden Junior School, the winning school of the Big Chant, along with Terry the Terrier.

Town's Jonathan Hogg and Florent Hadergjonaj and Huddersfield Town Ladies duo Laura Carter and Ella Harris surprised youngsters at the Tomorrow's Terriers holiday camp.

Young midfielder Juninho Bacuna surprised the victorious Year 5 pupils at Marsden Junior School after they were crowned Big Chant 2019 winner!

The Big Chant 2019 was a follow up event to the original launch last year as the conjunction with Musica Kirklees returned to school for its second year.

Schools and pupils were asked to take inspiration from the stands and come up with their own chant which thousands of fans at the John Smith's Stadium could sing along with.

Over 2,000 pupils took part in the event that was judged by David Threlfall Sykes (Head of Marketing and Communications for Huddersfield Town), Nick Dolling (Assistant Principal Musica Kirklees), Janet Hoyle (Town Foundation Trustee), and Katie Suttron (Head of Education and Sport for the Foundation).

Marsden Junior School was crowned overall winners and the midfielder gifted the school with a signed First Team football as well as posing for photos with the class and signing autographs.

The youngsters from the school will also be singing their chant live on the pitch during half-time at Town's Premier League game against Watford.

Here's the chant (to the tune of Ariana Grande's '7 rings'):

We've got Lossl, Mooy, Mounie, Jorgensen and Schlindler
Kongolo, Pritchard, Kachunga and Billing
These are the players and they make me sing
Huddersfield Town is my favourite thing!

HTFC
Blue and white army
The greatest town in history
We love you so, so dearly
HTFC we live and breathe

High Bank (Year 3), Crossley Fields (Year 4) and Linthwaite Clough (Year 6) were all crowned winners within their year groups, however it was Marsden who took the overall winner's prize.

The winning chants will be printed onto the fan clappers on Saturday so make sure you learn the tune and join in!

Speaking about the event, Katie Suttron said: "Once again this competition has shown just how talented the young people in Kirklees are.

"The Big Chant has helped to engage a new generation of Huddersfield Town fan, suddenly we have children who have previously had no interest in football singing about how great Huddersfield Town are and can name our players.

"I would like to thank Musica Kirklees for their continued support with this project."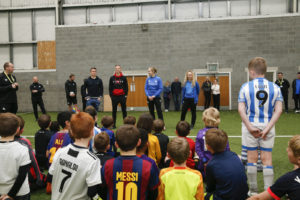 Meanwhile, Town players Jonathan Hogg and Florent Hadergjonaj visited the Huddersfield Town Tomorrow's Terriers Football Development Programme.
They were joined by Laura Carter and Ella Harris from Huddersfield Town Ladies and helped provide fun, engaging football sessions for children aged 5 to 13 years.
The kids were surprised with the visit and everyone took part in question and answer session, as well as posing for a picture as a group.
The sessions run during the school holidays to allow children to develop their football skills and make new friends in a fun and safe environment, so why not book a place with Tomorrow's Terriers at your local KAL facility.
To find out more about the Tomorrow's Terriers session, please CLICK HERE!