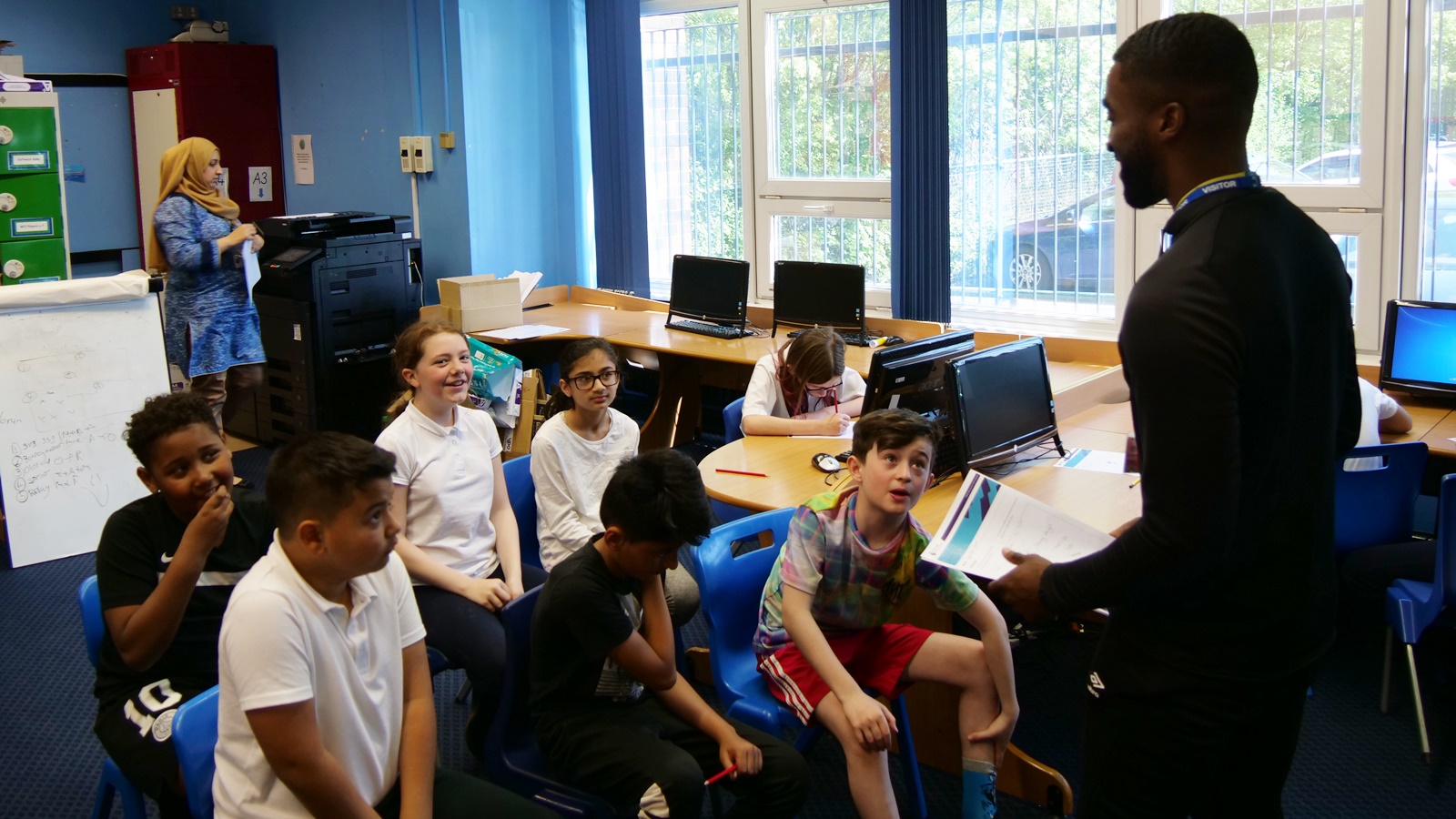 16 May

TOWN FOUNDATION DELIVERS CONFIDENCE-BUILDING SESSION

Town Foundation coaches went into a local primary school to deliver a PSHE lesson to a Year 5 class in support Mental Health Awareness Week.

Omar Bellafante-Sinclair is one of the Town Foundation's Coaches who works in schools across Kirklees delivery the Premier League Primary Stars project.

This week's lesson at Oak CE Primary's was focused on promoting self-esteem and confidence in line with the Mental Health Awareness campaign.

The lesson started with a discussion about self-esteem and how it how it impacts the children's perceptions of themselves. The talk then quickly moved onto what makes them 'feel good' which resulted in the children taking part in physical activity by way of some football practice outside on the playing fields.

Having got the children active and running around, it was back to the classroom for a group discussion about how they now felt having played sport. Almost all of the pupils agreed that they enjoyed being outside and active. Omar then brought up the question "why do you feel good?" to which the children mutually agreed that exercise is fun and brought their confidence levels up.

Then to reinforce the messages learnt within the lesson, the children then utilised the Premier League Primary Stars resources, completing a range of activities to embed the days learning.

The first task asked the children to draw someone around their own age and write around the outside about what makes them happy. Admittedly, 'food' was a common theme, but as were extra-curricular activities such as football and even going to Huddersfield Town matches!

The next activity asked for the KS2 class to draw themselves and write about what achievements they're proud of and how they have affected their confidence.

The session was then brought together with a final discussion about what they had learnt throughout the activities and what self-esteem and confidence now meant to them. By the end of the lesson, pupils seemed to be more aware of how they see both themselves and each other.

And of course, the lesson finished with a game of football outside in the glorious sunshine.

Omar and Foundation Apprentice, Tom Thornton, go into OAK CE Primary every Monday and Tuesday to deliver lessons such as this one following the guidelines set out by the Premier League Primary Stars programme.

The project was set up by the Premier League and delivered by professional football clubs aiming 'to inspire children to learn, be active and develop important life skills.'

If you would like more information on Premier League Primary Stars please visit www.plprimarystars.com or contact adam.davies@htafcfoundation.com for a discussion on how the Foundation can support your school.