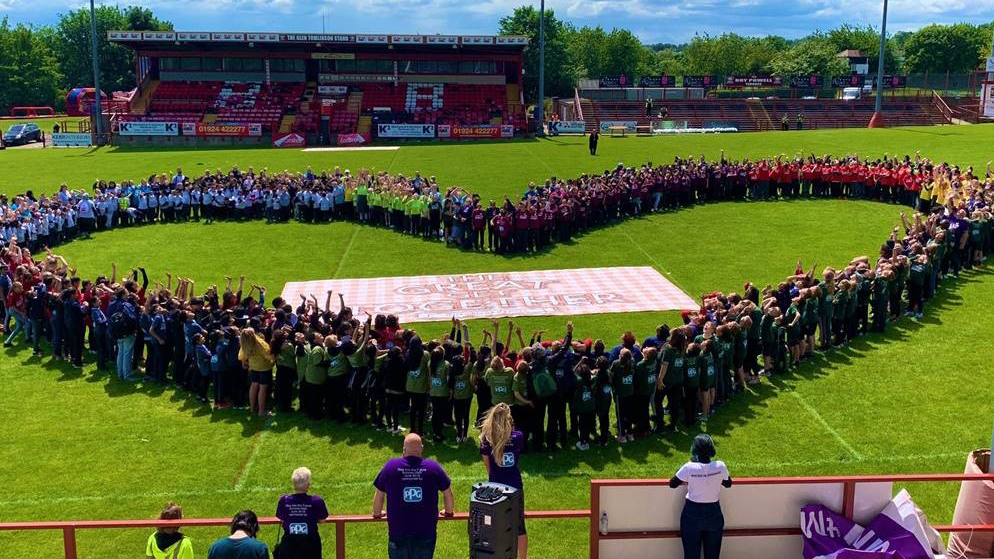 21 Jun

TOWN FOUNDATION HELPS KICK OFF THE GREAT GET TOGETHER!

The Town Foundation gave its full support to a school's 'Steps into the Future' event that launched the start of this weekend's 'Great Get Together'.

An amazing 1,000 children from 22 different schools descended on the Fox's Biscuits Stadium, home of Dewsbury Rams on Thursday 20 June 2019 for the launch event.

The 'Great Get Together' takes place this weekend and looks to boost community cohesion through the delivery of social gatherings. It's all organised to celebrate the life of MP Jo Cox on what would have been her 45th birthday.

Coaches from the Town Foundation delivered sports sessions aimed at getting children talking to one another, emphasising the important social element as part of the wider campaign.

There were three sessions taking place over the course of the day tasking the children to improve their teamwork and communication skills, whilst encouraging them to have a 'can do' attitude.

Total Food Service, who are a big supporter of the Town Foundation's Breakfast Clubs, also helped by providing the children in attendance with a free and healthy breakfast.

You can get involved in this weekend's great Get Together with details of two further FREE and fun family events to get involved with:

Heckmondwike Great Get Together – Saturday 22 June 2019
Location: Green Park (Centre of Heckmondwike)
Time: – 11am – 4pm

There will be a whole host of fun family activities such as live entertainment, den building, storytelling, amazing soap making with a twist, face painting, bouncy slide, stalls and an ice cream bike!

Run For Jo – Sunday 23 June 2019
Location: Oakwell Hall Country Park, Birstall
Time: 9am-4pm

Challenge yourself to a charity run with three different races taking place in honour of Jo Cox.

There are all sorts of other activities also taking place including music, surprises and a party at the finish line – along with food & drink stalls.

Four members of staff will be running 6.5k with a family fun run and mascot race also taking place throughout the morning.

You will also be able to make a donation to Batley Foodbank – so be sure to bring along a tin or two from the cupboards at home!

The Town Foundation will be be in attendance at both events handing out flyers that details all of the fantastic summer activities we have in store.