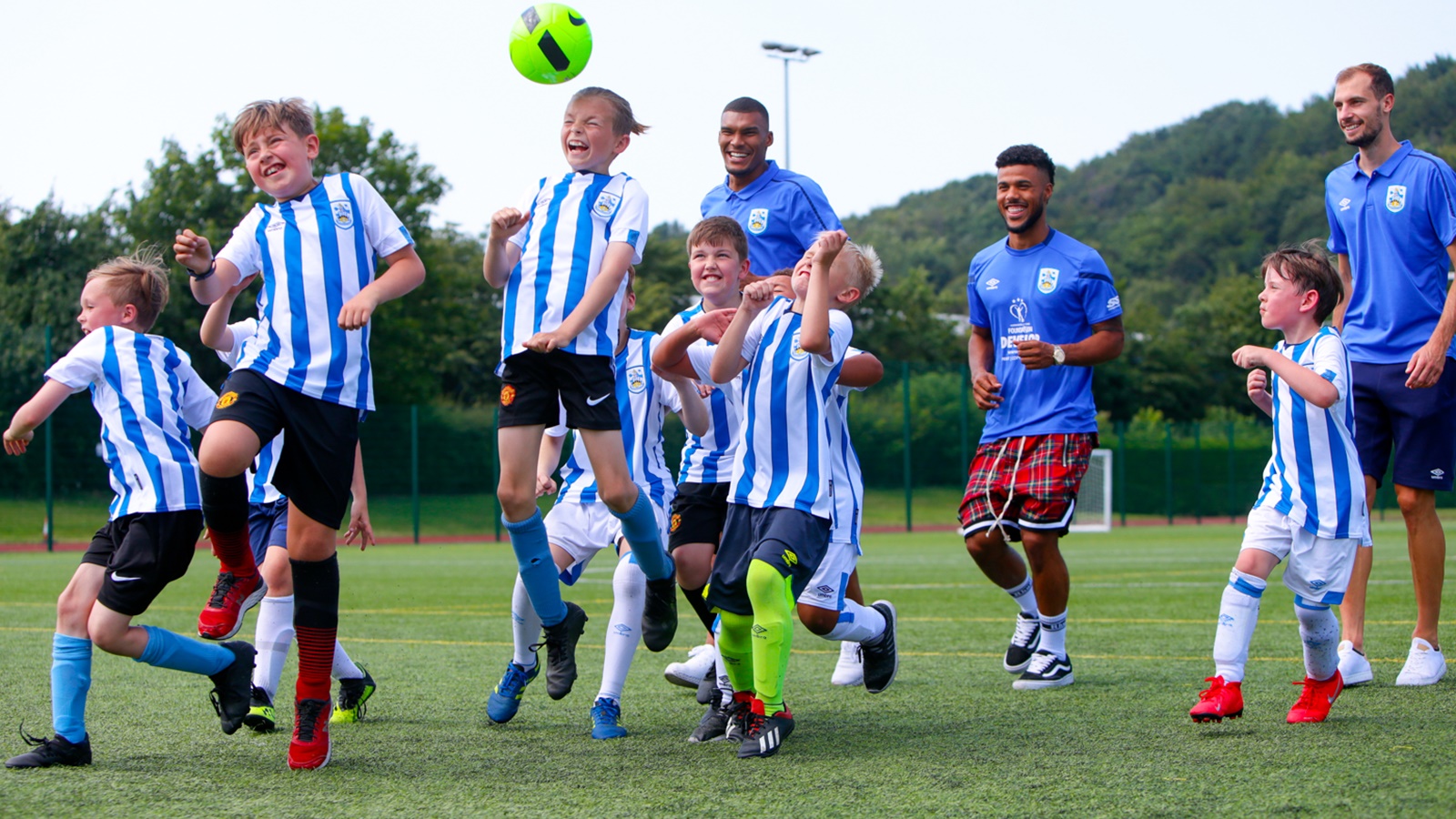 26 Jul

FIRST TEAM PLAYERS SURPRISE TOMORROW'S TERRIERS

Huddersfield Town First Team players Collin Quaner, Elias Kachunga & Jon Gorenc Stanković surprised the youngsters at the Town Foundation's Tomorrow's Terriers Football Camp.

The trio made a special trip to see the youngsters and to offer them incredibly valuable advice during the football session.

The players saw the excellent work that the Town Foundation coaches were doing before having selfies and a Q&A for the youngsters who took part in the Tomorrow's Terriers Football Camp.

Smiles beamed on the youngsters' faces when they saw the First Team players walk out on the pitch, giving them an incredible start to the summer holidays! You never know who you'll meet during the sessions!

Tomorrow's Terriers is a Football Development Programme delivered by The Huddersfield Town Foundation in partnership with Kirklees Active Leisure (KAL).

The Tomorrow's Terriers sessions are the perfect way for your child to have fun, learn new skills and keep active, as well as being part of the community.

Each session consists of different skill games to improve passing, shooting and running with the ball before going into matches and tournaments.

These sessions run weekly throughout the year, you can find details of these on the Town Foundation website.

The summer camps will run from the Leeds Road Sports Complex on the following dates:
– Monday 29 July 2019 to Friday 2 August 2019
– Monday 5 August 2019 to Friday 9 August 2019
– Monday 19 August 2019 to Friday 23 August 2019
– Tuesday 27 August 2019 to Thursday 29 August 2019 (Full course £30)

The jam-packed, fun-filled sessions are available for just £50 per week except for Week 6 – if you would like to book on for just one day then it costs £12 a day.

There's also a special offer for young Town fans! If you've booked onto a full week course, then you can purchase a Junior 2019/20 Home Shirt for just £25!

The holiday camps will start at 10am until 3pm, but if you need to come a little early or perhaps stay a little late, that's no bother! For an extra £5 per day you can drop the children off from 9am and pick them up at 5pm.

There are only a limited number of spaces available, so make sure you get in touch now to book your place! Call Kirklees Active Leisure on 01484 766 131.