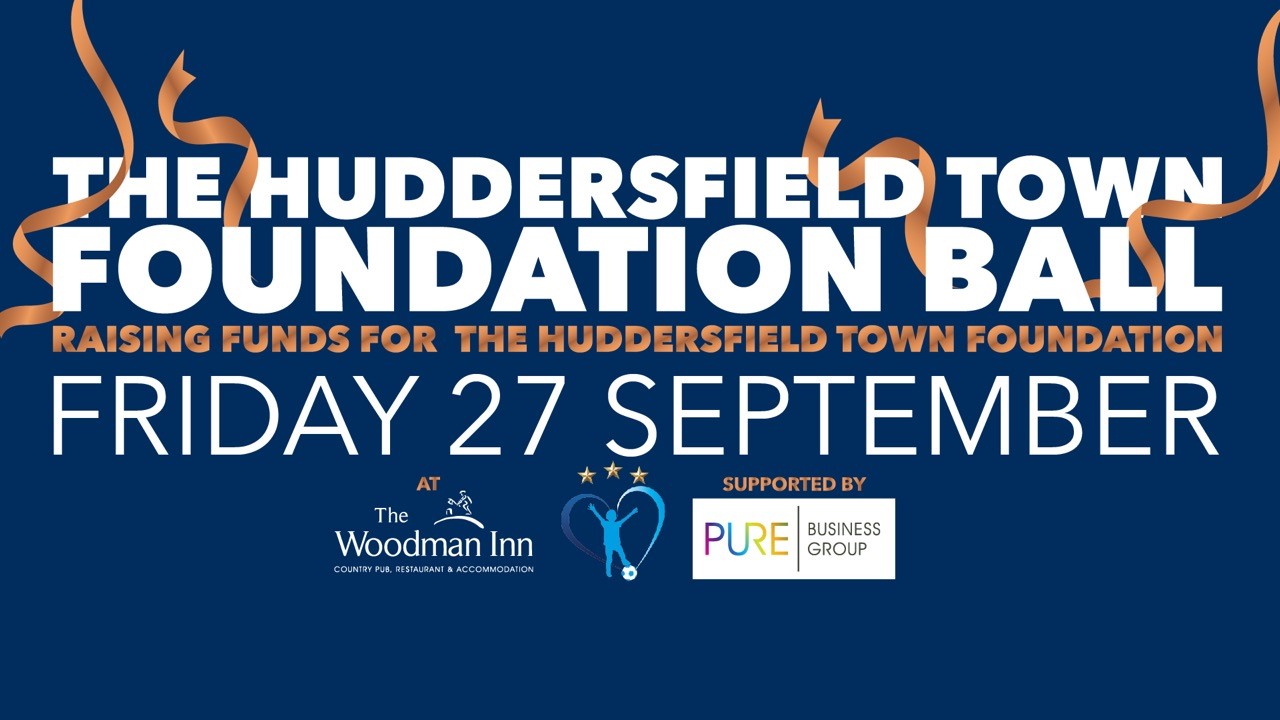 31 Jul

TOWN FOUNDATION LAUNCHES NEW BALL EVENT!

The Huddersfield Town Foundation is delighted to announce the most elegant fundraising event of the year – 'The Foundation Ball'.

The Foundation Ball, supported by Pure Business Group, will take place on Friday 27 September 2019 at The Woodman Inn, Thunderbridge with all supporters and fans invited to attend.

The Town Foundation is the official charity partner of the Club, delivering community initiatives across themes of Education, Health and Inclusion, as well as the Trust Fund, which operates 41 Breakfast Clubs across Kirklees.

The event seeks to raise funds for the Foundation to ensure that the charity can keep afloat these much-needed initiatives and continue improving the quality of life for young people in our community, growing their aspirations and achievements.

The Huddersfield Town Foundation is counting on the great and good people of Yorkshire to join Chairman Phil Hodgkinson and Director Dean Hoyle who will both be in attendance, with tickets not limited to Huddersfield Town's sponsors and supporters.

All funds raised at the event will stay within our local community to benefit young people.

The Ball will begin at 7pm with arrival drinks, followed by a three-course menu and cheeseboard, entertainment, games and fundraising auctions, with money-can't-buy prizes donated by the Huddersfield Town players.

On the evening, you can expect to hear from and meet some inspirational beneficiaries of the Town Foundation's work and learn more about the development of new projects and programmes commencing in September.

There are several ways in which fans can support the event including the opportunity to partner with the Town Foundation and support pre-drinks or entertainment packages. Alternatively, tickets for the event can be purchased as tables of 10 for £1,000.

Tickets for this event are in high demand and therefore we urge any supporters wishing to attend to act fast to avoid any disappointment.

Lisa Bottomley, Fundraising Coordinator for the Town Foundation, commented:

"Everyone at the Town Foundation is excited to deliver this event.

"There has been strong support for previous events, such as the Big Sleep Out and the Foundation games, and the Ball presents the next step in ensuring that along with Huddersfield Town, we continue to have an impact on those in our community who are in need of support.

"We can't wait for the Foundation Ball, which will certainly be an amazing evening for everyone involved."

For further information and to book your place please email lisa.bottomley@hatcfoundation.com.