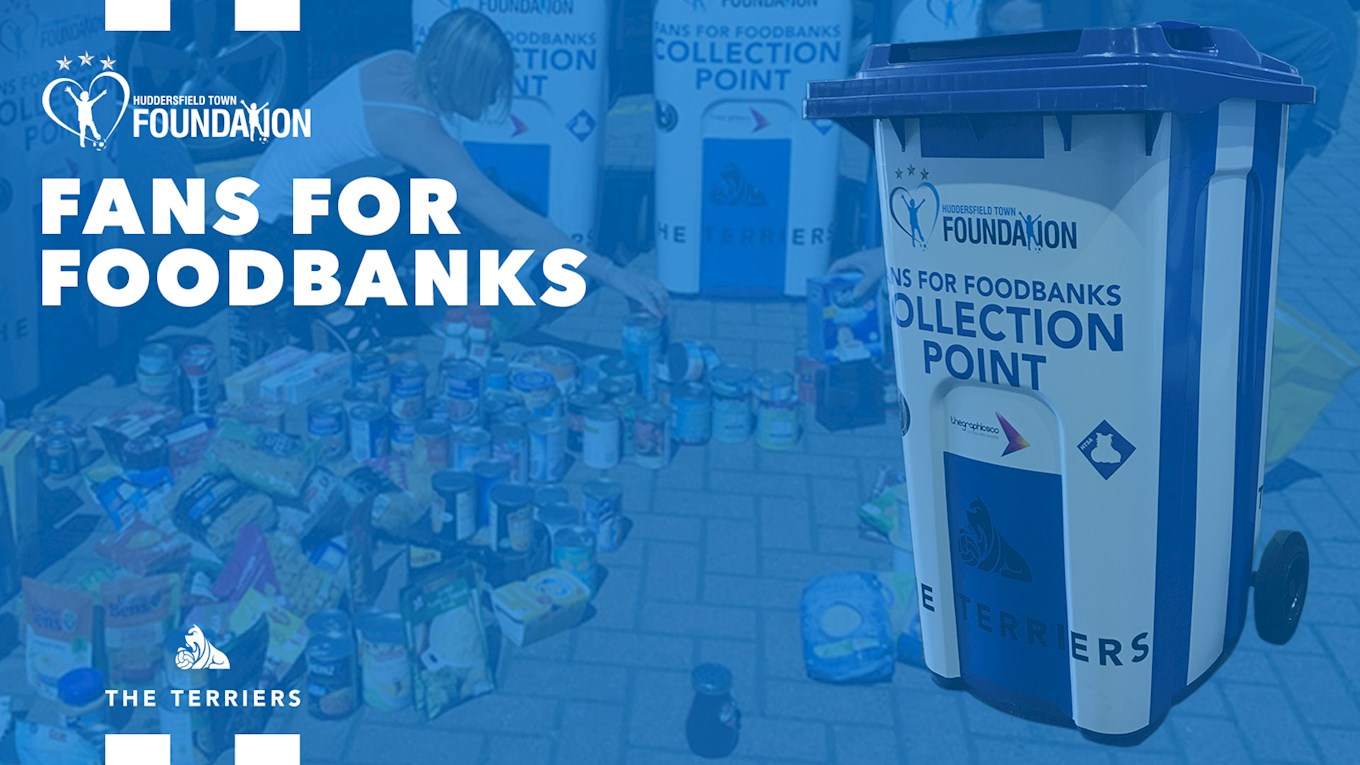 02 Aug

'ONE FAN, ONE CAN' – BRING A DONATION TO THE DERBY GAME ON MONDAY!

The Town Foundation will continue to run the 'Fans for Foodbanks' initiative with the Huddersfield Town Supporters Association (HTSA) and make a beneficial impact throughout the 2019/2020 season.

The Terriers' are urging supporters to come together and support Batley Foodbank at the opening fixture against Derby County on Monday 5 August 2019.

Over the course of previous seasons, the Huddersfield Town Foundation has been able to collect over 10,000 donations due to the generosity of the fans!

Following this success, supporters are invited to bring donations of long shelf life food to the match to deposit in one of the branded bins, located outside the John Smith's Stadium.

There will be two collection points at the John Smith's Stadium for supporters to make their donations; one at the Stadium Health & Fitness Club entrance and one by the players entrance, near the South End of The Core Stand.

All donations are welcomed with the Batley Foodbank desperately requiring:
Tinned meat / fish
Pasta sauces
Tinned tomatoes
Tinned potatoes
Breakfast cereal
Coffee
Sugar
Packets of mash
Tinned soup
Packets of cup a soup
Jam
Cordial
The branded bins will be in situ from 5.45pm up until kick-off and fans are asked to bring along any long shelf life food they wish to donate – unfortunately, we cannot accept fresh foods.
All donations from the game will be given to Batley Foodbank for distribution in the local community for those who require assistance. The Town Foundation and HTSA are thrilled with the previous success of their campaign and want to continue making a difference in Kirklees.
Audrey Ashton, volunteer at Batley Foodbank, commented:
"We are extremely grateful for the donations from the Huddersfield Town Foundation and the HTSA.
"With it being the school holidays, we are extremely busy at the moment. As fast as the food comes in, it's going out.
"The centre is full of families desperate for food. We had a family of four adults and three children new to the area come in today. They couldn't speak English, had only arrived in the country last week and had been left on their own – it was so tragic. We gave them 12 bags of food and living essentials to take home.
"We usually give families a seven-day food pack, but the food isn't going anywhere, it's not enough for seven days.
"We are so desperate for food at the moment. Anything anyone can offer we are extremely grateful for."
James Chisem, Secretary of HTSA and Organiser of 'Fans for Foodbanks', added:
"We were overwhelmed by the generosity of Town fans last season, not to mention the kindness of fellow travelling fans.
"That said, it is a genuine human tragedy that initiatives such as 'Fans For Foodbanks' are needed.
"We want to encourage everyone to donate. It makes a massive difference and is greatly appreciated."
The food donations will be organised and distributed by Foundation staff and HTSA members to Batley Foodbank at the Leeds Road Sporting Complex on Wednesday 7 August. The Town Foundation and HTSA would appreciate any volunteers wishing to help assist with this process.
If you would like to volunteer your assistance or for more information, please email enquiries@htafcfoundation.com. Once all volunteers are registered, you will be contacted with more details.
If anyone would like to make a donation to Batley Foodbank out of their operating hours. Please contact Audrey Ashton on 01924 474999 or email info@batleyfoodbank.org.uk.