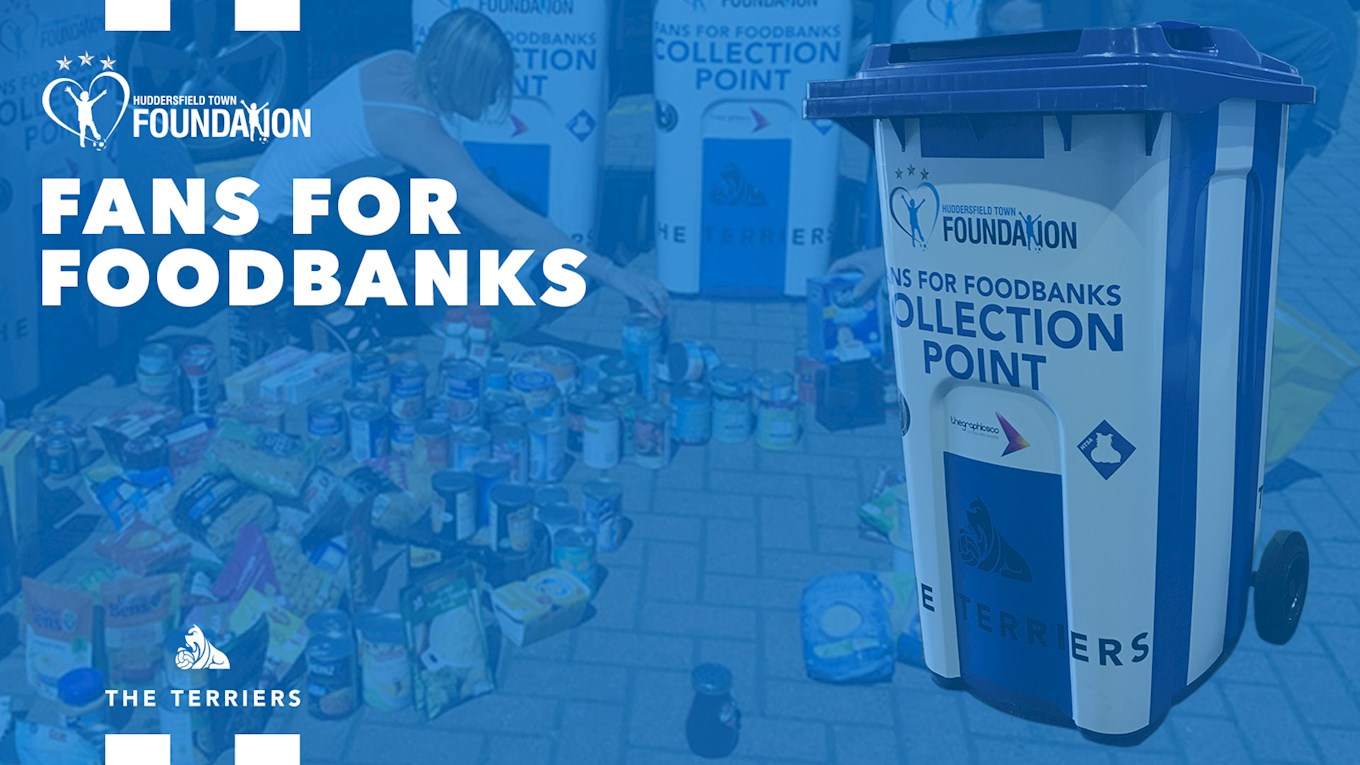 14 Aug

'ONE FAN, ONE CAN' – BRING A DONATION TO THE FULHAM GAME FRIDAY!

The 'Fans for Foodbanks' initiative will continue on Friday 16 August 2019, with supporters urged to bring donations to the Fulham game!

The Huddersfield Town Foundation (HTF) and the Huddersfield Town Supporters Association (HTSA) donated over 700 items to Batley Foodbank from the Derby 'Fans for Foodbanks' collection, due to the generosity of the fans.

This donation provided a week's worth of food for 16 families!

Comparatively, the Batley Food Bank serves over 100 customers a week and therefore our collection has provided food for over half of their weekly clients.

The Huddersfield Town Foundation are urging supporters to make the Fulham 'Fans for Foodbanks' collection another success to continue making a beneficial impact for those in need.

There will be two collection points at the John Smith's Stadium for supporters to make their donations; one at the Stadium Health & Fitness Club entrance and one by the players entrance, near the South End of The Core Stand.

All donations are welcomed with The Welcome Centre desperately requiring:
– Toilet paper
– Fish/ meat paste
– Crackers
– Tinned potatoes
– Cup a soup
– Cooked meat (corned beef, spam, etc)
– Instant mash
– Rice pudding
– Tinned meals (curry/ chilli/ meatballs, mac & cheese etc)

The branded bins will be in situ from 5.45pm up until kick-off and fans are asked to bring along any long shelf life food they wish to donate – unfortunately, we cannot accept fresh foods.

All donations from the game will be given to The Welcome Centre for distribution in the local community for those who require assistance. The Town Foundation and HTSA are thrilled with the previous success of their campaign and want to continue making a difference in Kirklees.

Ellie Coteau, The Welcome Centre Chief Executive, commented:

"The Welcome Centre supports Huddersfield people in crisis when they have nowhere else to turn.

"Already this year, we've helped more than 2,000 people and given out enough food to provide 140,000 meals.

"Your donations are vital in allowing us to continue to help people, so thank you for all of your support, we couldn't do it without you."

The food donations will be organised and distributed by the Huddersfield Town Foundation staff and HTSA members to The Welcome Centre at the Leeds Road Sporting Complex on Tuesday 20 August 2019. The Town Foundation and HTSA would appreciate any volunteers wishing to help assist with this process.

If you would like to volunteer your assistance or for more information, please email enquiries@htafcfoundation.com. Once all volunteers are registered, you will be contacted with more details.