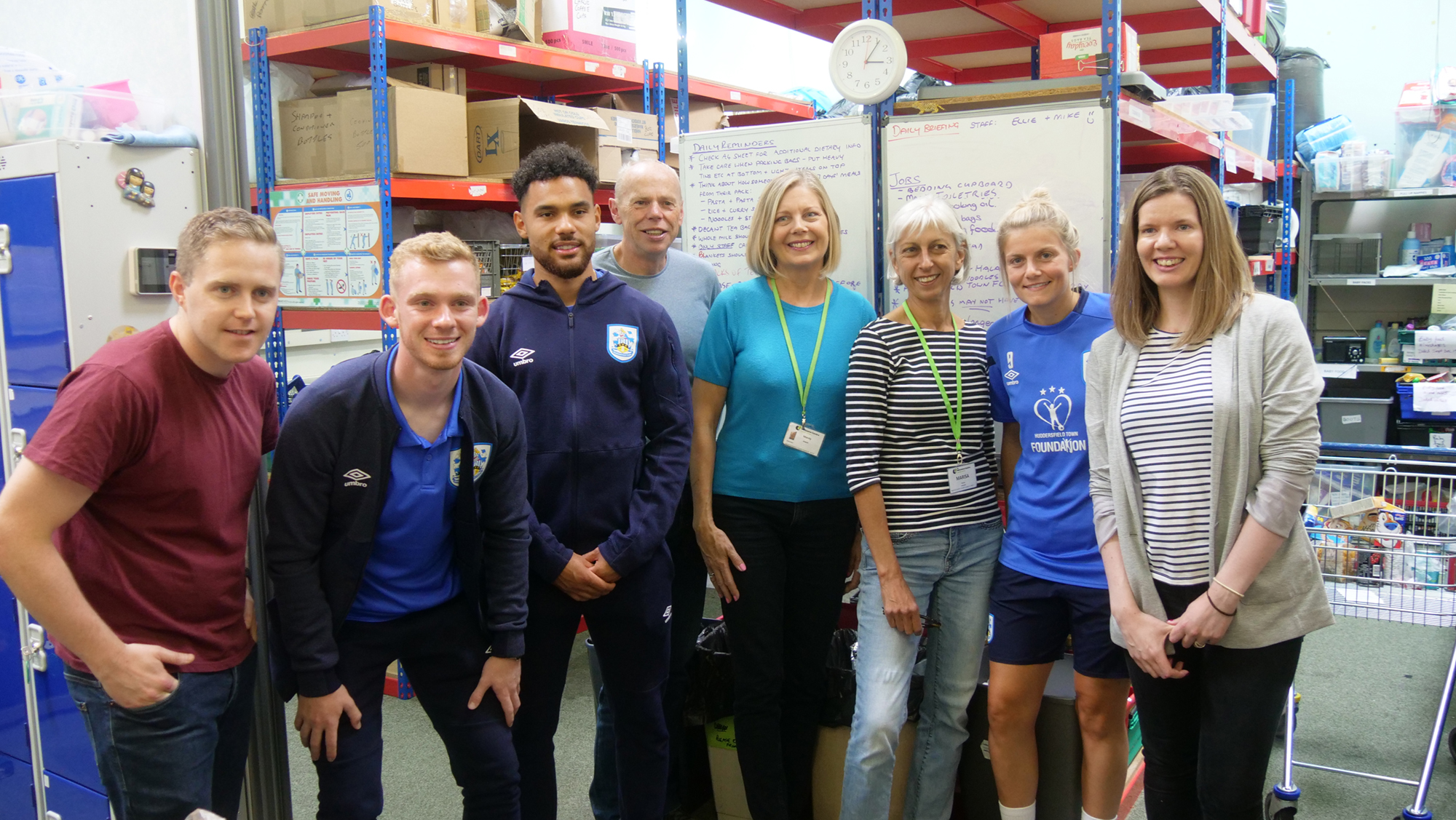 06 Sep

TOWN PLAYERS SEE THE BENEFIT OF FANS FOR FOODBANKS

Lewis O'Brien, Herbert Bockhorn and Sarah Danby volunteered at The Welcome Centre, Huddersfield to see the benefit the 'Fans for Foodbanks' initiative has on the local community.

Huddersfield Town and Huddersfield Town Women players visited The Welcome Centre on Thursday 5 September to show their support for and assist with the great work done by all the volunteers.

The Welcome Centre is one of the beneficiaries of the Huddersfield Town Foundation and Huddersfield Town Supporters Association's 'Fans for Foodbanks' initiative.

The players visited the foodbank to see, first-hand, the work that it does to support people in our local community.

O'Brien, Bockhorn and Danby assisted with the picking and packaging of some of the many daily requests the foodbank facilitates. The packages contained a weeks' worth of food, including, meat, soup, baked beans, tuna, pasta, cooking sauce, cereal, tea bags and milk.

The 'Fans for Foodbanks' initiative donated over 4,500 items to The Welcome Centre last season as part of the 10,000 items collected across the whole season – with the rest being donated to Batley Foodbank.

The Welcome Centre gave out enough food last year to provide 199,548 meals which supported 3,878 people, including 1,222 children!

From the 'Fans for Foodbanks' initiative, Huddersfield Town fans have provided a weeks' worth of food for 104 families.

Both The Welcome Centre and Batley Foodbank rely heavily on the 'Fans for Foodbanks' donations to keep their operations afloat.

Huddersfield Town midfielder Lewis O'Brien commented:

"It's so important that we support the Welcome Centre and other foodbanks because people are in need of food and support like this.

"For everyone to come together as a community in Huddersfield and help this out, it's a brilliant thing.

"It means a lot to me to give stuff back to the community."

Ellie Pearson, Chief Executive at the Welcome Centre, added:

"The Fans for Foodbanks initiative has been absolutely fantastic. It's a regular donation of food we know we can rely on.

"We are giving out 15,000 packs a year, so we are giving out a lot of tins, pasta, rice, all of those things. The fact that the army of Huddersfield Town fans is behind us and understands what we do for the community is fantastic for us.

"We wouldn't be what we are without the support of the community."

The 'Fans for Foodbank' collection takes place at every Huddersfield Town home game with fans encouraged to bring down any long shelf life food items.

Don't forget to bring your contributions to the Sheffield Wednesday game on Sunday 15 September 2019.