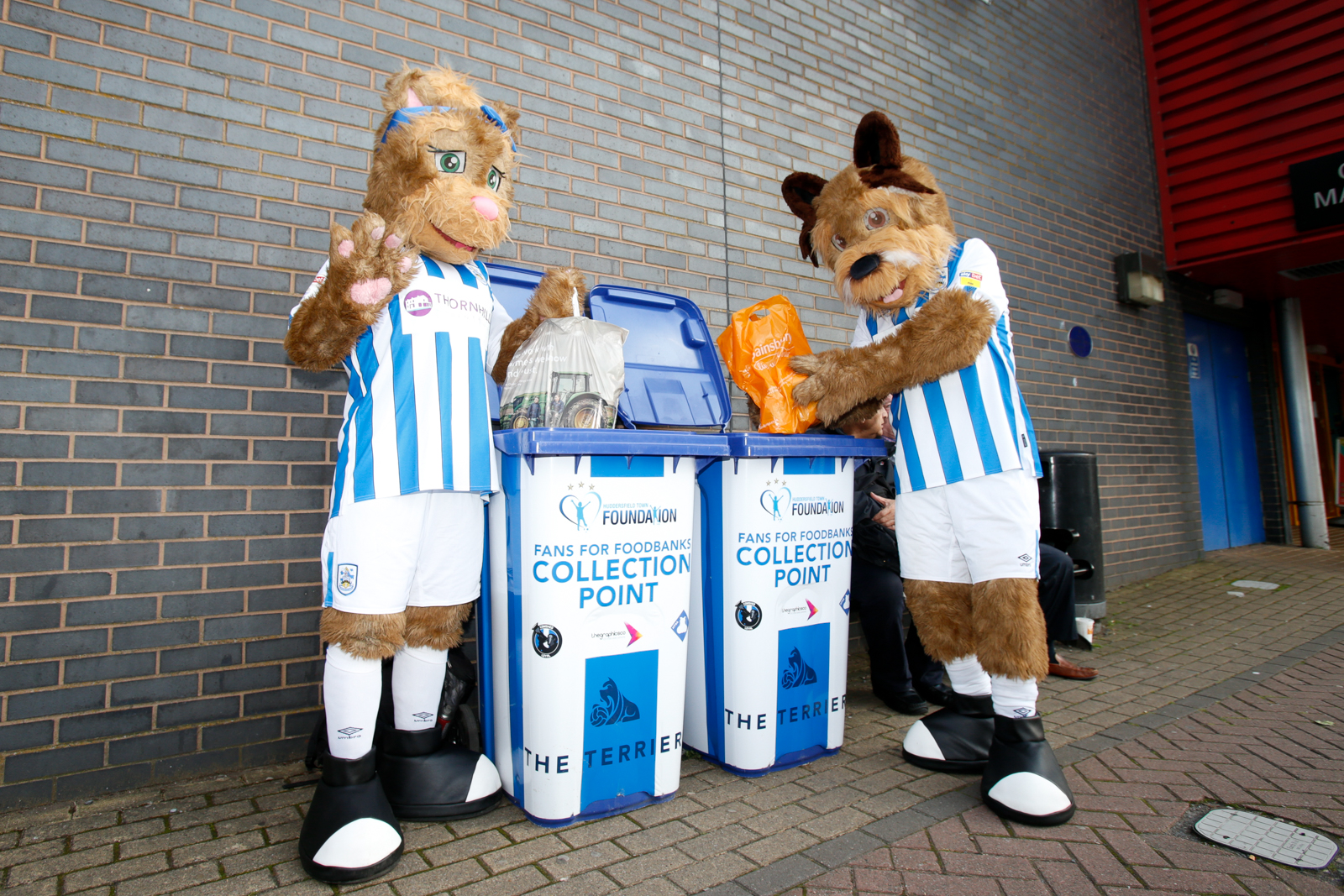 13 Sep

ONE FAN, ONE CAN!

The Huddersfield Town Foundation and the Huddersfield Town Supporters Association, 'Fans for Foodbanks' initiative returns on Sunday.

The 'Fans for Foodbanks' appeal returns to the John Smiths' Stadium on Sunday 15 September for the game against Sheffield Wednesday.

The Terriers continued their work with The Welcome Centre over the international break with three first team players volunteering at the Foodbank to show their support and assist the volunteers with their great work!

Lewis O'Brien, Herbert Bockhorn and Huddersfield Town Women midfielder, Sarah Danby assisted with the picking and packaging of some of the many daily requests the foodbank facilitates. The packages contained a weeks' worth of food, including, meat, soup, baked beans, tuna, pasta, cooking sauce, cereal, tea bags and milk.

The players saw first-hand the work The Welcome Centre does to support people in crisis in our local community and the well-needed impact of the 'Fans for Foodbanks'.

Huddersfield Town midfielder Lewis O'Brien commented:

"It's so important that we support the Welcome Centre and other foodbanks because people are in need of food and support like this.

"For everyone to come together as a community in Huddersfield and help this out, it's a brilliant thing.

"It means a lot to me to give stuff back to the community."

Supporters are urged to bring donations to the Sheffield Wednesday 'Fans for Foodbanks' collection, to continue making a beneficial impact for those in need.

The Huddersfield Town Foundation and HTSA will be splitting the 'Fans for Foodbanks' donations for the Sheffield Wednesday and Millwall game between Batley Foodbank and The Welcome Centre – with both foodbanks in desperate need of donations, currently with empty shelves.

There will be three collection points at the John Smith's Stadium for supporters to make their donations; one at the Stadium Health & Fitness Club entrance, one by the players entrance, near the South End of The Core Stand and an additional collection point for corporate guests inside the John Smith's Stadium reception entrance.

All donations are welcomed with the foodbanks desperately requiring:

– Tinned meat / fish
– Pasta Sauces
– Tinned tomatoes
– Tinned potatoes
– Breakfast cereal
– Coffee / Tea
– Sugar
– Packets of mash
– Tinned soup
– Packets of cup a soup
– Jam
– Cordial

The branded bins will be in situ from 10am up until kick-off and fans are asked to bring along any long shelf life food they wish to donate – unfortunately, we cannot accept fresh foods.

All donations from the game will be split between Batley Foodbank and The Welcome Centre for distributions in the local community for those who require assistance.

The food donations will be organised and distributed by Huddersfield Town Foundation staff and HTSA members at the John's Smith Stadium on Wednesday 18 September at 1pm. The Town Foundation and HTSA would appreciate any volunteers wishing to help assist with this process.

If you would like to volunteer your assistance or for more information, please email enquiries@htafcfoundation.com.