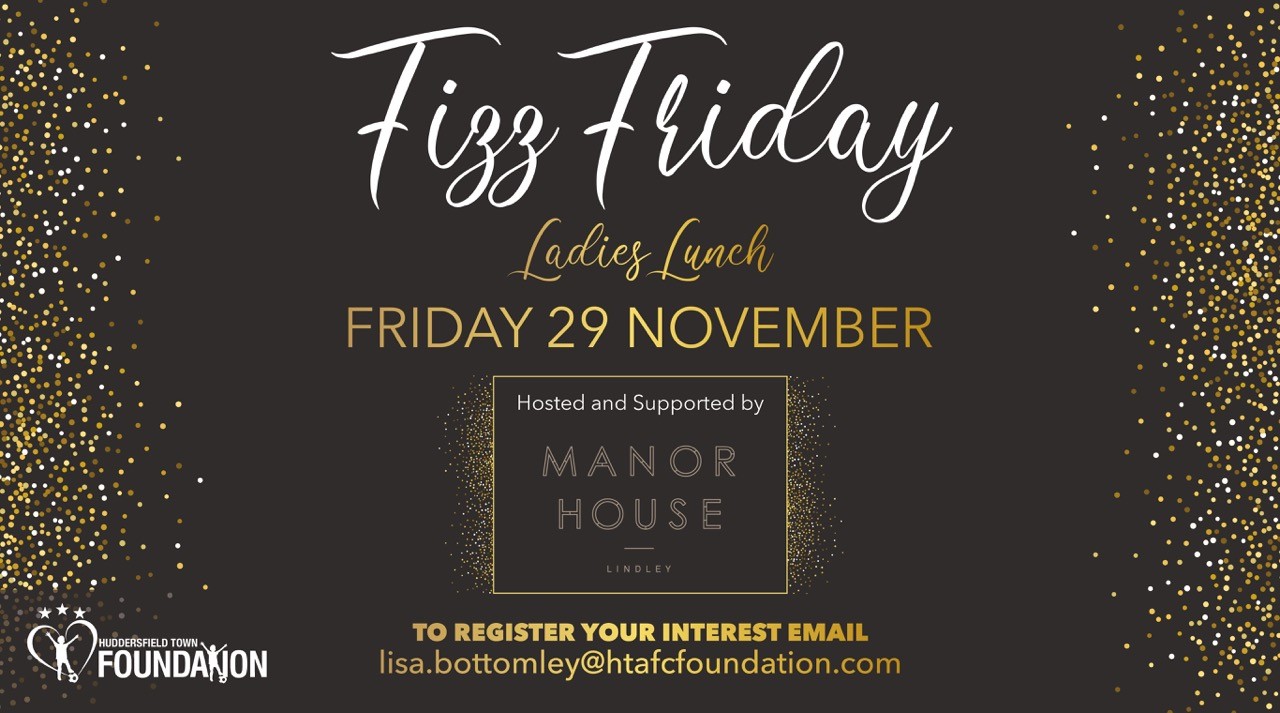 19 Sep

LADIES LUNCH PRESENTS FIZZ FRIDAY!

The Huddersfield Town Foundation's annual Ladies Lunch event returns this November with the new theme Fizz Friday!

This event is a key date to many diaries with the Ladies Lunch 2019, supported by The Manor House, presenting a new theme and venue for the popular Huddersfield Town Foundation fundraiser.

Ladies Lunch Fizz Friday will take place on Friday 29 November at The Manor House, Lindley, and is set to be an incredibly popular event!

Guests attending the event will be welcomed with a glass of fizz before being entertained throughout the afternoon.

The day will continue with a three-course lunch and fundraising games, raffle, auctions and much more!

Fizz Friday is set to be a wonderful day where you can dress fabulously, have a chat and giggle all for a good cause.

All funds raised from Fizz Friday will stay within our local community to benefit young people across numerous initiatives of the Huddersfield Town Foundation's Sport, Education, Inclusion, Health programmes and the Trust fund which operates 41 breakfast clubs across Kirklees.

Details on the Ladies Lunch Fizz Friday will be announced in due course. Supporters interested in this event are encouraged to register their interest quickly, with this expected to be extremely popular!

Tickets for the event can be purchased as tables of 10 or individually at £50 per person.

There are several ways in which you can support this event with sponsorships, advertisements, tables and tickets all available.

Lisa Bottomley, Huddersfield Town Foundation Fundraising Coordinator, commented:

"Ladies Lunch is always such a hugely popular fundraiser and we are extremely excited to be delivering this event again.

"We are looking forward to be working with the Manor House to deliver this fabulous afternoon.

"We will be announcing more details on Fizz Friday over the coming weeks so make sure to keep your eyes peeled."

Mark Ayre, Manor House General Manager, added:

"We are delighted to be hosting this fundraiser and showing our support for The Huddersfield Town Foundation.

"As ever, we are ready to put on a show and make this lunch one to remember.

"I am looking forward to welcoming everyone for a 'sparkling' afternoon."

For more information or to register your interest please contact Lisa Bottomley on lisa.bottomley@htafcfoundation.com

Watch out for more information on this event!