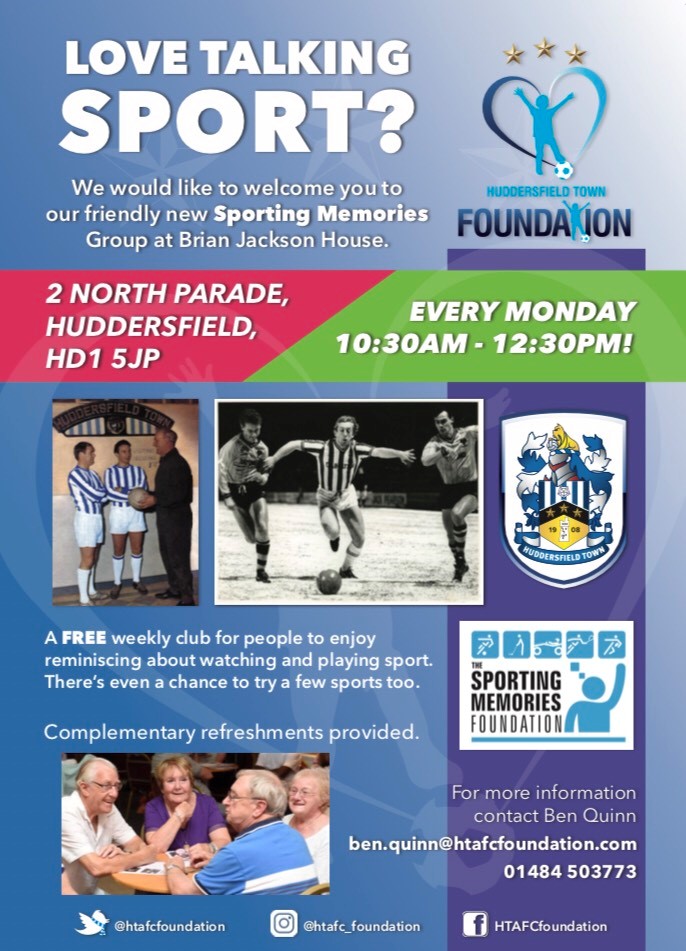 14 Oct

SPORTING MEMORIES LAUNCH

The Huddersfield Town Foundation is launching their Sporting Memories sessions on Monday 21 October 10:30-12:30pm!

The Sporting Memories sessions will run weekly from Brian Jackson House every Monday, with the programme designed for people affected by dementia, depression, loneliness or social isolation.

The Sporting Memories programme aims to help people with dementia, depression and loneliness by engaging them in social activities and helping them to recall memories of watching or playing sport.

By sharing memories of sporting moments and tapping into a passion for sport Sporting Memories helps people to connect with others and with their past, reawakening positive thoughts and feelings that otherwise remain hidden away.

Using images of sport and memorabilia, people are assisted to stay connected with their friends and communities, cognitively stimulated and physically active.

A wealth of evidence on ageing well has highlighted the impact on remaining connected to friends, family and communities, remaining cognitively stimulated and physically active can have on our health and wellbeing.

Sporting Memories groups have proven to help participants, many of whom are living with dementia to do just this.

The Huddersfield Town Foundation is excited to get this session up and running, developing a quality weekly session to help people within Kirklees. Delivered by the well-trained Foundation staff this is something brand new to the area that we are hoping can benefit many people.

Sporting Memories in association with Huddersfield Town Foundation

Every Monday

10:30am – 12:30pm.

The Brian Jackson House, Huddersfield, HD1 5JP

For more information on the Sporting Memories programme please call or email our Health Manager – Ben Quinn on 07741671595 or ben.quinn@htafcfoundation.com.