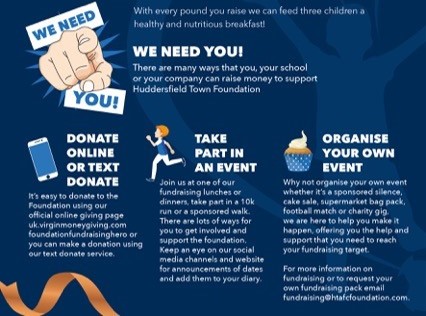 15 Oct

TERRIER CHALLENGE

The Huddersfield Town Foundation has launched its Terrier Challenge asking supporters to become a Fundraising Hero and raise money for the Club's Official Charity.

The Huddersfield Town Foundation is asking the great and good people of Yorkshire to help their charity continue changing lives in our local community by taking part in a fundraising event.

There are many ways that you, your school or your company can take part in the Terrier Challenge and raise money to support the Huddersfield Town Foundation!

Take Part in An Event

Join us at one of our fundraising lunches or dinners, take part in a 10k run or a sponsored walk. There are lots of ways for you to get involved and support the Huddersfield Town Foundation. Keep an eye on our social media channels and website for announcements of dates and add them to your diary.

ORGANISE YOUR OWN EVENT

Why not organise your own event whether it's a sponsored silence, cake sale, supermarket bag pack, football match or charity gig, we are here to help you make it happen, offering you the help and support that you need to reach your fundraising target.

Donate Online or Text Donate

It's easy to donate to the Huddersfield Town Foundation using their official online giving page uk.virginmoneygiving.com foundationfundraisinghero or you can make a donation using our text donate service.

TO DONATE £1, TEXT HTF TO 70201

TO DONATE £3, TEXT HTF TO 70331

TO DONATE £5, TEXT HTF TO 70970

TO DONATE £10, TEXT HTF TO 70191

As the official charity partner of Huddersfield Town, the Foundation delivers community initiatives across themes of Education, Health, Inclusion and Sport, as well as the Trust Fund, which operates 41 Breakfast Clubs across Kirklees.

The Huddersfield Town Foundation needs to raise vital funds to ensure that the charity can keep afloat these much-needed initiatives and continue improving the quality of life for young people in our community, growing their aspirations and achievements.

All funds raised for the Huddersfield Town Foundation stay within our local community to benefit young people!

The Huddersfield Town Foundation's 'Early Kick-Off Breakfast Club' initiative has served 445,000 breakfasts in the last academic year to school pupils in the Kirklees area. For many of these children the breakfast provided by the Foundation is the only meals that they have.

In order to keep our 'Early Kick-Off Breakfast Clubs' operating we need to raise £140,000 per year!

Lisa Bottomley, Huddersfield Town Foundation Fundraising Coordinator, commented:

"We are super excited to launch our Terrier Challenge and see the different ways our fans support us.

"It is essential the Huddersfield Town Foundation continuingly raise funds to keep changing and supporting lives in our local community.

"The Terrier Challenge is part of the Huddersfield Town Foundation's new campaign 'Terrier in Me', and therefore we are encouraging fans to bring out their inner Terrier with the Terrier Challenge.

"The Foundation is forever grateful for the continued support of Huddersfield Town supporters, fans and the wider community of Kirklees."

For more information on fundraising or to request your own fundraising pack email fundraising@htafcfoundation.com.