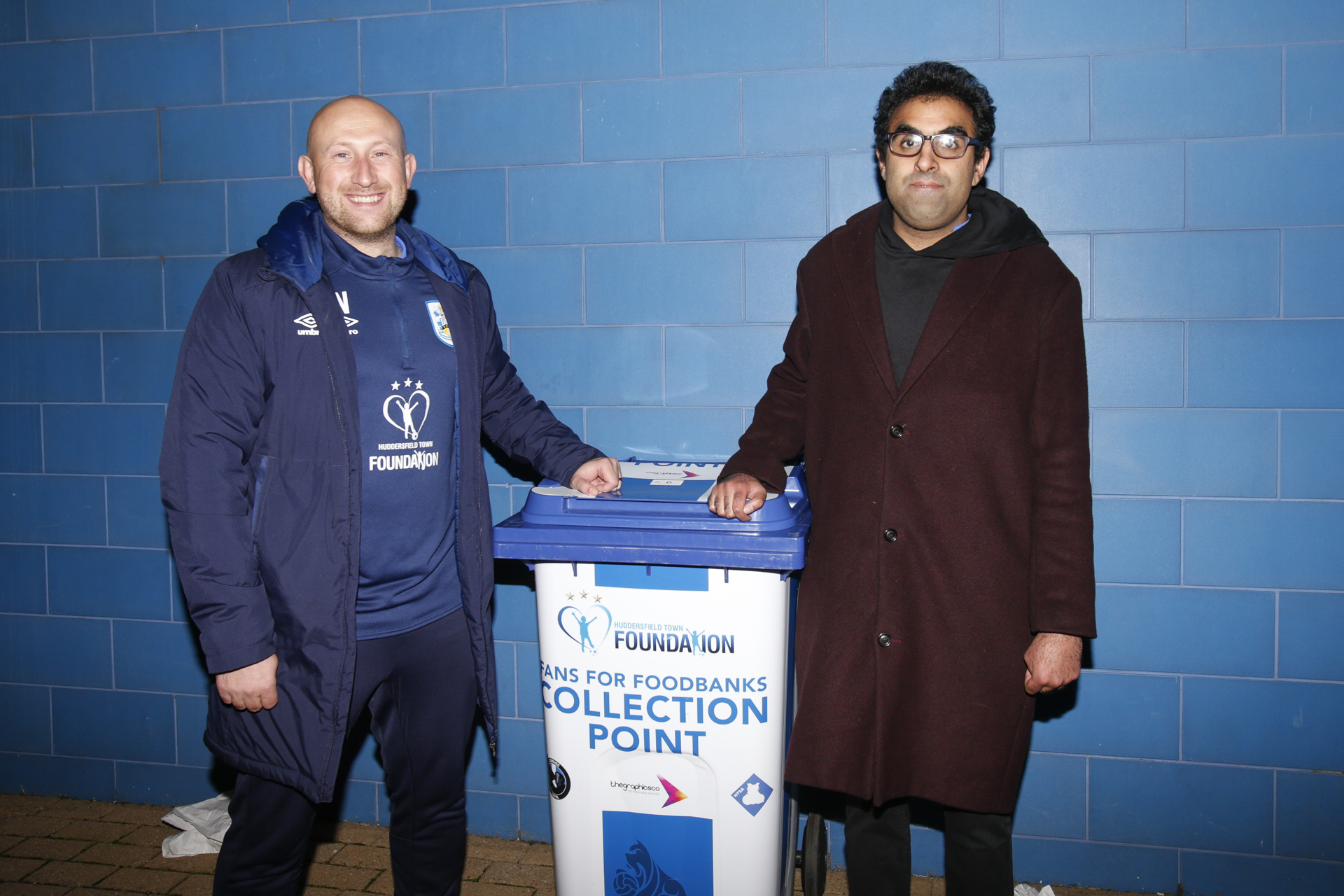 25 Oct

ONE FAN, ONE CAN!

The Huddersfield Town Foundation and the Huddersfield Town Supporters Association (HTSA), 'Fans for Foodbanks' initiative returns on Saturday as part of their new Foodbank Fortnight initiative!

The 'Fans for Foodbanks' appeal returns to the John Smiths' Stadium on Saturday 26 October for the game against Barnsley.

The Huddersfield Town Foundation and HTSA are currently facilitating a Foodbank Fortnight which concludes this weekend.

Foodbank Fortnight included National Food Day on 16 October 2019 and represents a

time to generate awareness and create a call for action to achieve better nutrition and zero hunger by educating people on healthy diets!

The Huddersfield Town Foundation encouraged local businesses to sign-up and hold a foodbank collection point within their premises for the fortnight with Louise Woollard Financial, Paxman Cooling, Brewfitt Ltd, One 17 Design, Maze 8, Core Facility, Stafflex and Simpson Wood Charted Accountants all joining in!

The 'One Fan, One Can' campaign for the 'Fans for Foodbanks' initiative has collected 14,000 items since launch!

This has enabled the local foodbanks to provide a weeks' worth of food for over 325 families!

The Huddersfield Town Foundation and HTSA would like to take this opportunity to say a huge thank you to fans who support this campaign for their generosity.

Supporters are urged to bring donations to the Barnsley 'Fans for Foodbanks' collection, to continue making a beneficial impact for those in need.

'Fans for Foodbanks' donations for the Barnsley fixture will be donated to The Welcome Centre, Huddersfield to continue making a positive difference in our local community.

There will be three collection points at the John Smith's Stadium for supporters to make their donations; one at the Stadium Health & Fitness Club entrance, one by the players entrance, near the South End of The Core Stand and an additional collection point for corporate guests inside the John Smith's Stadium reception entrance.

All donations are welcomed with the foodbanks desperately requiring:

– Tinned meat / fish
– Pasta Sauces
– Tinned tomatoes
– Tinned potatoes
– Breakfast cereal
– Coffee / Tea
– Sugar
– Packets of mash
– Tinned soup
– Packets of cup a soup
– Jam
– Cordial

The branded bins will be in situ from 1pm up until kick-off and fans are asked to bring along any long shelf life food they wish to donate – unfortunately, we cannot accept fresh foods.

The food donations will be organised and distributed by Huddersfield Town Foundation staff and HTSA members to the foodbanks at the John's Smith Stadium on Monday 28 October at 12pm. The Town Foundation and HTSA would appreciate any volunteers wishing to help assist with this process.

If you would like to volunteer your assistance or for more information, please email enquiries@htafcfoundation.com.