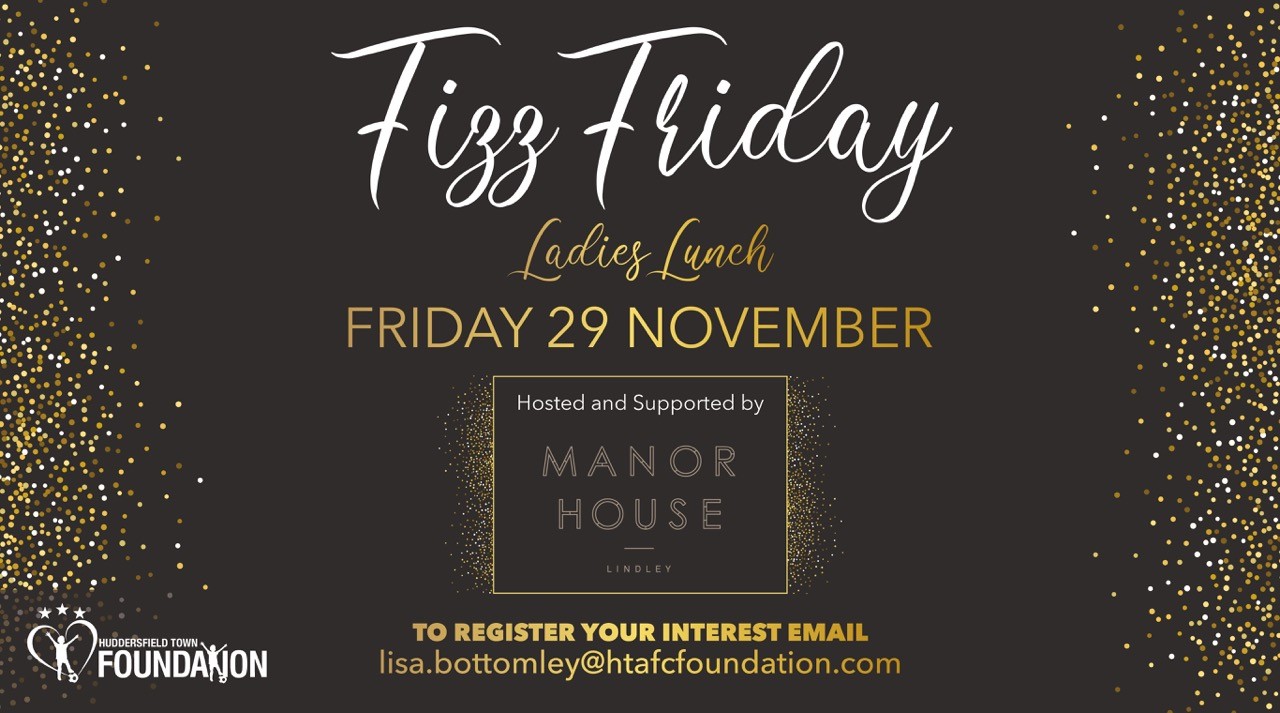 04 Nov

ADVERTISING OPPORTUNITIES AT 'FIZZ FRIDAY'!

The Huddersfield Town Foundation are giving businesses the opportunity to advertise at this year's SOLD-OUT Fizz Friday event!

Fizz Friday, presented by the Huddersfield Town Foundation, is an annual Ladies Lunch event, taking place at the Manor House, Lindley, on Friday 29 November 2019.

Each guest at the sold-out event will be presented with a Fizz Friday brochure, including lots of information about the afternoon ahead and Huddersfield Town Foundation. This will include a welcome message from Huddersfield Town Foundation Chief Executive Siobhan Atkinson, information on auction prizes and spotlight pieces on Huddersfield Town Foundation initiatives.

The Huddersfield Town Foundation are giving businesses the opportunity to advertise within the Fizz Friday brochure with a full-page advertisement for £50!

This package includes coverage to over 150 ladies, acknowledgement across multiple social media platforms and two tickets to a Huddersfield Town home league fixture (subject to availability).

All proceeds from the Fizz Friday brochure advertisements will contribute to funds raised on the afternoon to support the Huddersfield Town Foundation's community activities.

The Huddersfield Town Foundation are the official charity partner of HTAFC, delivering community initiatives across themes of Education, Health, Sport and Inclusion, as well as the Trust Fund, which operates 41 'Early Kick-Off Breakfast Clubs' across Kirklees.

The event seeks to raise funds to contribute to the Huddersfield Town Foundation to ensure that the charity can keep afloat these much-needed initiatives and continue improving the quality of life for young people in our community, growing their aspirations and achievements.

For more information or to book your advertisement slot please contact lisa.bottomley@htafcfoundation.com before Friday 15 November.