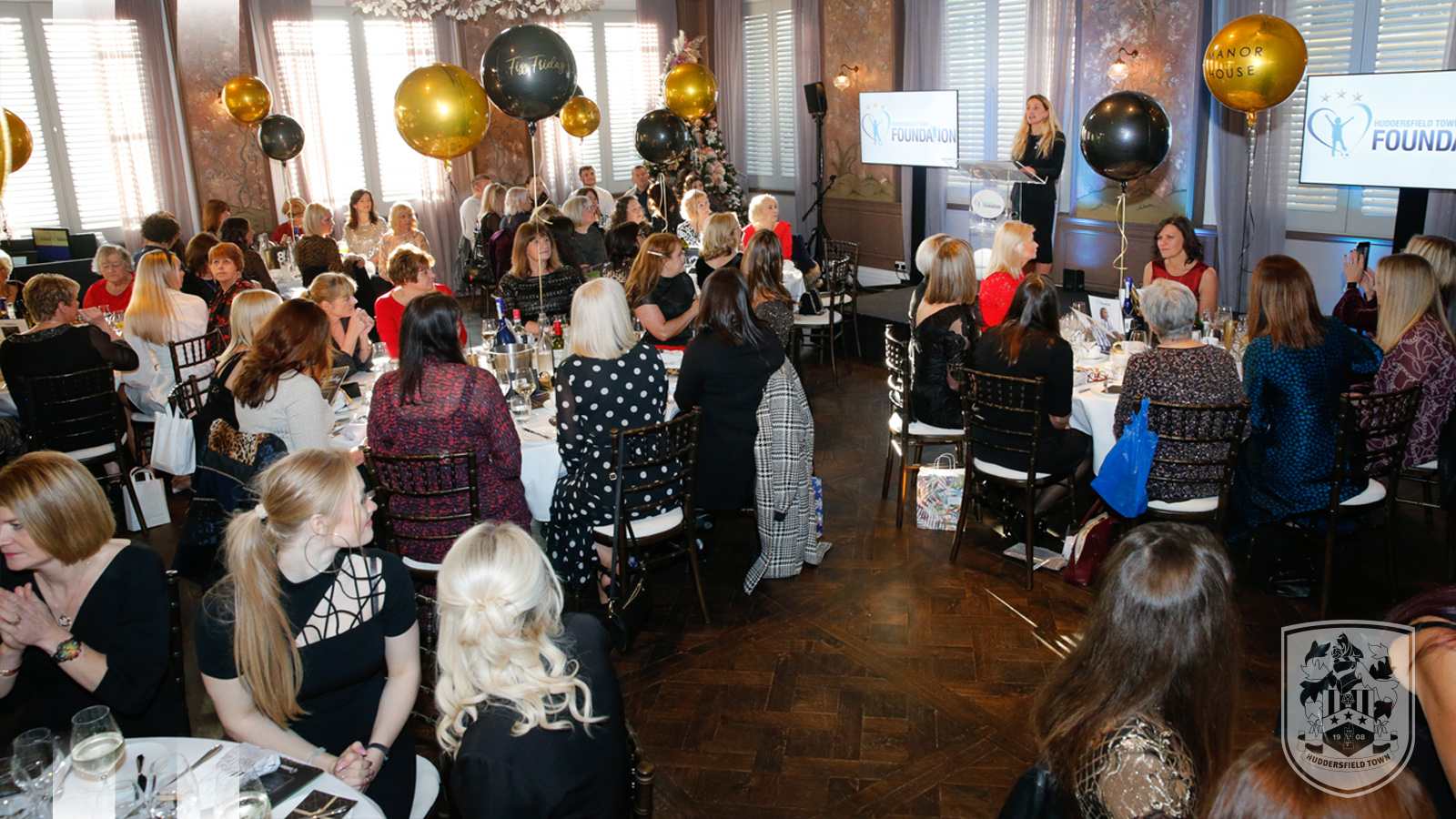 03 Dec

HUDDERSFIELD TOWN FOUNDATION'S 'FIZZ FRIDAY' RAISES OVER £7,000!

The Huddersfield Town Foundation hosted their annual ladies' lunch on Friday 29 November, now known as 'Fizz Friday'. The event took place in the beautiful Coach House of The Manor House, Lindley with the venue acting as the event's headline supporter.

Over 130 guests were in attendance at the event, hosted by the Jo Cox Foundation's Ambassador Kim Leadbeater, to learn more about the work of the Huddersfield Town Foundation and be entertained with an afternoon of games, music and more.

The event raised a whopping £7,713, which is a Town Foundation record and testament to the strong support of the community.

On arrival, guests were handed a glass of fizz before having chance to partake in some retail therapy, with local exhibitors such as Hollybank School; Divine Gin; Jan Swallow Crafts; Almond Clothing; Tropic Skincare all selling their crafts, just in time for Christmas.

Guests were called to lunch at noon and Kim Leadbeater opened proceedings, with a few words of welcome from the Foundation's CEO, Siobhan Atkinson. Guests were then invited to take part in the first game of the day: a 'heads and tails' game, where they were asked to answer true or false facts all surrounding the theme of breakfast. This was led by Jeannette Cartwright of Kirklees Catering Services, who also donated a bottle of pink Moet for the winning prize.

The Foundation's 'Early Kick-Off' Breakfast Clubs, founded by Dean and Janet Hoyle in 2012, are the lifeblood of the Foundation, with 41 Breakfast Clubs in operation and an annual running cost of £140,000 to the Foundation. However, the Foundation's scheme of delivery now extends much beyond this.

Sporting Memories participant, Richard told guests how, as a youngster, he used to catch the bus from Heckmondwike to Huddersfield to watch HTAFC and, even though he now considers himself a Liverpool fan, he enjoys attending the Foundation's Sporting Memories sessions at the Brian Jackson House, where he can talk with friends about his local club.

EmployAbility participant, Ivan explained that the Foundation has had a transformative impact on his social life and his confidence levels and that he now enjoys helping out as a match day volunteer with the Foundation's 'Fans for Foodbanks' initiative. Most recently, Ivan took part in the NCS programme, where he was exposed to a range of new activities such as the 'social action challenge'.

Both participants were presented with a HTAFC football signed by the First Team as thanks for sharing their stories with the room.

Guests were served a delicious meal including parsnip and bramley apple velouté and Yorkshire bronzed turkey followed by sticky toffee pudding.

Once desserts were underway, Kim Leadbeater opened the live auction, which included a variety of 'money can't buy' prizes such as:

– A 'Come Dine With Me' dinner party, cooked by the HTAFC first team's own chef;
– A family photography session, donated by Club photographer, John Early;
– An 18 CRT diamond necklace, donated by JPB Jewellery;
– A signed and match-worn Christopher Schindler shirt;
– X2 tickets for the Boardroom on match day, including a three course meal and Director's Box seats;
– Bespoke tailored shirt and tie, donated by Owen Scott; and
– The chance for x2 to play FIFA against First Team players at PPG Canalside.

The event was concluded with closing remarks from Foundation Trustees; Janet Hoyle, Ann Hough, Caroline Lee and Louise Woollard, who announced the running total live on stage.

Speaking of the event, Foundation CEO, Siobhan Atkinson commented:

"This was my first experience of the Ladies' Lunch since joining the Foundation and it didn't disappoint. The team have done a fantastic job in organising and The Manor House was the perfect setting.

"I would like to thank each and every one of our guests for their contribution today, whether it be local businesses buying a table or individuals adding to a gift aid packet. The funds will be used to sustain our invaluable work across the Kirklees community.

"We hope everyone had a brilliant day and will consider joining us again in 2020."

To submit an expression of interest for Fizz Friday 2020, please contact Fundraising Coordinator, Lisa Bottomley at Lisa.bottomley@htafcfoundation.com.