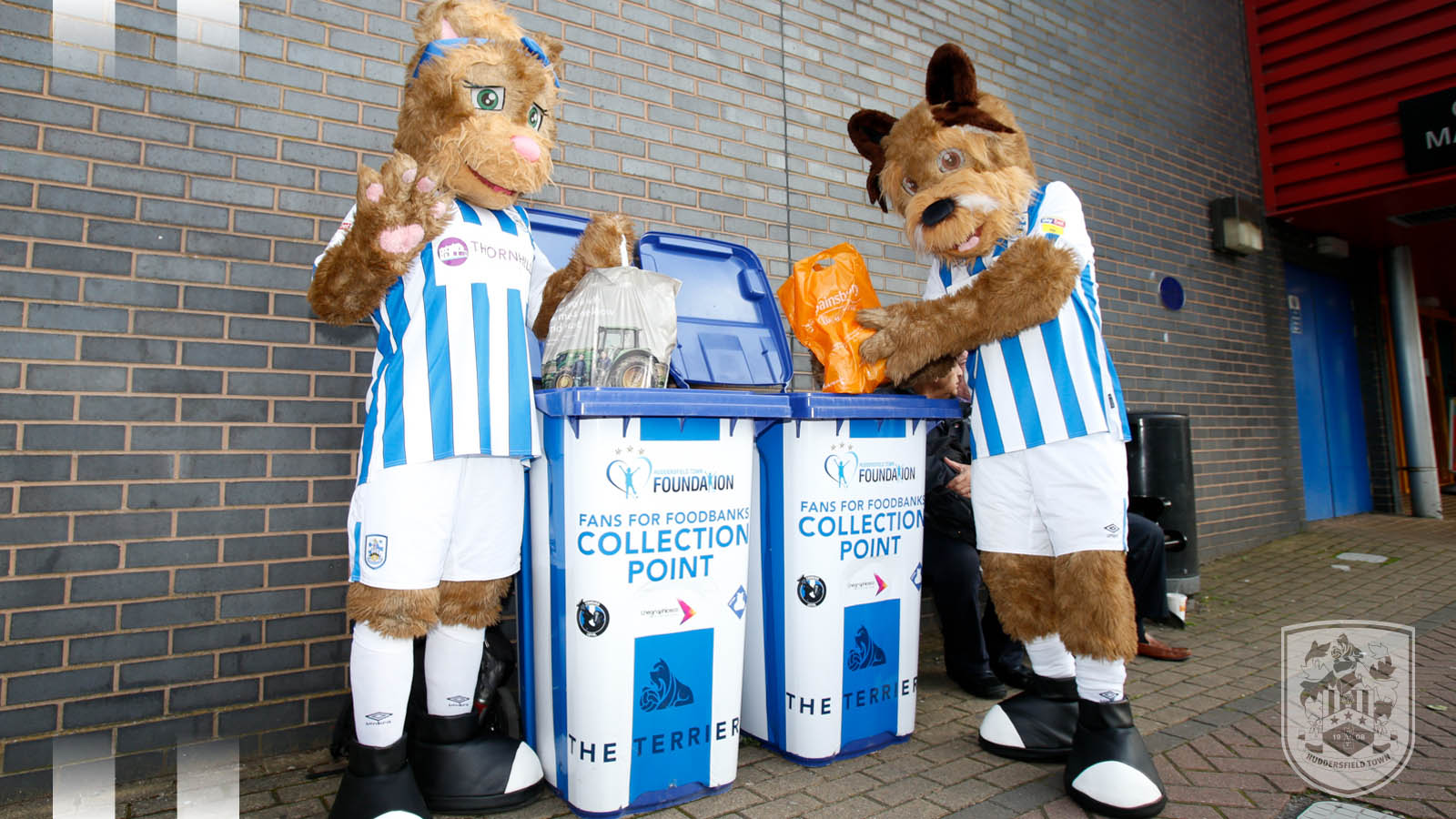 05 Dec

SUPPORT FANS FOR FOODBANKS VS LEEDS UNITED

The Town Foundation asks fans to continue their support for the Fans for Foodbanks initiative with a festive donation ahead of the Leeds United game.

In addition to typical items including tinned vegetables and dry goods such as pasta, fans are asked to donate selection boxes and other festive favourites that will help bring joy to local families throughout December.

If you're attending Saturday's match against Leeds United, then look out for the branded bins based at the John Smith's Stadium. There will be two by the player's entrance of the Core Stand and KAL Leisure Centre. Additionally, new branded bins can be found within the Terriers Store, at the home turnstile of the Abzorb South Stand and at the entrance of the hospitality area of the Stadium.

All the donations from the Leeds United match will directly benefit the Welcome Centre in Huddersfield. So, make sure you look out for the bins, which will be out from 10.30am!

The Town Foundation has also produced its handy Fans for Foodbanks cards to be distributed at home fixtures. These detail the list of donations accepted by the foodbanks, which include:

– Tinned vegetables
– Breakfast cereal
– Tinned meat
– Tinned fish
– Cooking sauces
– Pasta
– Rice
– Long-life milk
– Tea
– Coffee
– Sanitary products
– Cleaning products
– Toiletries

Town Foundation CEO, Siobhan Atkinson commented:

"Winter months can be the busiest time of year for our local foodbanks in Huddersfield and Batley due to increased heating costs and the demands of family life.

"As such, we are asking our fans to rally together once again to make this Christmas a special one for those in need of some extra support."

Fans who require any further advice about the Fans for Foodbanks initiative may contact Town Foundation's Fundraising Coordinator, Lisa Bottomley at lisa.bottomley@htafcfoundation.com.