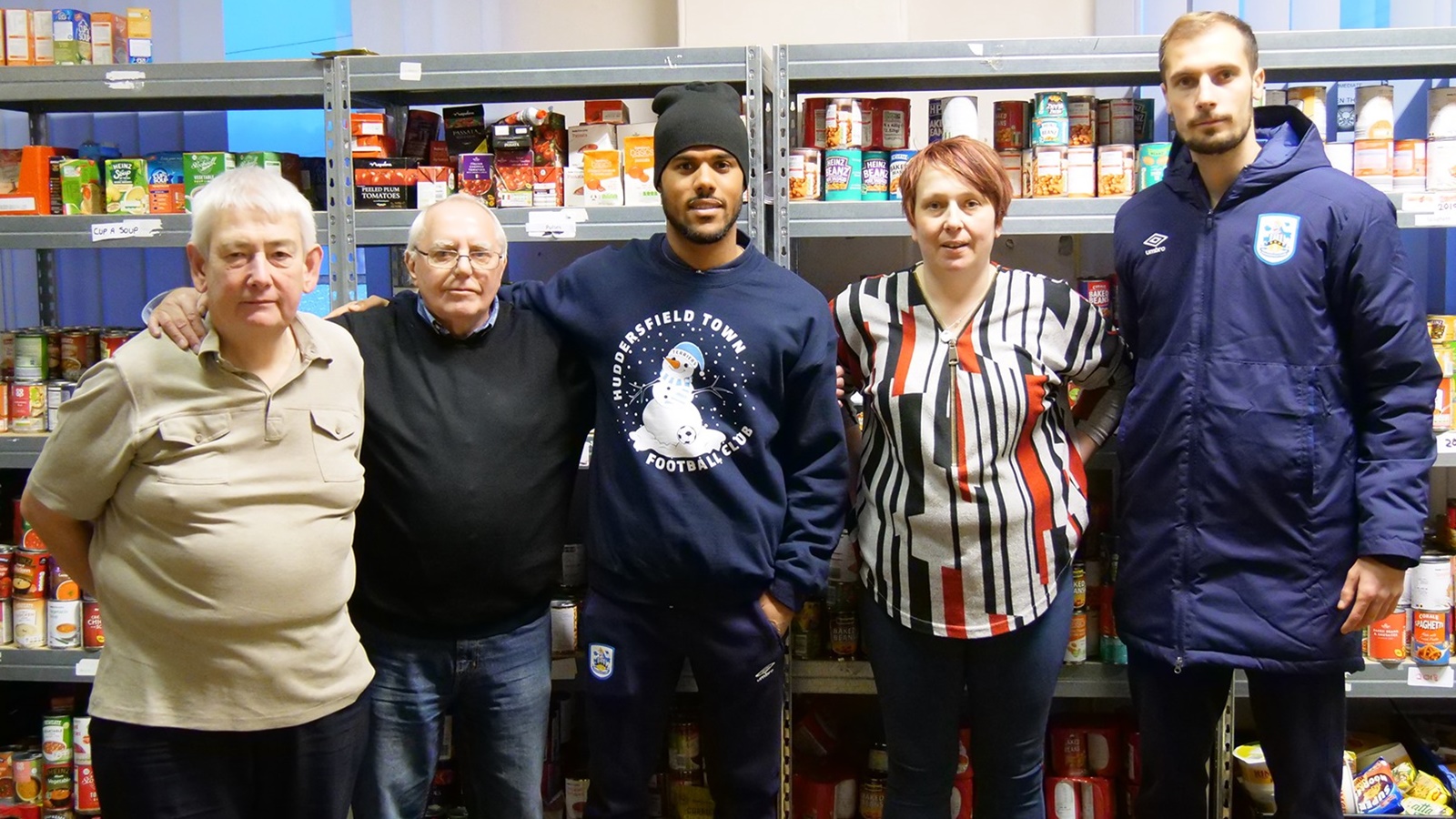 20 Dec

TOWN PLAYERS HELP OUT AT BATLEY FOODBANK

Elias Kachunga and Jon Gorenc Stanković volunteered at Batley Foodbank and saw the benefit the 'Fans for Foodbanks' initiative is having on the local community.

This is the second visit made to local foodbanks by members of Danny Cowley's First Team squad after Lewis O'Brien and Herbert Bockhorn visited the Welcome Centre in Huddersfield earlier this year. Last season Jon and Juninho Bacuna also got involved with the Foodbanks.

'Kache' and Jon were able to meet those who make the Foodbanks possible and see the work that goes on behind-the-scenes first-hand.

After speaking to the volunteers, the pair rolled up their sleeves, unloaded the vans and assisted in creating food parcels for those people in need in our local community.

Huddersfield Town midfielder Elias Kachunga commented:

"I think it's a good thing to help people especially at this period of the year, it's nearly Christmas.

"It's always a good thing to give something back to the people, it's brilliant that they pack food up for people, so they can have a good feeding for a week.

"The Town Foundation do a really good job to show that we try and give something back, so it's brilliant to be here to help people."

Catherine Tommis, Trustee and Chair at Batley Foodbank, added:

"We've been totally overwhelmed by the generosity of the Huddersfield Town supporters.

"The donations that have been coming in have helped us feed so many people, especially when we are feeding 68 people a day.

"We find that people struggle more at Christmas, especially when it comes to families. When they've done rent and bills, they don't have enough food to give to the children or enough money for presents; that's where we come in.

"Anything we can be given goes a really long way at Christmas. When you look around we are short of everything, so anything people can donate would be greatly received."

The 'Fans for Foodbank' collection takes place at every Huddersfield Town home game with fans encouraged to bring down any long shelf life food items. The donations are even more important over the Christmas period and will benefit Batley Foodbank and the Welcome Centre in Huddersfield.

If you're attending Saturday's match against Nottingham Forest, then look out for the branded bins based at the John Smith's Stadium. There will be two by the player's entrance of the Core Stand and KAL Leisure Centre.

Additionally, new branded bins can be found within the Terriers Store, at the home turnstile of the Abzorb South Stand and at the entrance of the hospitality area of the Stadium.

Town fans are asked to continue their support this weekend and in addition to typical items including tinned vegetables and dry goods such as pasta being donated, fans are asked to donate selection boxes and other festive favourites that will help bring joy to local families throughout December.