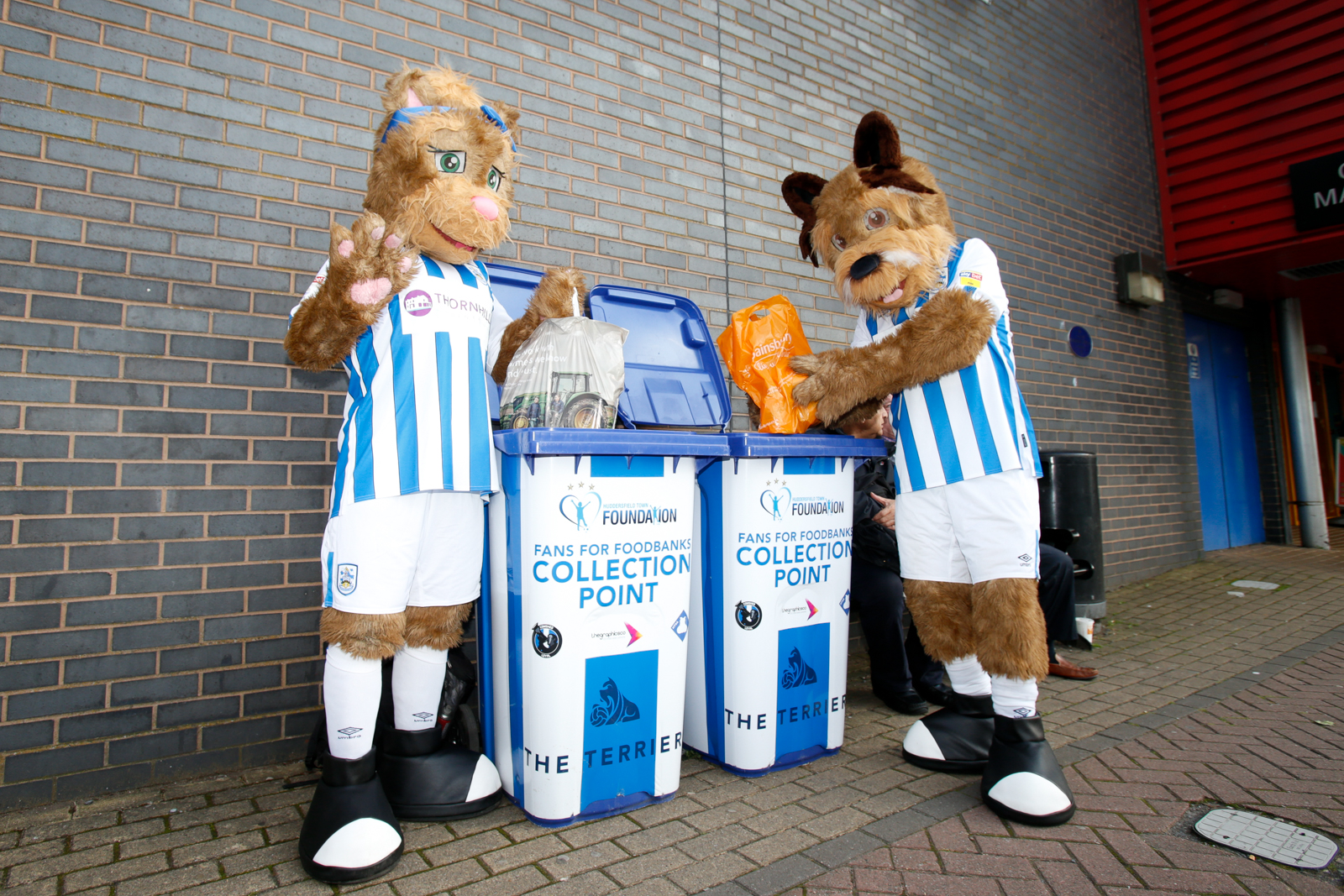 16 Jan

SUPPORT FANS FOR FOODBANKS VS BRENTFORD

The Town Foundation asks fans to continue their support for the Fans for Foodbanks initiative with a donation ahead of the Brentford game.

January is a particularly difficult and long month for families, with our local foodbanks seeing a rise in those using the service at this time of year.

If you're attending Saturday's match against Brentford, then look out for the branded bins based at the John Smith's Stadium. There will be two by the players' entrance of the Core Stand and KAL Leisure Centre. Additionally, branded bins can be found within the Terriers Store, at the home turnstile of the Abzorb South Stand and at the entrance of the hospitality area of the Stadium.

There is also a donation bin inside the Terriers Store which is there all week round should anyone wish to bring any donations on a non-match day!

So far this season we have collected 7,658 items through various initiatives – regular matchday collections, local businesses getting involved in our foodbank fortnight initiative and donations from children taking part in the Little Big Sleep Out – which were generously matched by Approved Food.

Huddersfield Town's three December fixtures saw fans donate 2,209 items, with Nottingham Forest seeing the highest total of the season – 878 items!

We would like to encourage fans to help us beat that total at the Brentford game on Saturday, especially as donations are very much needed at this time of year.

The Town Foundation has also produced its handy Fans for Foodbanks cards to be distributed at home fixtures. These can be collected from the Ticket Office window or the Club shops and can be kept in your wallet alongside your season card! These detail the list of donations accepted by the foodbanks, which include:

– Cereal
– Toilet Rolls
– Tinned Fruit
– Crackers
– Tinned Meat
– Tinned Potatoes
– Meat & Fish Paste
– Washing Up Liquid
– Lentils/Chickpeas
– Instant Noodles
– Oil
– Tinned Fish

All the donations from the Brentford match will directly benefit the Welcome Centre in Huddersfield and Batley Foodbank.

In 2019 the Welcome Centre gave out enough food to provide 239,211 meals and Batley Foodbank redistribute enough food to provide three meals a day for a whole week for the whole family.

This incredible result wouldn't have been possible without our supporters and their generous donations at each home match, here's to 2020 being even bigger!

Fans who require any further advice about the Fans for Foodbanks initiative may contact Town Foundation's Fundraising Coordinator, Lisa Bottomley at lisa.bottomley@htafcfoundation.com.