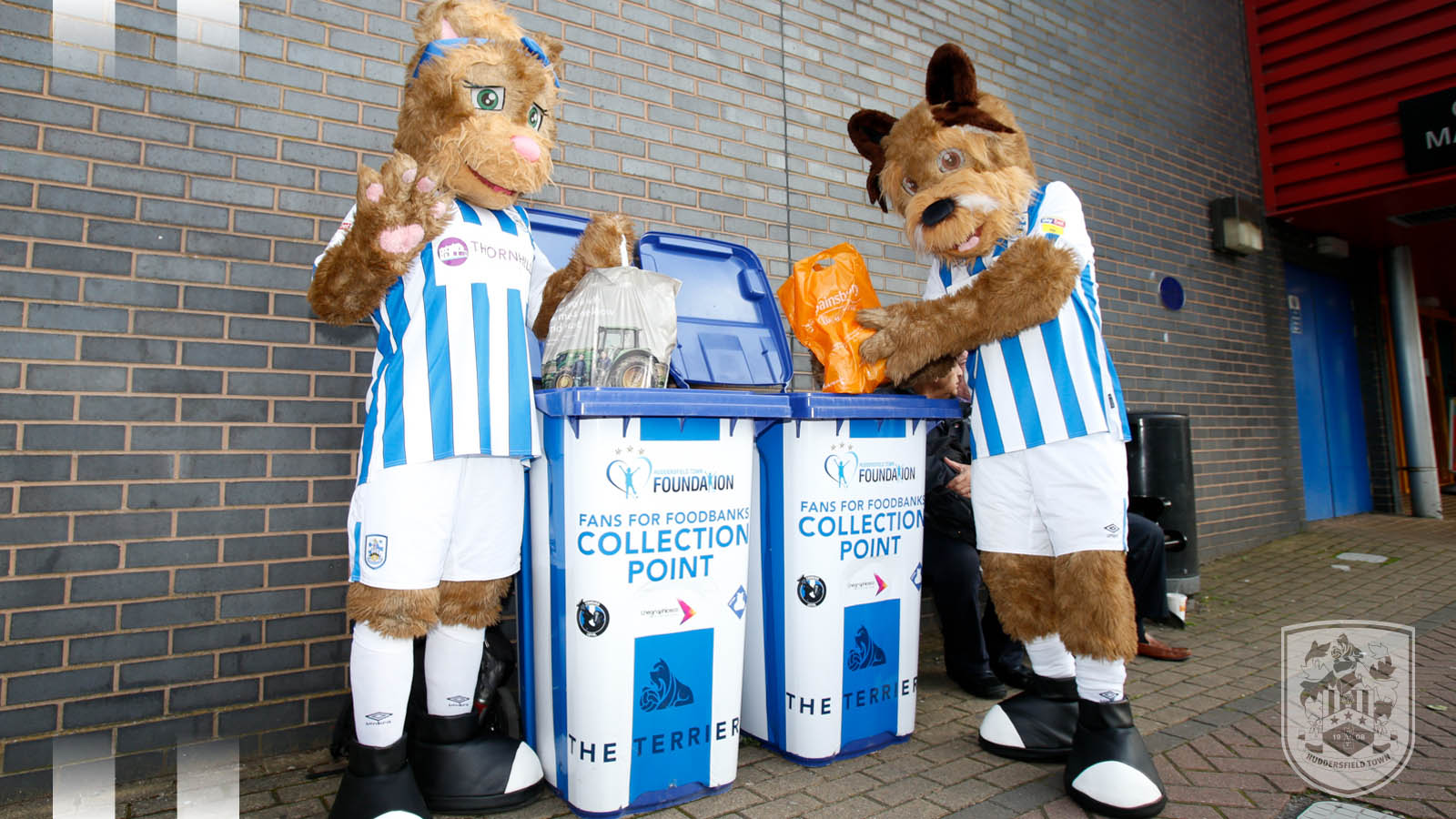 07 Feb

BACK THE TOWN FOUNDATION'S FANS FOR FOODBANKS!

The Town Foundation asks fans to continue their support for the Fans for Foodbanks initiative with donations for the upcoming home games!

The 'Fans for Foodbanks' initiative continues at the John Smith's Stadium for the matches against QPR and Cardiff City.

If you're attending the matches, then look out for the branded bins based at the John Smith's Stadium. There will be two by the players' entrance of the Core Stand and KAL Leisure Centre. Additionally, branded bins can be found within the Terriers Store, at the home turnstile of the Abzorb South Stand and at the entrance of the hospitality area of the Stadium.

There is also a donation bin inside the Terriers Store which is there all week round should anyone wish to bring any donations on a non-match day!

The Town Foundation has also produced its handy Fans for Foodbanks cards to be distributed at home fixtures. These will be handed out by the Foundation's prospective NCS participants.

These detail the list of donations accepted by the foodbanks, which include:

– Jam
– Tinned Fruit
– Hot Chocolate for children
– Cuppa Soup
– Custard
– Rice Pudding
– Orange and Blackcurrant Squash for children
– Sugar
– Coffee
– Milk
– Cereal
– Cat Food
– Tinned Potatoes
– Instant Mash
– Nappies sizes 4 and 4plus, 5 and 5 plus and 6 and 6 plus

All the donations from the QPR match will directly benefit the Batley Foodbank, whilst the donations for Cardiff will support The Welcome Centre in Huddersfield.

Fans who require any further advice about the Fans for Foodbanks initiative may contact Town Foundation's Fundraising Coordinator, Lisa Bottomley at lisa.bottomley@htafcfoundation.com.

You can also show your support for the homeless by signing up for Big Sleep Out 2020 that will take place on Friday 6 March 2020 at the John Smith's Stadium. The Town Foundation are looking for more people to sign up, so CLICK HERE to find out more information.