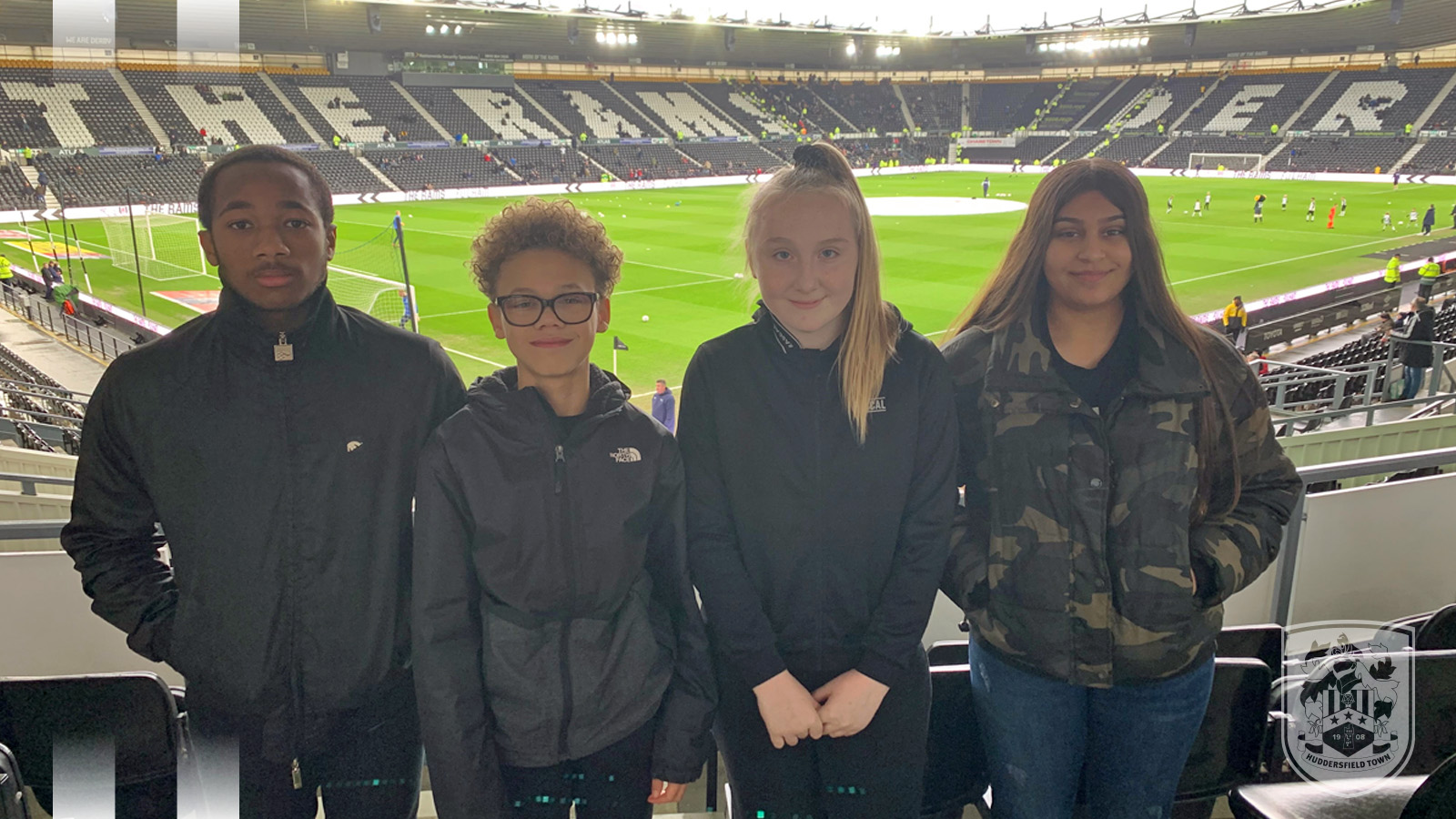 18 Feb

PREMIER LEAGUE KICKS PARTICIPANTS TREATED TO PRIDE PARK HOSPITALITY

Five participants from the Town Foundation's Premier League Kicks programme travelled to Pride Park for Huddersfield Town's match at Derby County.

Club kit sponsor, Umbro gifted the group use of their hospitality box for the afternoon, offering pride of place viewing for the match.

Participants aged from 13–17 were selected on account of acting as role models to their peers over recent months.

Among the group were female participants from the Leeds Road Sports Complex girls session, a male participant from the Almondbury session and a male participant from the Central Stars disability session.

Each had previously received commendation for their efforts through the Town Foundation's 'Working Class Club' certification scheme.

Undeterred by storm Dennis, the group travelled by train accompanied by the Town Foundation's PL Kicks Manager, Alfie Butwell.

Upon arrival, they were treated to a four course meal consisting of chicken and chorizo terrine, slow braised rosemary lamb shank and Dutch apple pie. They were also invited to have their photo taken pitch side.

In speaking of the day, participants, Cerys and Chris commented:

"I've had so much fun today. I got to meet some players and it's been a once in a lifetime opportunity."

"I've never had an opportunity like this before. I ate like a king and had a great view of the game."

The group saw Town manage a draw against the Rams, with new signing Harry Toffolo scoring his first goal for the Club.

Premier League Kicks is a national initiative working in local communities to inspire young people. By engaging them in a variety of constructive activities including a wide range of sports and coaching sessions, communities across the country have been transformed through significant reductions in anti-social behaviour.

Umbro have been a proud supporter of the Town Foundation's PL Kicks programme during the 2019/20 season, having already donated a number of items to be used as rewards for good behaviour.

To learn more about the Town Foundation's Premier League Kicks programme or to get involved, please contact Alfie Butwell at alfie.butwell@htafcfoundation.com or on 01484 503 768.