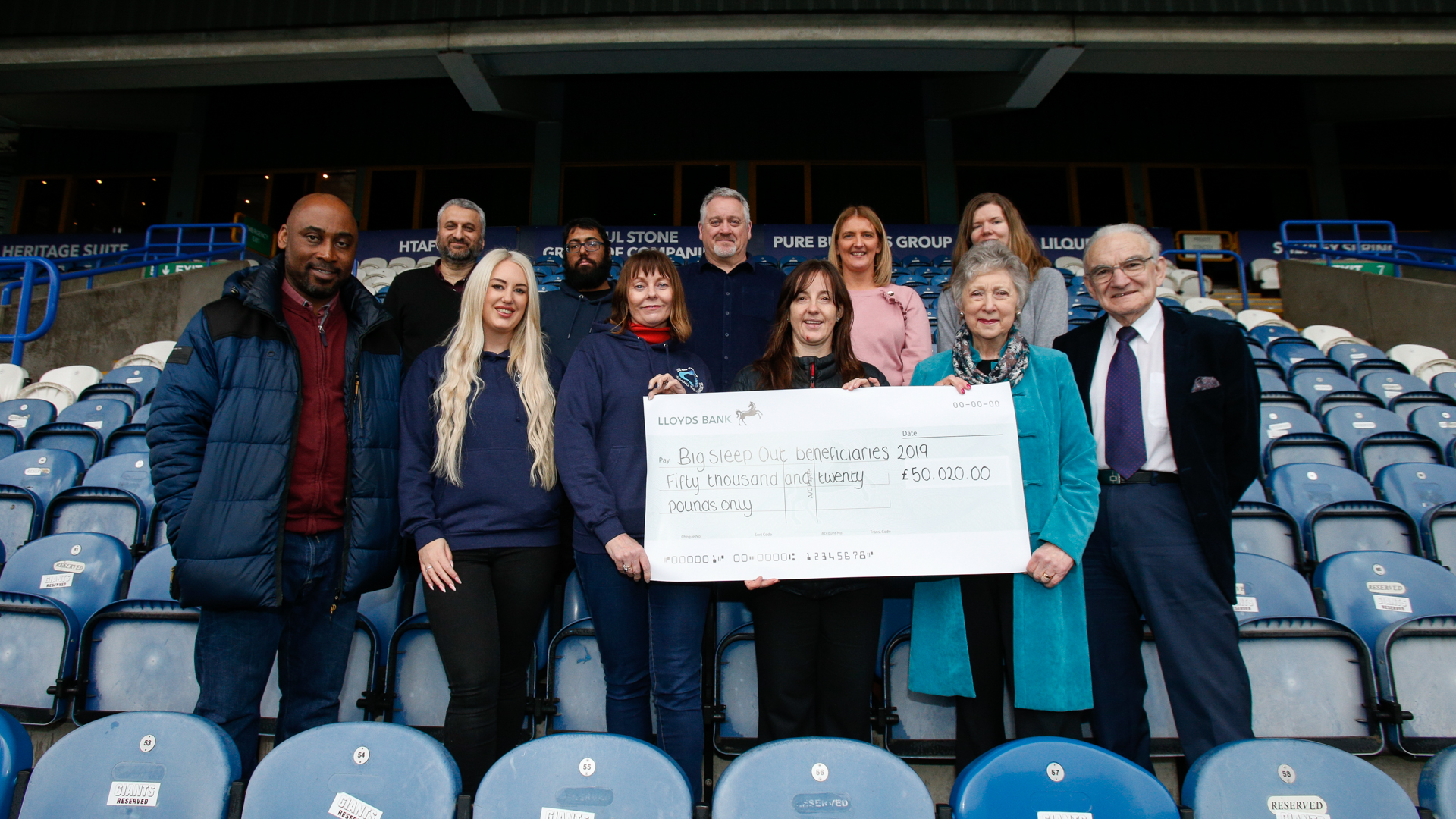 04 Mar

WHO THE BIG SLEEP OUT 2019 HAS BENEFITTED

As the Town Foundation gears up for the Big Sleep Out 2020 on Friday 6 March, Foundation staff met with beneficiaries of funds from the 2019 event to find out how the local community has benefitted over the past year.

The second Big Sleep Out, sponsored by Bastion Estates and Jaybe Sleep Smart, raised a total of £50,868, which was distributed to various charitable causes in and around Kirklees following a closed application process.

On Friday 28 February, the Town Foundation invited beneficiaries and their representatives to meet at the John Smith's Stadium to discuss the impact of these vital funds, network and have their photos taken pitch side.

Beneficiaries included:

-Â One Big Family: an organisation that offer outreach services to the homeless and those at risk of homelessness, also providing snacks, drinks, clothing, toiletries and personal hygiene items.


-Â Huddersfield Street Kitchen: based in the centre of Huddersfield, this group provide food and clothing to over 100 homeless people in need.


-Â The Basement Recovery project: an independent self-help organisation that offer support and inspiration to those with addictions and at risk of homelessness. They offer a breakfast club and a safe environment for users to talk about their difficulties.


- The Huddersfield Mission: providing a low-cost community café, support and practical advice to the homeless or those at risk of being homeless, such as referral for food parcels, activity groups and a winter café.


- The Welcome Centre: an independent food bank providing practical support such as food, toiletries and bedding to families and individuals in crisis. The Welcome Centre are also a beneficiary of the Foundation's Fans for Foodbanks initiative.


-Â Batley Care & Drop in Centre: a voluntary organisation in North Kirklees making referrals to local food and clothing banks.


- Batley Food Bank: providing food for the homeless and families on low income in the Batley area. The Batley Food Bank are also a recipient of the Foundation's Fans for Foodbanks initiative.

In speaking of their receipt of funds, Ellie Coteau from the Welcome Centre, commented:

"The Big Sleep Out is fantastic for us.

"The money we got from the Big Sleep Out helped us to support so many people who are either homeless or vulnerably housed and at risk of homelessness.

"With the money that we got we were able to buy essential furniture for people moving into new tenancies, who otherwise wouldn't have had anything."

It's not too late to get involved in this year's event and help to sustain crucial organisations such as those detailed, working to combat homelessness in and around Kirklees.

Those who are unable to sleep out can make a donation by CLICKING HERE. 

For further information, please contact Fundraising Coordinator, Lisa Bottomley at lisa.bottomley@htafcfoundation.com or on 01484 503 773.