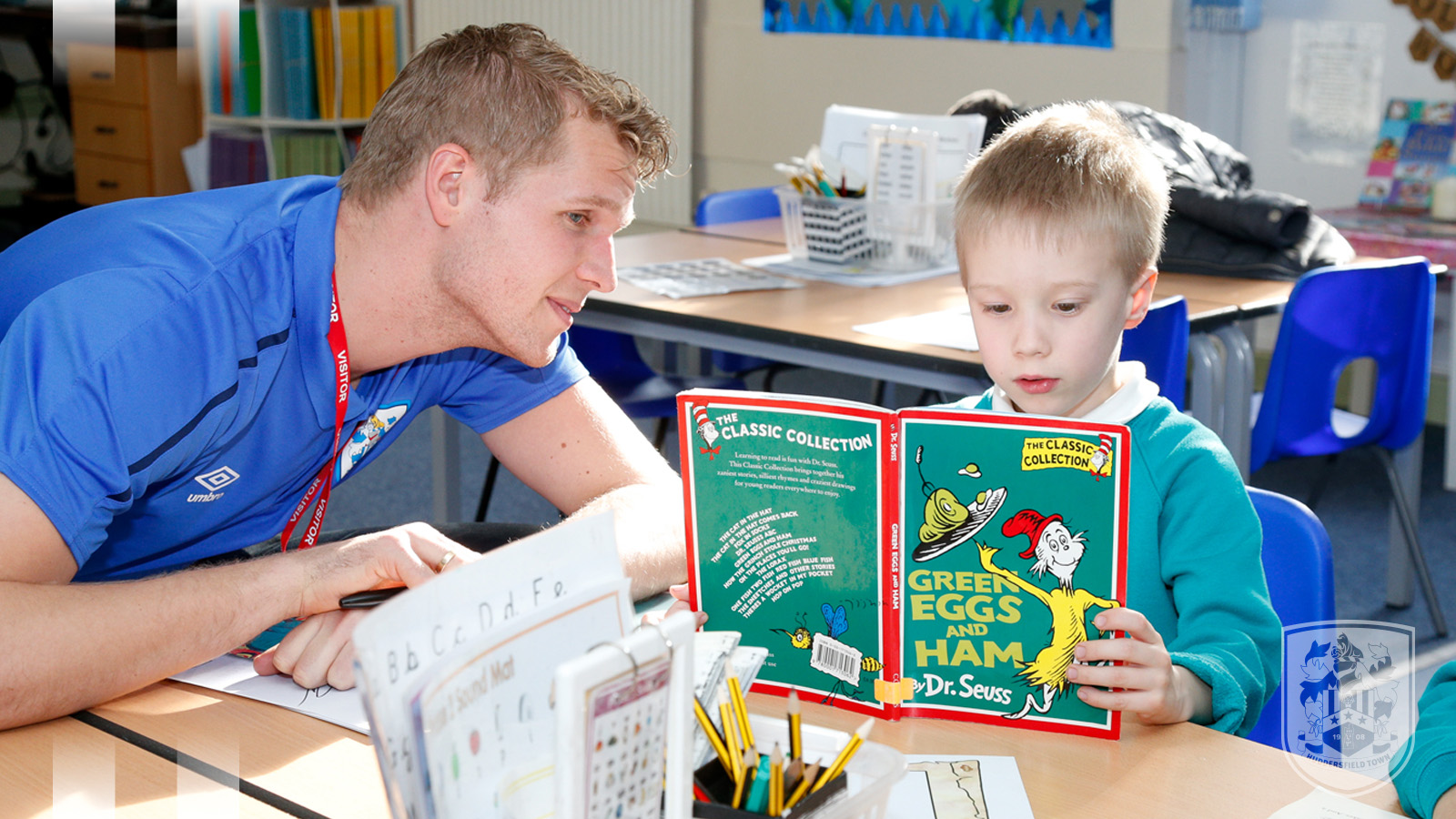 05 Mar

JONAS & JON SURPRISE CHILDREN AHEAD OF WORLD BOOK DAY!

Jonas Lössl and Jon Gorenc Stanković surprised students at Oak CE Primary School as they prepared for World Book Day!

The Town Foundation do some magnificent work in the local community and Oak CE Primary School are one of the schools where the Town Foundation deliver a Breakfast Club and the Premier League Primary Stars programme.

In the build up to World Book Day, Jonas and Jon met students ranging from Year 1 to Year 4 and selected their genres for the special World Book Day writing competition. The students were tasked with writing stories in specific genres – like crime, romance and action – and the characters had to be based around Huddersfield Town's First Team stars!

After having a Q&A with all the students, who came up with some excellent questions, the pair went around some classes to listen to the students' ideas, listen to them read and to speak to them about the importance of reading.

Both Jonas and Jon are keen readers themselves, which really helped the youngsters connect with World Book Day.

Huddersfield Town Goalkeeper Jonas Lössl commented:

"It's incredible to feel the work that the Town Foundation do and the daily work that Oak CE Primary School do here.

"You can really see what that means to the kids, to be able to be a part of Huddersfield Town and how that helps them day-to-day."

Centre-back, Jon Gorenc Stanković, added:

"I saw a kid, who was reading to me, and it was a really nice feeling to see how young people understand books. With their imagination they can do anything.

"There's all kinds of books, some stories or ones with true facts. From the stories their imagination goes crazy and from the true stories or facts, they can learn from it and use it in life later."

That wasn't the only novel idea the Town Foundation had leading up to World Book Day! A number of Huddersfield Town supporters will have noticed their stall in the Fantastic Media Family Stand ahead of the game against Charlton Athletic.

Working in conjunction with WH Smiths, approximately 400 free book vouchers were handed out to youngsters between the ages of 3 and 12 prior to kick-off.

The young supporters were able to hand those vouchers in straight away and received books like 'Amelia Fang and the Bookworm Gang' by Laura Ellen Anderson and 'The Kissing Booth: Road Trip' by Beth Reekles. Although the most popular book on the day was 'Alex Rider: Undercover Four Secret Files' by Anthony Horowitz, which is a series of short stories about a teen super spy!

World Book Day fell at the perfect time of year for the Town Foundation, who in February launched the second round of their Topic Heroes project.

Topic Heroes is a creative way to inspire children to write, using topic-based learning. Through an interactive digital platform designed by Nutshell Creative Marketing, children are encouraged to write their own stories over a series of weeks. At the end of the project, they are provided with a printed book of their work, making them published writers!

On World Book Day itself, participants from the first round of the Town Foundation's Topic Heroes will be presented with their printed books.

World Book Day, hosted by the World Book Day Charity, was originally created by UNESCO and first celebrated in 1995. Its mission is to unite children to share-in and celebrate their love of reading.

For further information on Topic Heroes, please visit the website at http://whiztales.nutshellcreative.co.uk/.

For further information on the Town Foundation's involvement in World Book Day or larger Primary Stars programme, please contact Ruby Marlow at ruby. marlow@htafcfoundation.com or at 01484 503 773.