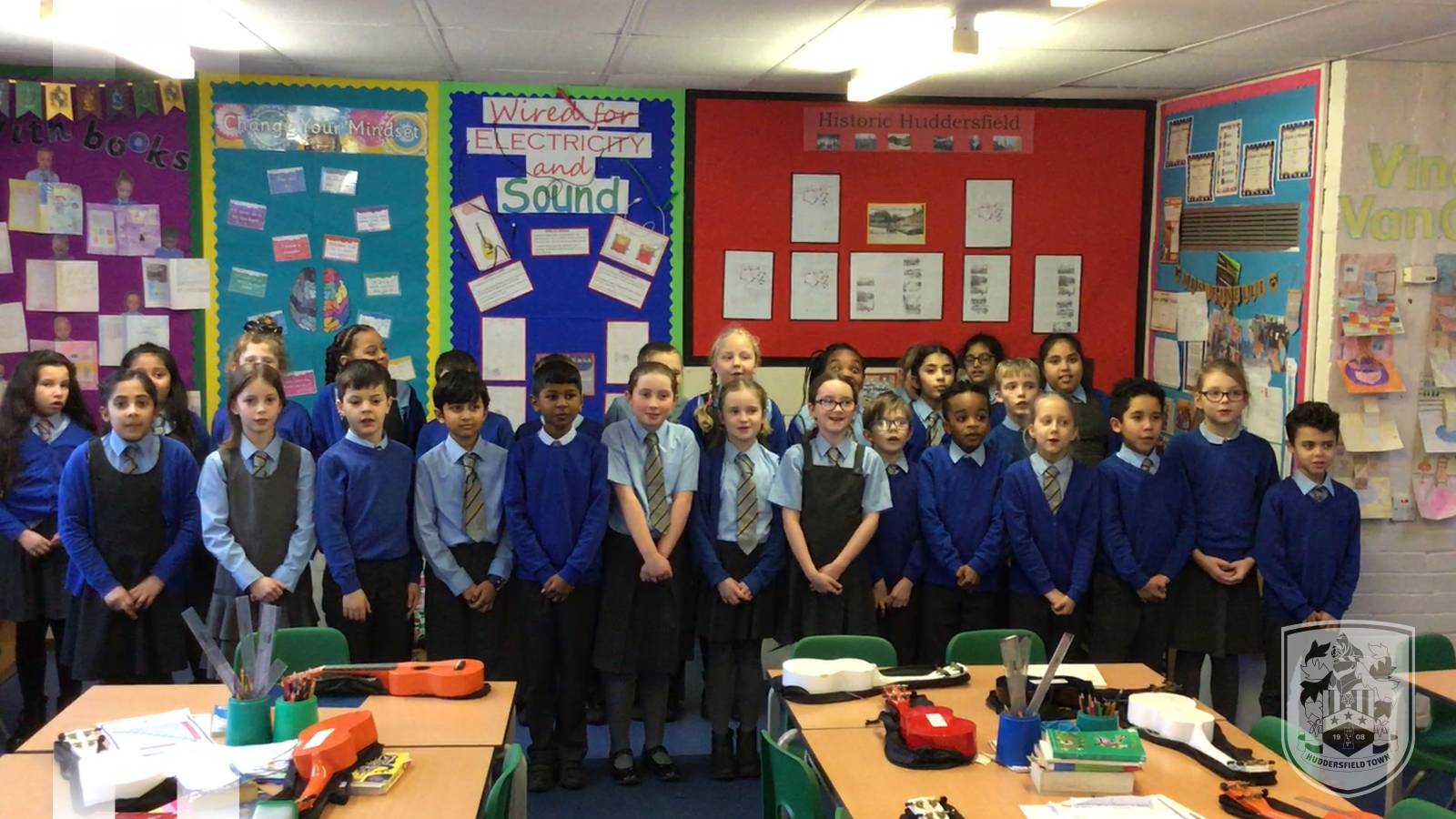 07 Mar

THE TOWN FOUNDATION'S BIG CHANT WINNERS REVEALED!

The third year of the Town Foundation's Big Chant competition in collaboration with Musica Kirklees has drawn to a close, with St Patrick's Catholic Primary School year 4 class being crowned the overall winner.

The Big Chant aims to engage local school children in creative musical composition based on chants from the stands at HTAFC's John Smith's Stadium. Previous year's competitions have seen over 2,300 children from more than 50 different schools across Kirklees take part.

After much deliberation, the judging panel which included David Threlfall-Sykes, Club Marketing & Communications Director, Paulina Schindler, wife of Club Captain Christopher Schindler, Foundation and Musica staff, decided upon four stand-out submissions.

Winners for each year group were:

– Year 3: Ashbrow Primary School
– Year 5: Marsden Primary School
– Year 6: Carlton Primary School

Each of these will receive a visit to school by Terry the Terrier, along with a football signed by the first team.

The overall winners, St Patrick's will receive a player visit, tickets to the Club's fixture against Preston North End and a football signed by the first team.

As well as being invited to the match, pupils from St Patrick's will also be offered to perform their chant on the pitch on 4 April, which has been designated the dedicated Foundation fixture.

In speaking of his involvement with the competition, David Threlfall-Sykes said:

"It's always a pleasure to be asked to judge the Big Chant.

"Through my work on match days, I hear a lot of chants from the stands and I have to admit that these are some of the most creative.

"All of the entries we saw were worthy of congratulations. However, we decided to award the top prize to St Patrick's as we felt the class conveyed real conviction.

"We would once again like to thank Musica Kirklees for helping to facilitate such a brilliant competition."

Getting involved with music through lessons and playing in bands has been proved to bring a wealth of social, emotional and educational benefits to people of all ages.

Musica Kirlees act as the lead for the Music Education Hub in Kirklees. They offer instrumental and vocal lessons to learners of all ages and abilities, both within and outside of school time.

For further information about the Big Chant or the Town Foundation's wider primary school activity, please contact the Town Foundation's Primary Stars Manager, Ruby Marlow at Ruby.marlow@htafcfoundation.com or on 07741 671070.