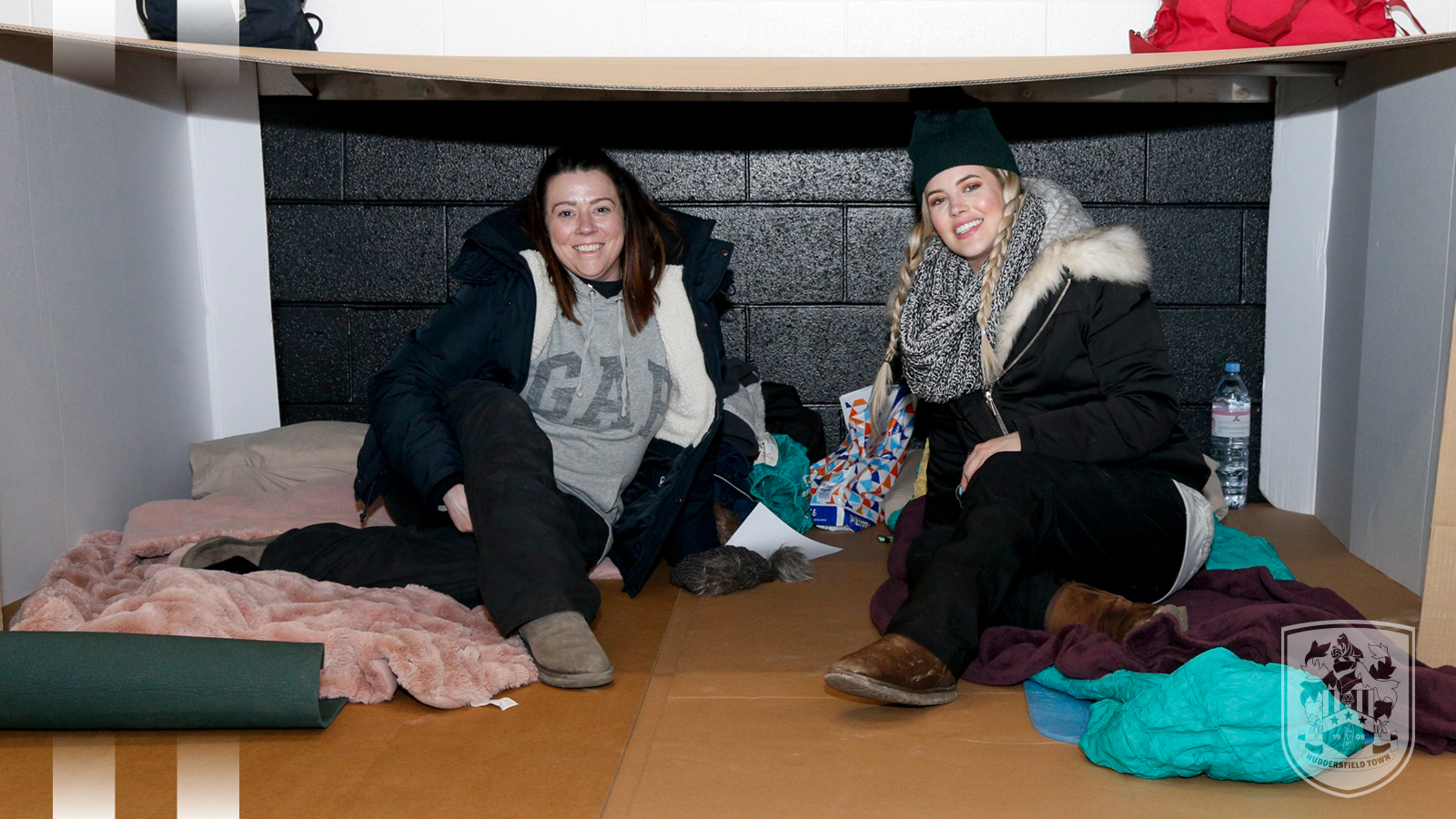 11 Mar

OVER 100 SUPPORTERS TAKE PART IN BIG SLEEP OUT

Around 130 Huddersfield Town supporters braved the cold and the outdoors to take part in the Big Sleep Out 2020.

Directors, staff and supporters all came together to raise money and awareness for local homeless causes.

The Town Foundation's third-ever Big Sleep Out took place on Friday 6 March 2020 and so far over £20,000 has been raised!

It's not too late to show your support and make a donation via https://uk.virginmoneygiving.com/fundraiser-display/showROFundraiserPage?userUrl=bigsleepoutdonations&pageUrl=2.

The Big Sleep Out 2020 participants arrived at 9pm for registration before setting up their beds for the night in the concourse and out in the stands of the Chadwick Lawrence Stand, the cardboard was kindly supplied By BM Packaging.

Town Foundation Chief Executive Officer Siobhan Atkinson gave the participants a rousing welcome; thanking them for their support and explaining how last year's money has benefitted local homeless charities.

Throughout the evening participants played card games and chatted to trustees and directors, like Dean Hoyle, Janet Hoyle and Louise Woollard. One of the participants from Huddersfield library also brought along a trolley full of books for the participants to choose from for their bedtime reading!

There were refreshments for those taking part with tea, coffee and soup all being served along with homemade flapjack that was made by regular Big Sleep Out participant Jeanette Cartwright.

Participant Jim Gardener, who volunteers and fundraises for the Huddersfield Mission, was also in attendance! He was a quarter finalist in Masterchef in 2019. Jim helped serve the soup and also cook the bacon sandwiches the next morning!

After a cold night, arguably the coldest of all the Big Sleep Outs, the sleepers woke to bacon sandwiches before departing.

New to this year was the Diary Room experience! Participants were encouraged to share their experiences and let us know why they had chosen to take part in the event. Take a look at the best answers below!

Since the first Big Sleep Out in 2018 over 500 people have taken part and, so far, raised over £120,000! Over 10 local charities and organisations have benefitted from that so far.

The Town Foundation would like to thank all the companies that supported the event; BM Packaging, Exertis Supplies, Approved Food, Andy Thornton Ltd, Hartleys Bakery, Greggs Foundation.

Huddersfield Town Foundation's Fundraising Coordinator, Lisa Bottomley, commented:

"I would like to thank everyone for coming along and supporting our Big Sleep Out this year!

"It was the coldest night we've had since we launched the Big Sleep Out, but everyone's spirits remained high and I think it showed a real togetherness across the Football Club, the Foundation and the local community.

"I'm really proud of the difference we are making in the local community and you can still support that. So, make sure you click the link above and make a donation!"

If you wish you'd taken part, then don't worry! Watch this space for Big Sleep Out 4!

For further information on The Big Sleep Out please email lisa.bottomley@htafcfoundation.com.