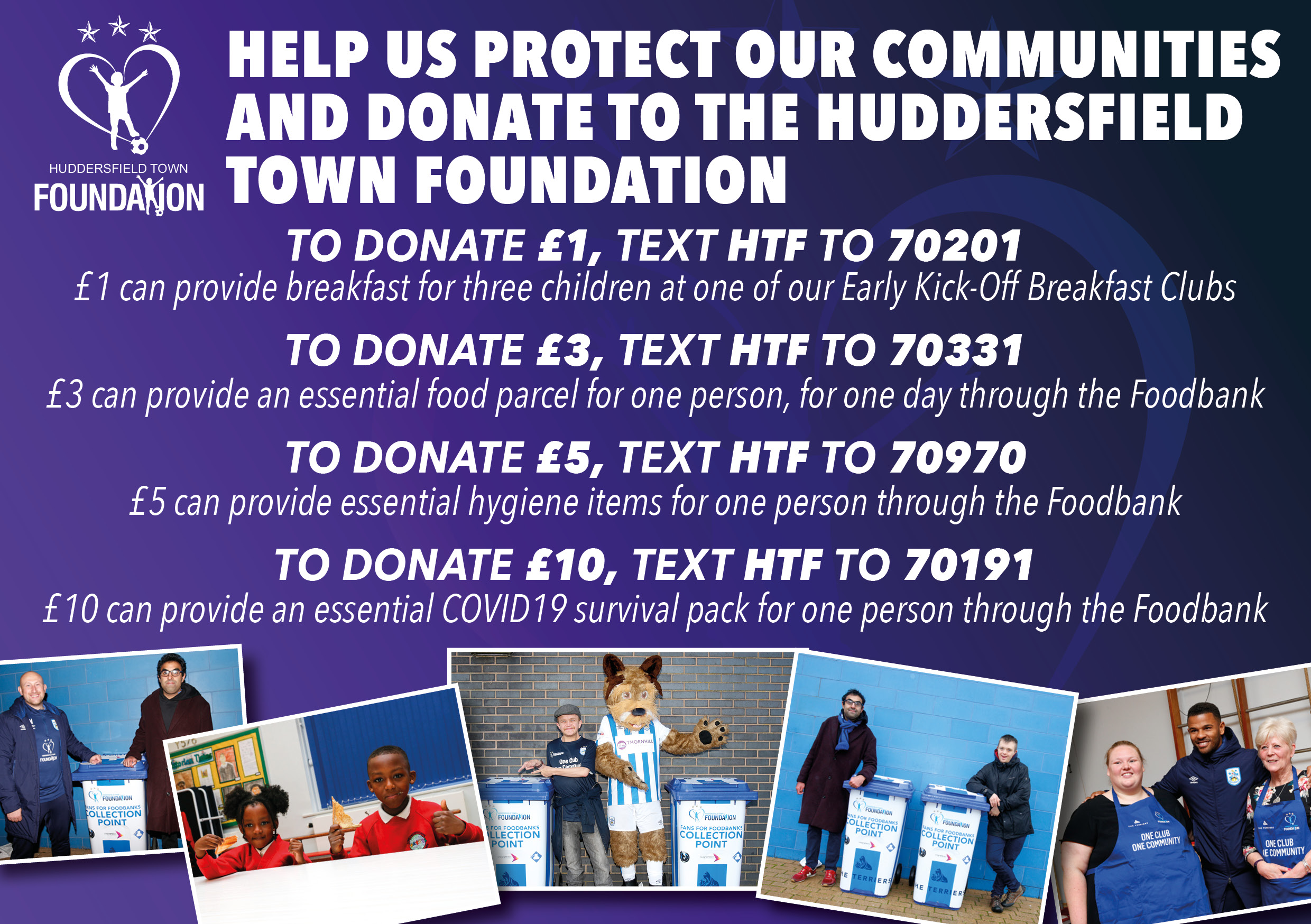 25 Mar

FUNDRAISING APPEAL LAUNCHES AS FOUNDATION LOOKS TO SUPPORT KIRKLEES COMMUNITY

The Huddersfield Town Foundation and Huddersfield Town urge supporters to contribute to their latest fundraising appeal, with the aim of supporting vulnerable people and communities in the Kirklees area.

With stricter measures regarding movement being imposed by the UK Government to try and prevent the spread of the Coronavirus (Covid-19), the Town Foundation is eager to sustain its activity in light of potential loss of income from planned fundraising activities and programme delivery.

Supporters are asked to donate to the Town Foundation, with funds to be used to the benefit of projects across our local community.

One initiative that is likely to receive extra funding is the 'Early Kick-Off' Breakfast Clubs, which have provided over one million free breakfasts for local school children since their inception in 2012.

Although many schools are closing, the Foundation is continuing its support of those that remain open. With several fundraising events having to be cancelled, your support will enable its work to continue in the coming weeks and when schools re-open.

Another initiative is 'Fans for Foodbanks', which asks supporters to donate food items to one of many bins located around the John Smith's Stadium every home match day, with items then being provided to the Batley Foodbank and Huddersfield Welcome Centre.

Foodbank collections have, of course, been affected by the suspension of the football league until 30 April 2020 at the earliest.

Our text donate service gives people the opportunity to donate £1, £3, £5 or £10 directly to the Town Foundation in a quick and easy way.

As an example of how such donations can be used:
£1 can provide breakfast for three children at one of our 'Early Kick-Off Breakfast Clubs'
£3 can provide an essential food parcel for one person, for one day through the Foodbank
£5 can provide essential hygiene items for one person through the Foodbank
£10 can provide an essential COVID19 survival pack for one person through the Foodbank.
Should you wish to donate more than £10, you can do so via our Just Giving link – https://www.justgiving.com/HuddersfieldTownFoundation.
In speaking of the fundraising appeal, Foundation Chief Executive, Siobhan Atkinson said:
"What we are experiencing now is unprecedented in our lifetimes. The Huddersfield Town Foundation has since its inception been there to support those most vulnerable in our community through the Breakfast Clubs. Today we are still absolutely committed to those same 41 Breakfast clubs but we have expanded to work with other groups and individuals of need right here in the community of Kirklees, working with people aged 4 through to 94.
"Like other charities, we are facing uncertain times but want to do as much as we can and therefore, we are asking all supporters of the Club and the community to help us to help others.
"Nothing carries more potential for change than a small act of human kindness; during these times we have the opportunity to be stronger together even when we are apart. All the funds we raise will be put to projects and individuals right here in Kirklees – supporting our own, right on our doorstep and really delivering on the One Club One Community ethos."
In addition to its fundraising campaign, the Town Foundation has launched a call to action via their social media pages for anyone who feels vulnerable or requires extra assistance during this uncertain time.
For more information on how to donate to the Town Foundation or how the money is distributed, please email enquiries@htafcfoundation.com and one of our team will be in touch.
Similarly, if you know a vulnerable person in need of help whilst in self isolation, please send us a message to the same address or get in touch via any of our social media channels.