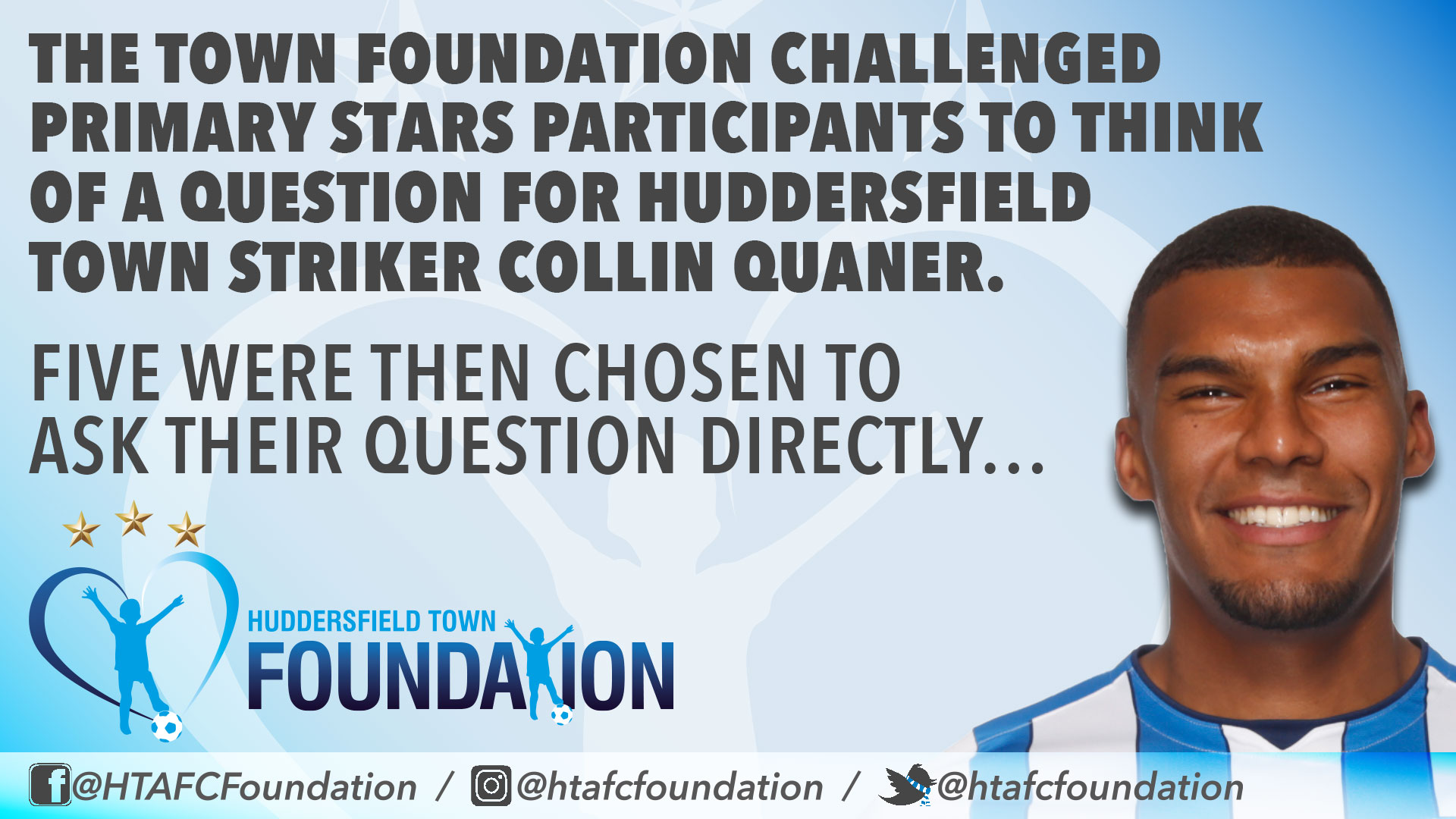 22 Apr

COLLIN QUANER ANSWERS YOUNG SUPPORTERS' QUESTIONS AS PART OF TOWN FOUNDATION'S PREMIER LEAGUE PRIMARY STARS COMPETITION

Five of the Huddersfield Town Foundation's Premier League Primary Stars participants had the chance to ask Town striker, Collin Quaner a question via zoom earlier this week.

The competition was launched in an effort to encourage young participants to research one of the players to help build upon their investigative journalism skills.

With the majority of children now spending much of their time at home, this was a fantastic opportunity to bring something different to their day, whilst having fun at the same time.

The same can be said for Collin, who joined the call after completing his individual training programme on Tuesday morning.

The Town Foundation launched the competition for children to send in their questions with the help of a parent or guardian via social media, with Collin's love of cooking being a potential line of questioning.
🍽️ Favourite pasta dish?
🕺 Best dancer at @htafc?

❓ Watch our #PLPS participants quiz #htafc striker @CollinQuaner. He gives a special mention to ex-Terrier @michaelhefele!#OneClubOneCommunity

👉 https://t.co/mHz2Yf7U2n pic.twitter.com/nxNjV8wnCN

— Huddersfield Town Foundation (@htafcfoundation) April 22, 2020
After considering the many thoughtful entries, Primary Stars Manager, Ruby Marlow delivered the good news to Joel, Harrison, Anna (with the help of Jamie), Bobby and Sienna that they had been selected.
Questions covered topics such as Collin's favourite pasta dish and the best player he has played for or against.
Supporters are invited to watch the video of the call to see his answers to those and other questions – some may surprise you, some not so much!
A big thank you to Collin for taking the time out of his day to engage with the children, enforcing the message that we are 'One Club, One Community'.
The Town Foundation delivers bespoke Premier League Primary Stars sessions in schools in and around Kirklees, covering a range of subjects including English, Maths, PSHE and Physical Education.
Any teacher and/or parent can access free teaching materials, including exclusive videos, lesson plans and worksheets, via the Primary Stars website.
The Town Foundation are also accepting expressions of interest from schools that might be interested in accessing Primary Stars for the 2020/21 academic year.
For more information about the programme, contact Ruby Marlow on ruby.marlow@htafcfoundation.com or 07741671073.