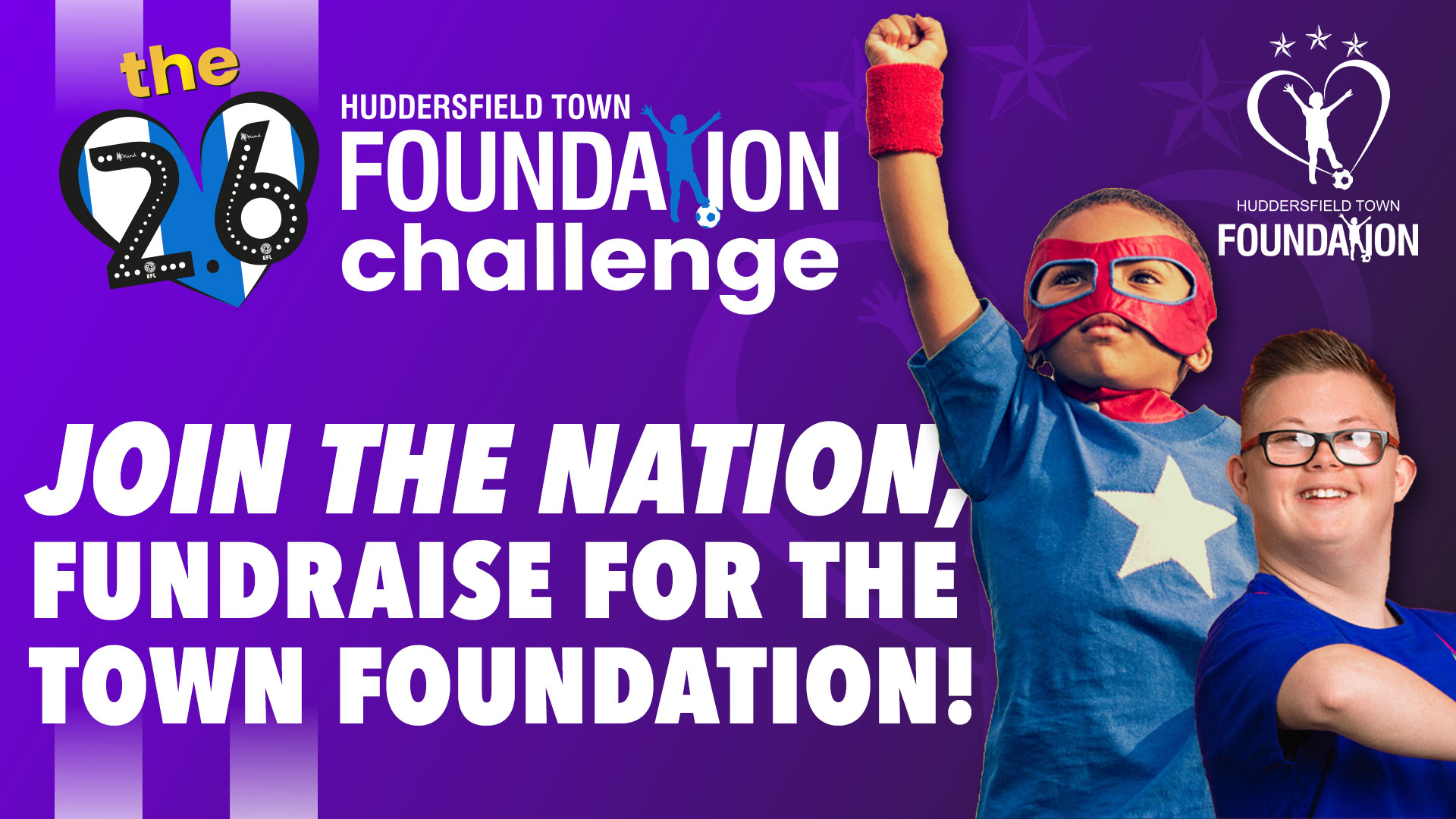 24 Apr

2.6 CHALLENGE OFFERS CHANCE TO HAVE FUN WHILE RAISING VITAL FUNDS FOR THE TOWN FOUNDATION

The Huddersfield Town Foundation encourages Town supporters and members of the local community to take part in its own version of the 2.6 Challenge, set to launch on Sunday 26 April 2020.

The 2.6 Challenge is a national campaign founded by the organisers of the Virgin Money London Marathon, which was scheduled to take place on 26 April.

In 2019, the London Marathon alone raised £66.4m for charities across the United Kingdom, meaning there is a big fundraising void to fill across the nation this year.

With COVID-19 forcing events to be postponed, this lockdown-friendly alternative gives everybody the chance to make a difference in their local communities.

The Town Foundation asks supporters to use their imagination and think of an activity to complete around the number 2.6, 26 or 260, either by yourself or with members of your household.

Ideas include running, cycling or walking 2.6 miles, stretching with 26 minutes of yoga, doing 26 keepie ups or holding a plank for 26 seconds.

If you are looking for an activity that might be a little less strenuous, you could try being silent for 26 minutes, baking 26 Huddersfield Town themed cupcakes or planting 26 seeds in your garden.

The only requirement is that the activity must follow the Government guidelines on exercise and social distancing and remember to stay local.

You can then donate or encourage others to donate to the Town Foundation, who suggest £26 as an apt amount in keeping with the theme.

The Town Foundations asks that all funds raised from challenges be transferred via its Virgin Money Giving page – https://bit.ly/TwoPointSixDonate.

Of course, the page is also open to donations from members of the community who wish to contribute without completing the 2.6 Challenge.

More inspiration can be found on the 2.6 Challenge website, as well as via event partners Virgin Money Giving who have provided a handy PDF document.

Be sure to take as many videos and or photographs of your challenges and share them with us on social media using #TwoPointSixChallenge. You can find us on Twitter and Facebook at @htafcfoundation, and on Instagram at @htafc_foundation.

If you would like more information about the 2.6 Challenge or any of the Town Foundation's other fundraising campaigns, please contact Fundraising Coordinator Lisa Bottomley on lisa.bottomley@htafcfoundation.com or 07741671596.