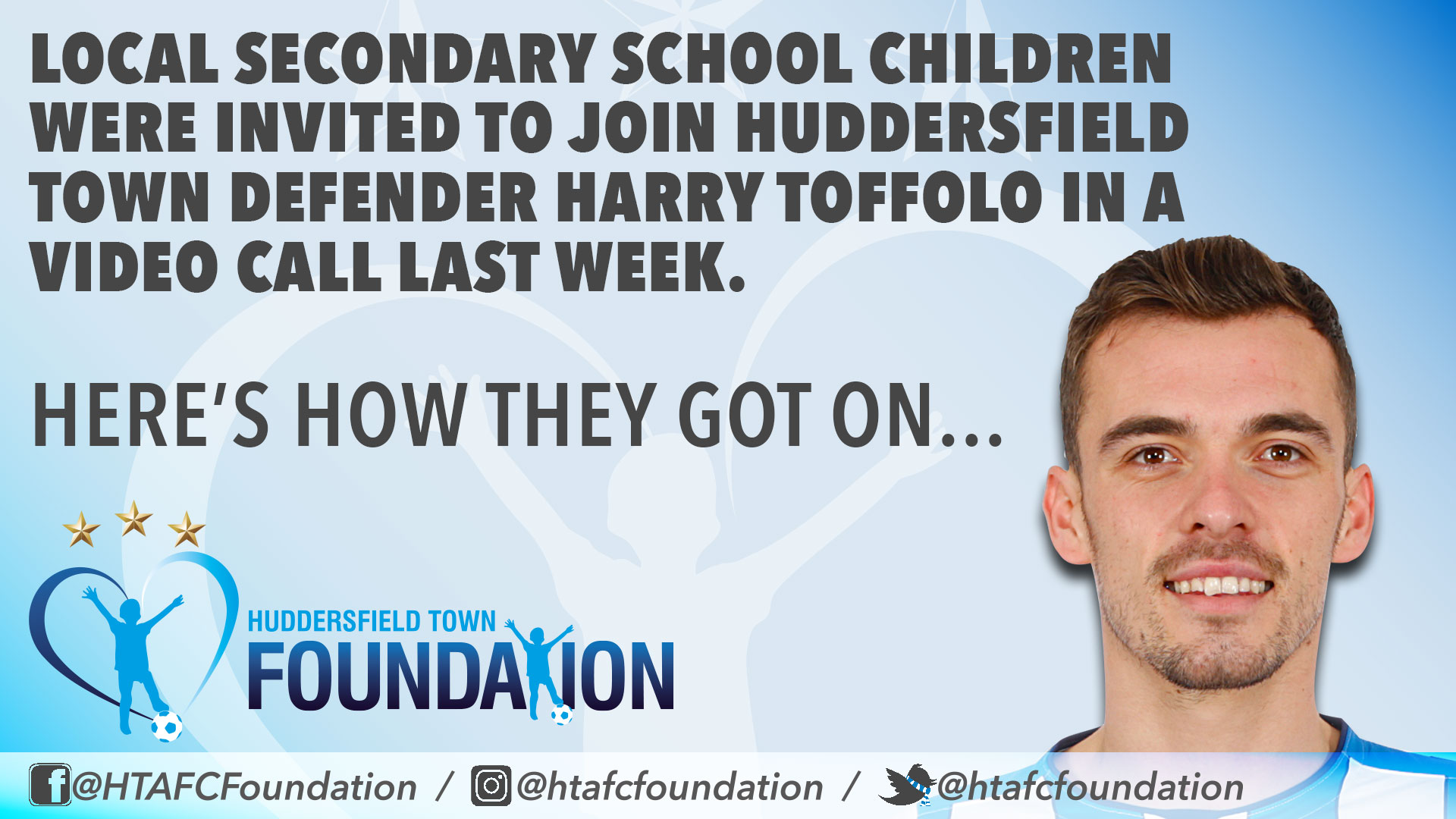 19 May

HARRY TOFFOLO ANSWERS YOUNG TOWN SUPPORTERS' QUESTIONS!

Five lucky Huddersfield Town supporters were given the chance to engage with Town defender Harry Toffolo last week!

The competition winners were invited to participate in a Zoom video call with the left-back, who was more than happy to answer their questions on a range of subjects.

With the Foundation's face to face activity suspended until further notice due to COVID-19, it is keen to keep in touch with the local community.

Lucas, Sophie, Jonny, Cerys and Samuel were great at asking their questions, as well as posing Toff some sporting challenges to take part in.

Amongst other things, the defender discussed what he is doing to keep fit during lockdown, his footballing hero growing up and who he thinks has the worst dress sense at Town.

He also reminisced on his time with Town to date, as well as looking ahead to the future and the potential return of football.

You can watch the full video on our Social Media channels – Twitter and Facebook @htafcfoundation, Instagram @htafc_foundation.
âš½ Footballing hero?
👕 Worst dress sense at @htafc?
🤔 Memories of @LincolnCity_FC@Harry_Toffolo answered that and more in a video call with @htafcfoundation participants last week! #htafc

👉 https://t.co/YVSb2PvC8C pic.twitter.com/fg4GT34EH7

— Huddersfield Town Foundation (@htafcfoundation) May 19, 2020
On behalf of the participants, the Town Foundation like to thank Harry for volunteering his time to engage with them. We hope he enjoyed it as much as they did!
Several the children involved in the video take part in the Foundation's Premier League Kicks programme.
PL Kicks isfree to attend and provides sports and workshop based sessions aimed at 8-19-year-olds. They take place across Kirklees and include a variety of sports such as football, netball, boxercise and more.
For more information on the PL Kicks programme, please contact Evan Hall via evan.hall@htafcfoundation.com or 07741671599.
The Town Foundation continues to engage young people in and around Kirklees, who may be struggling to adapt to having to continue their education at home.
Last month saw the launch of its Virtual Social Action Project, which gives 11-16 year olds the opportunity to make a difference in their local community. This initiative runs until Friday 19 June, and you can find more information here.
If you would like to hear more about how the Town Foundation can work with your Secondary school, please contact Secondary Education Sofie Armitage via sofie.armitage@htafcfoundation.com or 07741 671071.