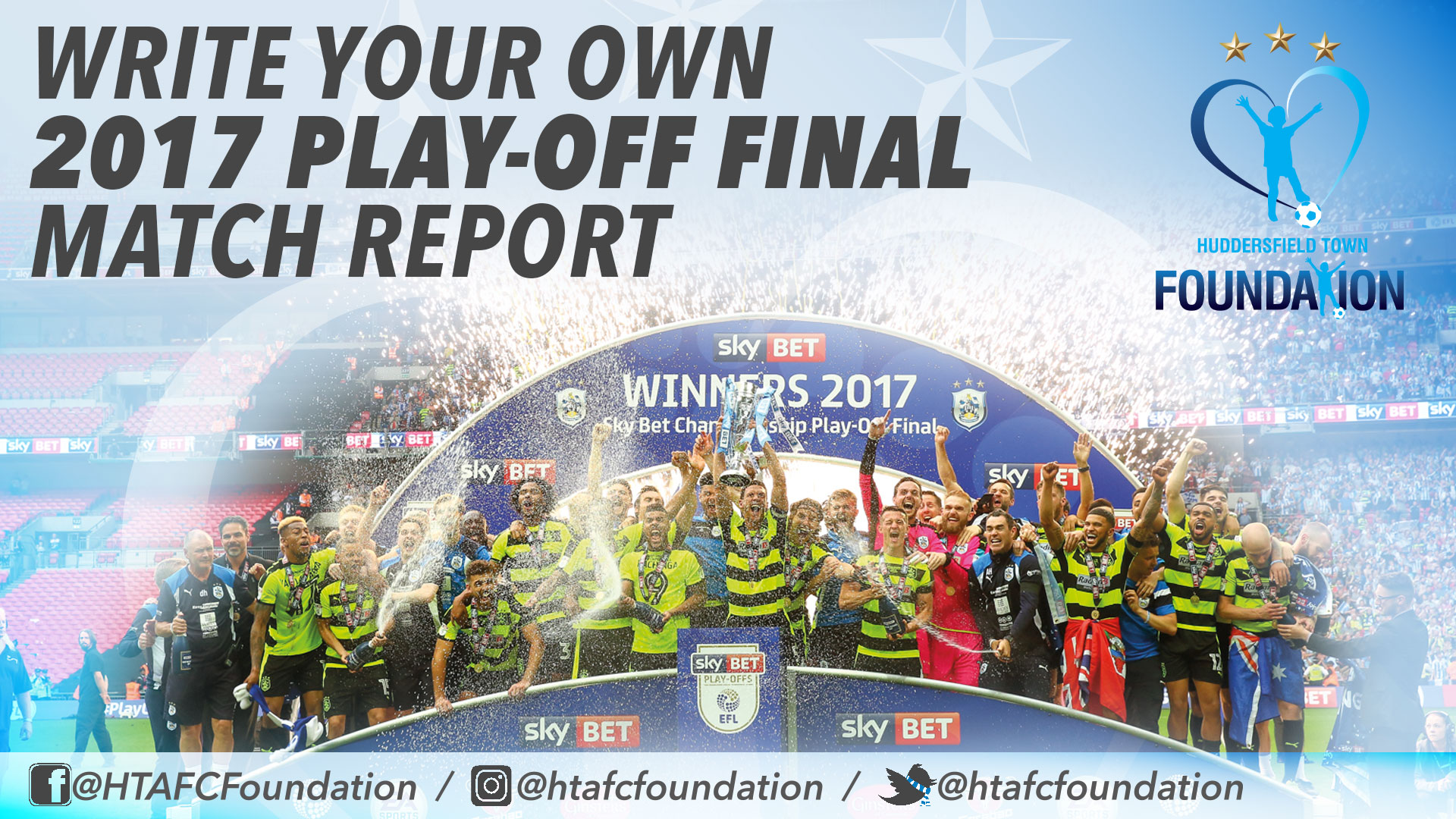 25 May

CHANNEL YOUR INNER SPORTS REPORTER AND WRITE YOUR OWN 2017 PLAY-OFF FINAL MATCH REPORT!

With the third anniversary of Huddersfield Town's Sky Bet Championship Play-Off final victory on the horizon, the Huddersfield Town Foundation has a writing challenge for you.

On Monday 29 May 2017, under David Wagner the Terriers secured their first ever promotion to the Premier League with a penalty shoot-out victory over Reading at Wembley Stadium.

Captain Christopher Schindler's winning penalty will forever be remembered amongst supporters, giving the Club a place in the top-flight for the first time since 1972.

Being such a momentous day in the Club's history, the Town Foundation is asking junior supporters to revisit the occasion and write a short match report to mark the occasion.

We are looking for no more than 300 words, which will provide a fantastic opportunity to hone your literacy skills from the comfort of your home.

The competition will be split into two age brackets, 8-12 and 13-16, and we will pick some of the best ones to feature on the Town Foundation and Huddersfield Town websites (htafc.com).

Said entries will also be published on the Yorkshire Post and Huddersfield Examiner websites, so your piece could reach a vast amount of people across the county.

A traditional match report would focus on what happened on the pitch and post-match reaction from players and managers.

In addition to this, we would encourage you to include some memories of the day from your perspective – whether you were watching from the stands at Wembley or on a TV screen in the UK or beyond.

If you need to jog your memory on the events of the day, you can re-watch the whole 120+ minutes on the Huddersfield YouTube (HTTV) channel by clicking here.

For further inspiration on writing styles, click here to see the Examiner's match report from Wembley Stadium.

To submit your or your child's entry, please send it in the form of a word document to ashley.colbourn@htafcfoundation.com by 7pm on Thursday 28 May 2020.

It would also be great if you could share your progress of how you're getting on, including any photos, on social media using the hashtag #HTFJournalist. You can find us on Twitter, Facebook and Instagram via @htafcfoundation.

Since its face to face offering was suspended following Government advice, the Town Foundation has created several educational resources intended to further the learning of youngsters at home.

One of which is Terry the Terrier's Activity Book, which is aimed at Primary School Children and contains History, Maths and Geography challenges, as well as quizzes and games. To access this, please email ruby.marlow@htafcfoundation.com.

Secondary school children can access our virtual Social Action Project, which is aimed at giving them the opportunity to make a difference in their local community. For more information, click here.