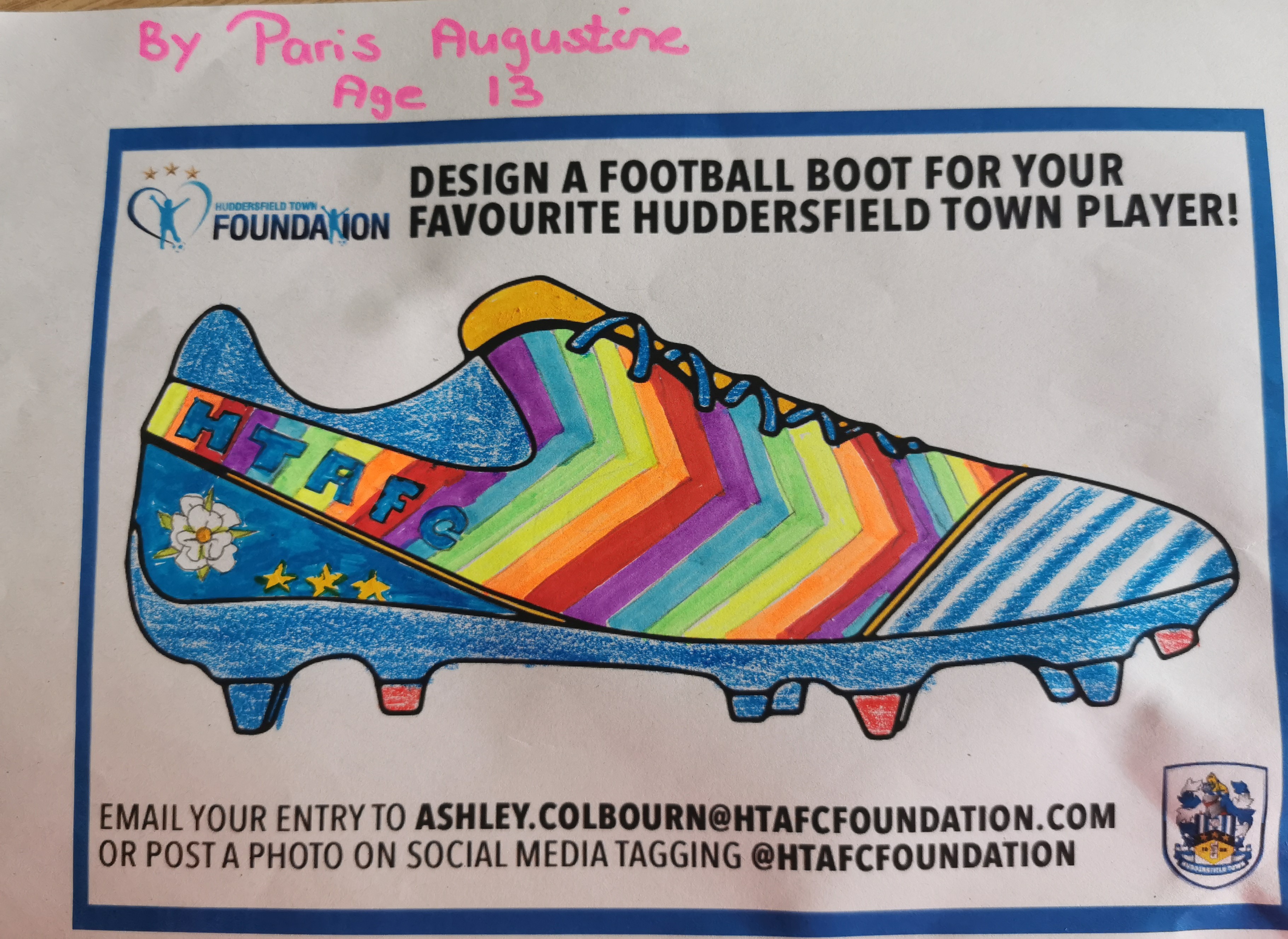 27 May

13-YEAR-OLD PARIS WINS DESIGN COMPETITION AND UMBRO BOOTS

The Huddersfield Town Foundation is delighted to announce Paris Augustine, 13, as its Boot Design Competition Winner!

Paris, a student at Netherhall Learning Campus in Huddersfield, submitted a design for Huddersfield Town striker Fraizer Campbell.

Having seen her design, Campbell sent Paris a video message thanking her for her drawing and wishing her well for the future.

The Town Foundation launched the competition last week, with the aim of engaging young Town supporters who may be studying at home.

Young supporters were encouraged to be as creative as possible, using colour, text and other imagery to make their design stand out.

With Club partner Umbro offering a brand-new pair of football boots for the winner, competition was fierce with a number of fantastic entries received.

Paris' design features a rainbow element and the letters 'HTAFC', as well as the Club's famous Blue and White stripes.
She's also included the white rose, which is of course synonymous with Yorkshire, and three stars to commemorate the Club's 'Thrice Champions' of the 1920s.
She added that it was a tough choice to decide who to design a boot for, with Christopher Schindler, Elias Kachunga, Juninho Bacuna and Karlan Grant all listing high on her list of favourite players.
The Town Foundation would like to thank everybody who took time to enter the competition; we hope you had fun being creative.
Should you wish to undertake another challenge, there is still time to enter the 2017 Play-Off Final Match Report competition.
Youngsters between the ages of 8 and 16 are encouraged to write up to 300 words on that famous day at Wembley Stadium, with selected entries being published on the club website, htafc.com.
They will also be published on the Huddersfield Examiner and Yorkshire Post websites. To find out more, click here or email ashley.colbourn@htafcfoundation.com.