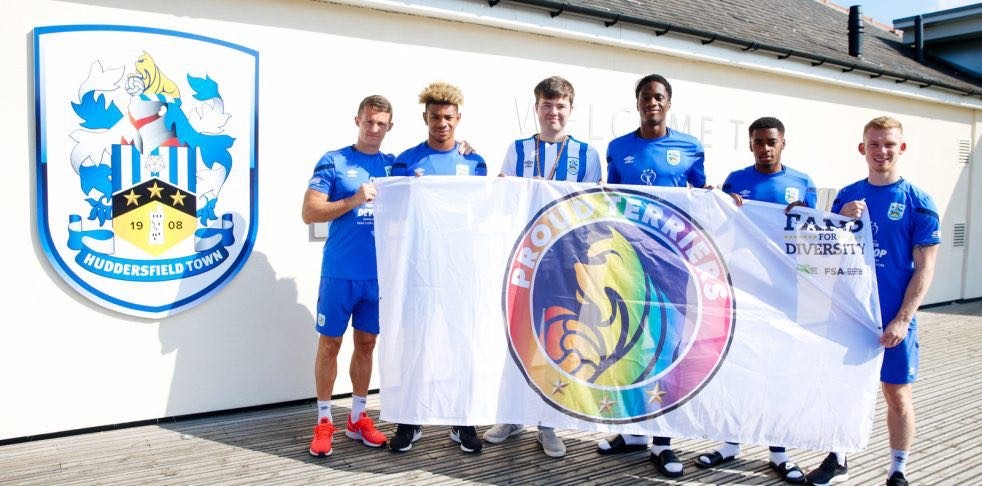 03 Jul

PROUD TERRIERS WORK TO IMPROVE LGBT INCLUSION WITHIN FOOTBALL

In October 2016, lifelong Huddersfield Town fan Ryan Mather formed the Club's LGBT Supporters Group known as Proud Terriers.

Ryan, who follows the team both home and away, started the group with the aim of combating the issue of homophobia within football.

During Kirklees Pride Week, the Huddersfield Town Foundation spoke to Ryan to learn more about the work of the group – including how he has developed its relationship with the club and their plans going forward.

Kirklees Pride Week is a week-long celebration that began on Sunday 28 June, which in 2020 was the 51-year anniversary of the Stonewall riots in America.

The aim of the week is to highlight the fantastic LGBT community within the county, with local providers such as Kirklees Council providing resources and webinars.

In just under four years, the Proud Terriers have built a strong presence within the Huddersfield Town fanbase, working on several initiatives on match days.

This includes partaking in a Q&A with Club Ambassador Andy Booth at Canalside and being invited to share their story with the First Team squad.

Furthermore, members of the group are always seen in the Fanzone at the John Smith's Stadium on dedicated Rainbow Laces match days, handing out sets of laces and engaging with fellow supporters.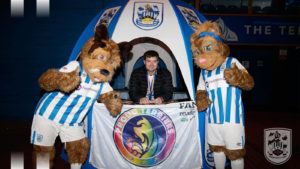 Being an openly gay man himself, Ryan feels there is still an issue of homophobia within football that needs to be addressed.
"On a personal level, there have been times where I have received funny looks and comments when unveiling my Proud Terriers flag at matches," he said.
"When I initially started the group, I was sometimes intimidated to do this because it might make me an 'easy target', but over the years I have grown more confidence.
"Before lockdown we would often hear of stories from different clubs around the country, and I think it is an issue that needs addressing by the football authorities. It would be great to see more done with the Football vs Homophobia and Rainbow Laces campaigns."
Moving forwards, the Proud Terriers plan to be able to host a range of social events when it is safe to do so. They also hope to be able to release more merchandise and continue to build their social media channels, which are going from strength to strength.
You can contact the Proud Terriers through their Twitter, Facebook and Instagram pages, @ProudTerriers, or by sending an email to proudterriers08@gmail.com. It is important to note that the group accepts members of all sexualities.
To find out more about Kirklees Pride Week, you can search the #KirkleesPride2020 hashtag on Twitter or visit the Kirklees Together website.
The Foundation delivers workshops to participants in schools and the community on the theme of homophobia, in addition to supporting the Rainbow Laces campaign. If you would like to arrange a workshop for your school and/or community group, please contact ruby.marlow@htafcfoundation.com.
Our vision is for a resilient, inclusive community with the Club and Foundation at its very heart. We adopt a zero-tolerance approach towards discriminatory language and behaviour.