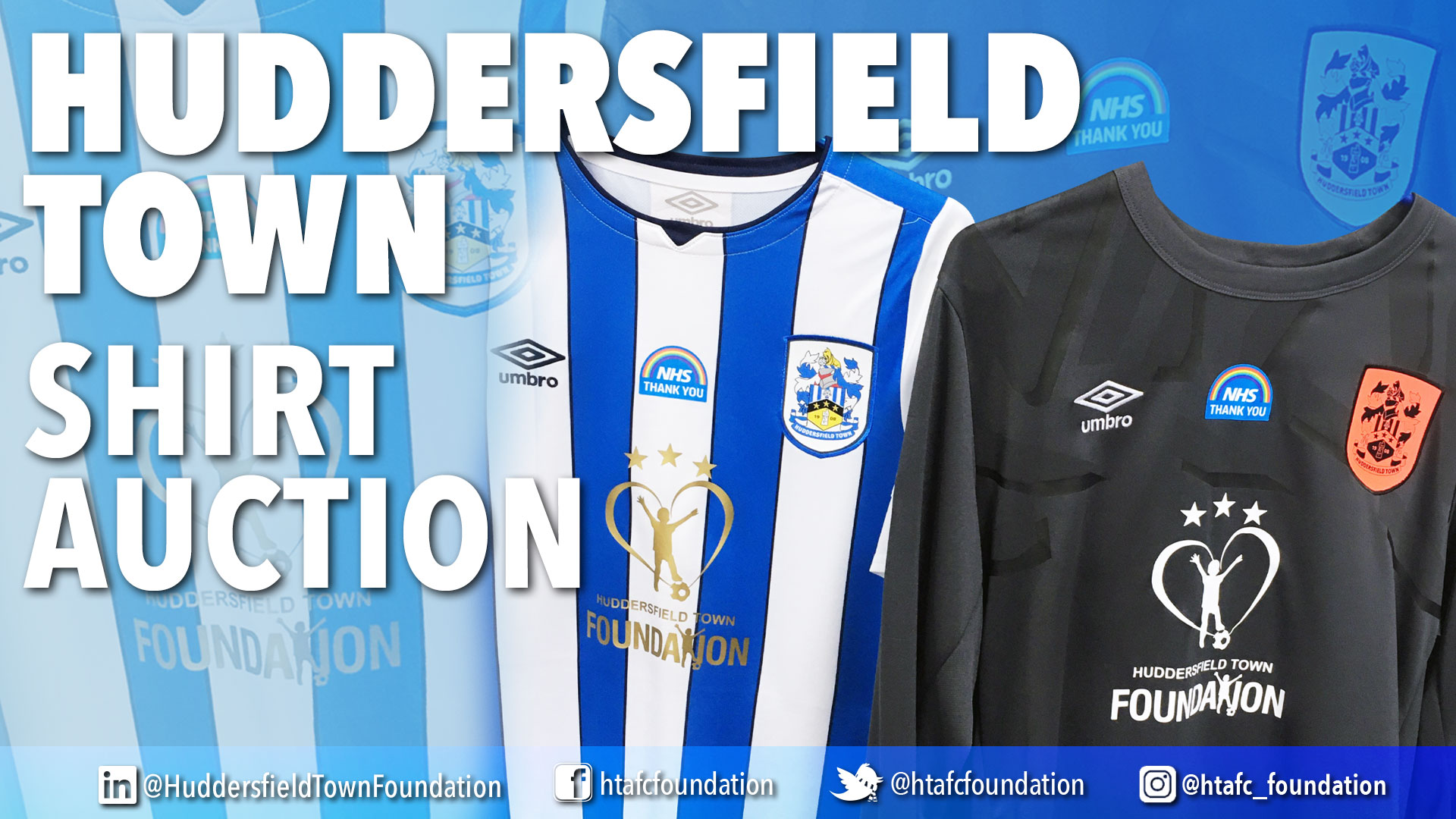 18 Jul

HUDDERSFIELD TOWN MATCH WORN SHIRT AUCTION NOW LIVE!

Huddersfield Town supporters can now bid on the players' 2019/20 match worn and match issued shirts from the match against West Bromwich Albion on Friday 17 July 2020!

Club partner Paddy Power kindly donated the front of shirt sponsorship to the Huddersfield Town Foundation for this match, with its logo featuring in gold on the outfield players' shirts and white on the goalkeeper kits.

Each shirt has been signed by their respective player and is now available to bid on via Match Worn Shirt, with a high percentage of funds raised being donated to the Town Foundation.

That money will be distributed to projects across Kirklees, including our 'Early Kick-Off' Breakfast Clubs, Wildcats football sessions and Sporting Memories, which aims to help people with dementia and/or social isolation.

As well as the shirts, there is also the opportunity to bid on a VIP Matchday Experience with the Huddersfield Town Chairman and Directors at the John Smith's Stadium.

To access the auction, please click here. Supporters will need to create a free account to place a bid and the auction has a provisional close date of 5.30pm on Tuesday 21 July.
If there is a bid on a particular lot in the last 15 minutes of the auction, the timer will reset back to 15 minutes and will continue to do so after every bid until there is no further interest.
Each shirt will come with a certificate of authenticity and will be shipped free of charge. There is also the option to choose from a number of framing options, should you wish.
It is important to note that purchasing a match worn shirt does not impose any health risks. Using unique UV-C technology, Match Worn are able to remove bacteria and DNA from the shirts whilst guaranteeing the conservation of grass stains, mud etc.
Please visit the FAQ page on matchwornshirt.com should you experience any issues or would like to know more about the auction.
You can also donate to the Town Foundation outside of the auction. Contributions of up to £10 can be made via our text donate service:
To donate £1, text HTF to 70201.
To donate £3, text HTF to 70331.
To donate £5, text HTF to 70970.
To donate £10, text HTF to 70191.
If you would like to donate more than £10, you can do so via our Just Giving page – https://www.justgiving.com/huddersfieldtownfoundation. Every donation is greatly appreciated and will be used to the good of the Kirklees community.
If you would like more information on the Town Foundation's Fundraising efforts, please contact Fundraising Executive Lisa Bottomley via lisa.bottomley@htafcfoundation.com or 07741671596.