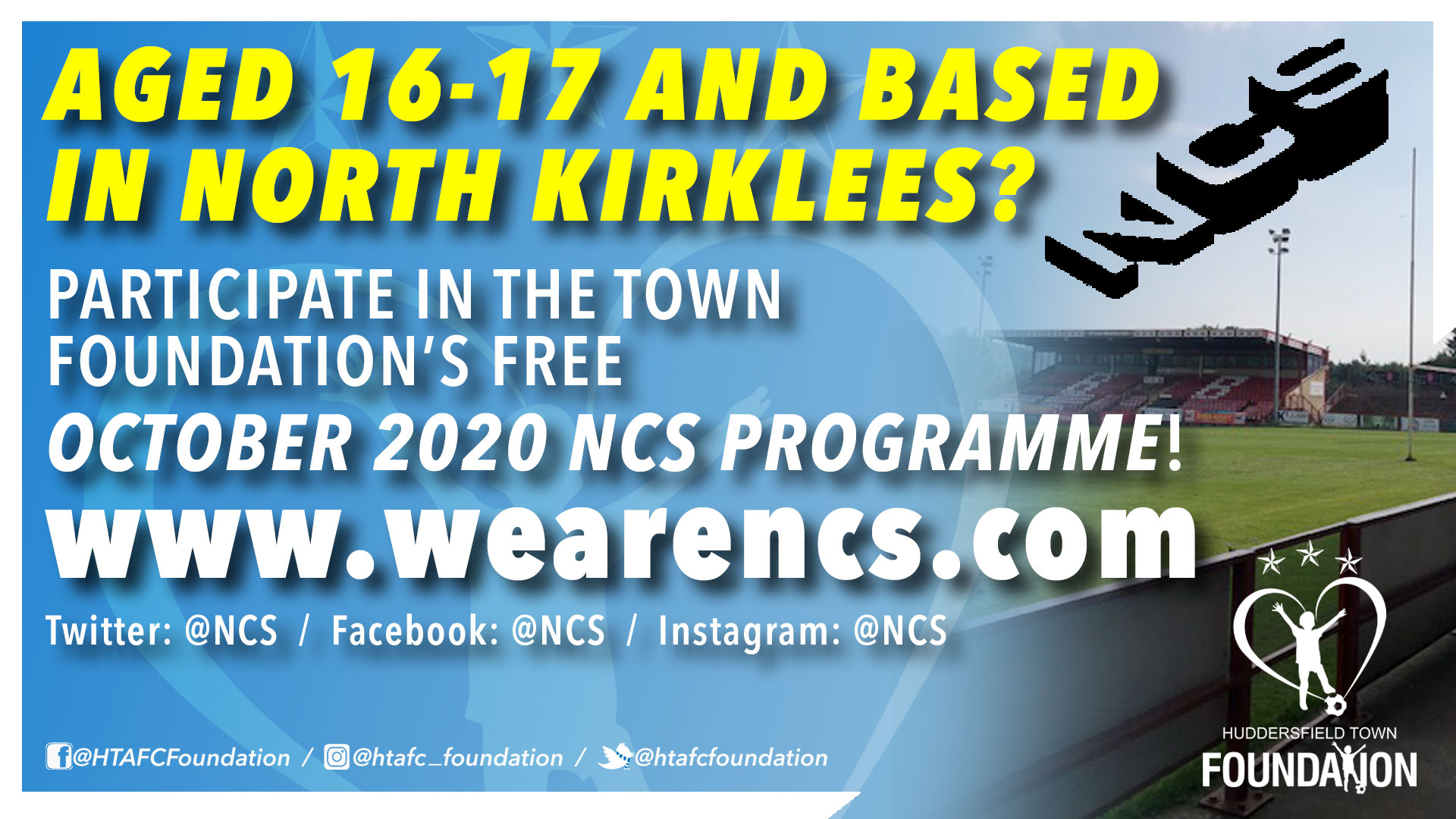 29 Sep

NCS 'MOVING FORWARD' PROGRAMME HEADING TO BATLEY IN OCTOBER!

The Huddersfield Town Foundation is delighted to announce details of its third NCS programme, set to be delivered in October Half Term 2020!

Following the successful digital delivery of its summer programme, October's 'Moving Forward' programme will be delivered in person at the Fox's Biscuits Stadium, home of Batley Bulldogs RLFC.

Open to 16-17-year olds based in North Kirklees, the scheme involves five days of delivery from Monday 26 October until Friday 30Â October, followed by the delivery of their social action projects.

Participants will complete a range of activities, including team building challenges, outdoor and adventure activities and tasks centred on improving mental wellbeing.

In addition, they will undertake workshops on confidence building, public speaking, enterprise skills and local democracy engagement.

Finally, the young people will also have the chance to complete a social action project to the benefit of a local cause they care about.

The Town Foundation would like thank Batley Sporting Charitable Trust for allowing us access to their facilities at the Fox's Biscuits Stadium – it is greatly appreciated by our staff and young people.

On the launch of the latest instalment of the programme, NCS Coordinator Evan Hall commented:

"We are excited to be delivering NCS 'Moving Forward' this Autumn – it's a fantastic opportunity for young people in our delivery region of North Kirklees to get involved at a brilliant location in Batley.

The programme we are bringing together has a range of activities to boost skills and confidence for young people and is completely free, which is a great incentive to sign up!"

To sign up to the Autumn programme, please visit the NCS website. There you will be asked to fill in your details, enabling the NCS team to assign you to the Town Foundation programme.

If you have any questions about the programme or need help in with the registration process, please contact Evan Hall on evan.hall@htafcfoundation.com or 07741 671 599 in the first instance.