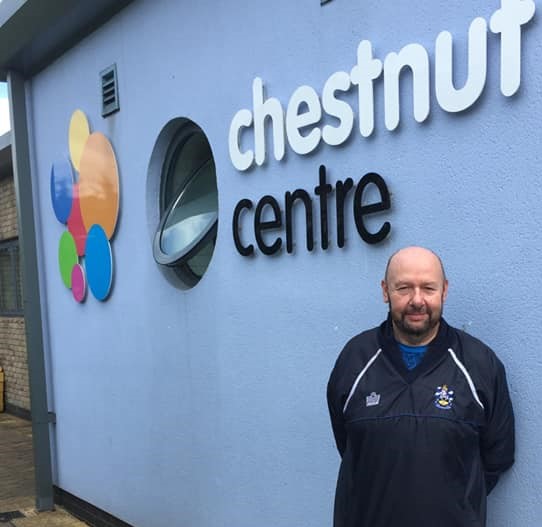 06 Oct

LOCAL VOLUNTEER SURPRISED BY FRAIZER CAMPBELL IN THANK YOU CALL

Since the start of lockdown, Huddersfield Town fan Barry Simmons has gone out of his way to support vulnerable members of his local community.

Working with Local Services 2 You out of the Chestnut Centre in Deighton, Barry has completed 170+ shops for other people, as well as completing numerous other jobs.

As part of the EFL's #DoOneThing message ahead of World Mental Health Day, Town Foundation Ambassador Fraizer Campbell joined a video call with the volunteer to learn more about his work.

Local Services 2 You are a group of community businesses that aim to create opportunities for local people in Deighton, Ashbrow and Huddersfield.

Their work has taken on extra significance since the start of COVID-19, with many people having to shield or living by themselves.

On the call, Barry explained that he wanted to give something back to the community, and this was a perfect way to do just that.

He spoke with Frazier, who himself grew up in Huddersfield and understands the importance of the community coming together, about how his work has now branched out further and the Mental Health benefits he takes from helping other people.

To watch the full video, featuring representatives from the Town Foundation and LS2Y, scroll down to the embedded tweet at the end of this article.

You can find out more about LS2Y by visiting their website – www.ls2y.co.uk.

Ahead of World Mental Health Day, which takes place on Saturday 10 October 2020, the Town Foundation is shining a light on the fantastic work charities are doing to combat the issue.

Keep an eye on our website and social media feeds for updates throughout the week commencing 5 October!
👏 Since the start of lockdown, #htafc fan Barry Simmons has spent much of his time volunteering with @ls2y_group.

😃 As a way of saying thank you, Town Foundation Ambassador and @htafc striker @FraizerCampbell surprised him on a call!#DoOneThing

👉 https://t.co/M3JVR5Xnp6 pic.twitter.com/Lw9ijpZigM

— Huddersfield Town Foundation (@htafcfoundation) October 6, 2020