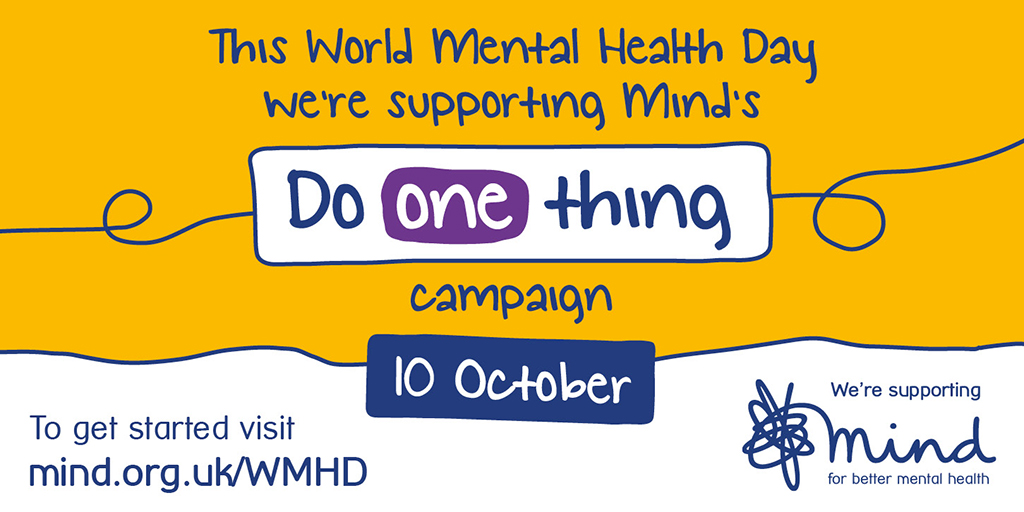 10 Oct

TOWN FOUNDATION CELEBRATES MENTAL HEALTH AWARENESS WEEK

Throughout the week commencing Monday 5 October 2020, Huddersfield Town and the Town Foundation have been raising awareness of the importance of Mental Health.

With World Mental Health Day taking place today, Saturday 10 October, Town have been working with the EFL and their charity partner MIND to encourage supporters to #DoOneThing.

It is always importance to talk about Mental Health, but the topic has taken on added significance given the effect of the COVID-19.

Latest research by MIND suggests that more than 60% of adults and over two thirds of young people felt their mental health deteriorated during the pandemic and lockdown.

At the start of the week, the Foundation shared details of the successful relaunch of its Mental Health Football sessions.

Taking place weekly at Leeds Road Sports Complex, the sessions see people from a range of backgrounds use football as a tool to develop friendships, confidence and physical fitness.

Anybody wishing to attend these sessions is more than welcome to do so – click here to find out more.

On Tuesday, we shared Town Foundation Ambassador Fraizer Campbell's video call with Town fan Barry Simmons.

Fraizer spoke to Barry, who since lockdown has completed more than 170 food shops for other local people, as part of the EFL'S 'do one thing' campaign.

The pair discussed Barry's motivations behind volunteering and the mental benefits it brings. You can watch the full video on our Twitter or Facebook pages.

Wednesday saw Andy's Man Club Huddersfield facilitator Neil Waine speak to the Town Foundation about their work.

The charity, which was founded in Halifax, has now grown to supporting roughly 1,000 men weekly across 28 clubs nationwide.

The full 10-minute conversation, which also covers how AMC have used money donated to them by Huddersfield Town, is available to watch on #HTTV.

Town defender Richard Stearman joined Town Foundation participants for an open discussion on his experiences with Mental Health on Thursday.

The group asked Stears about the unique pressures faced by professional athletes, the support networks available to them and how he and his team-mates were affected by lockdown.

Again, this chat is available to watch on the club's YouTube channel, and can be accessed by clicking here.

On Friday, Town Foundation staff members shared the one thing they do to maintain good mental health. You can check this out on our Twitter or Facebook page – be sure to let us know your one thing!

Huddersfield Town also shared the contact details and web addresses of Kirklees mental health services, should anybody feel they need support.

Click here to access this article.

The Town Foundation will also be sharing one final video on its social media channels, @htafcfoundation, on Sunday 11 October 2020 to round off the week!

Anybody wishing to get involved in the Town Foundation's work on this area should contact Health Manager Richard Martinson on richard.martinson@htafcfoundation.com or 07741 671 595.