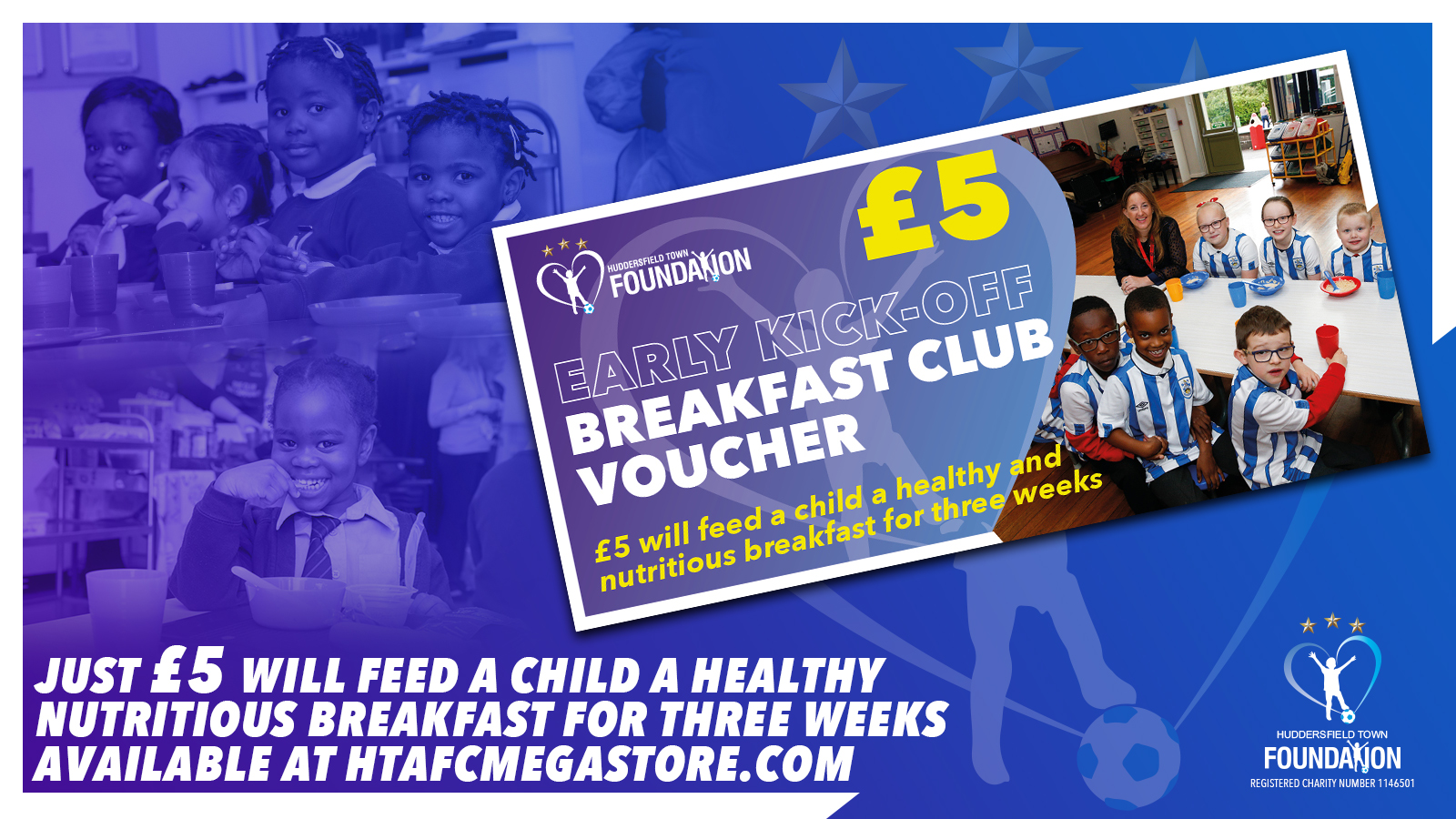 23 Oct

BREAKFAST CLUB VOUCHERS NOW AVAILABLE AT THE HTAFC MEGASTORE

Since its inception in 2012, the Huddersfield Town Foundation has provided more than 1.75 million free breakfasts to local school children via its 'Early Kick-Off' Breakfast Clubs.

Town supporters can now support this programme directly by purchasing a £5 Breakfast Club voucher from the HTAFC Megastore, either online or in person!

In total 41 Kirklees schools currently benefit from the programme, a figure which includes a mixture of Infant, Junior and Secondary schools.

Our Breakfast Clubs cost £140,000 per year to run, with all of that money having to be raised via a range of fundraising activities.

With COVID-19 forcing the postponement of a number of key fundraising events, including the Foundation Ball and Ladies Lunch, it is hoped this initiative will go some way to filling that gap.

Every penny raised from the sale of these vouchers will go towards providing a healthy, nutritious breakfast for a child in the local community.

Just £5 will enable us to provide a child with Breakfast every day they are in school for three weeks.

With Christmas around the corner the vouchers make a perfect gift, and they can be accessed on HTAFC's Online Megastore by clicking here.

Alternatively, supporters can purchase Breakfast Club Vouchers from the Stadium Terriers store, which is open 10am-4pm Tuesday to Friday and 9am-12pm on a Saturday.

By working together, we can make sure every child starts the day the right way at a #HTFBreakfastClub.

On the voucher scheme, Town Foundation Fundraising Executive Lisa Bottomley commented:

"We're delighted to be partnering with the club's retail team on this extremely important initiative.

Breakfast Clubs have been a staple of our offering since the Foundation was formed, and to see the impact they have on local school children is always extremely rewarding.

We will continue to do everything we can to raise awareness of this issue and we appreciate all the support we have received from the Huddersfield Town supporters over the years."

If you would like more information on the Town Foundation's Breakfast Club programme, please contact Fundraising Executive Lisa Bottomley on lisa.bottomley@htafcfoundation.com or 07741 671 596.