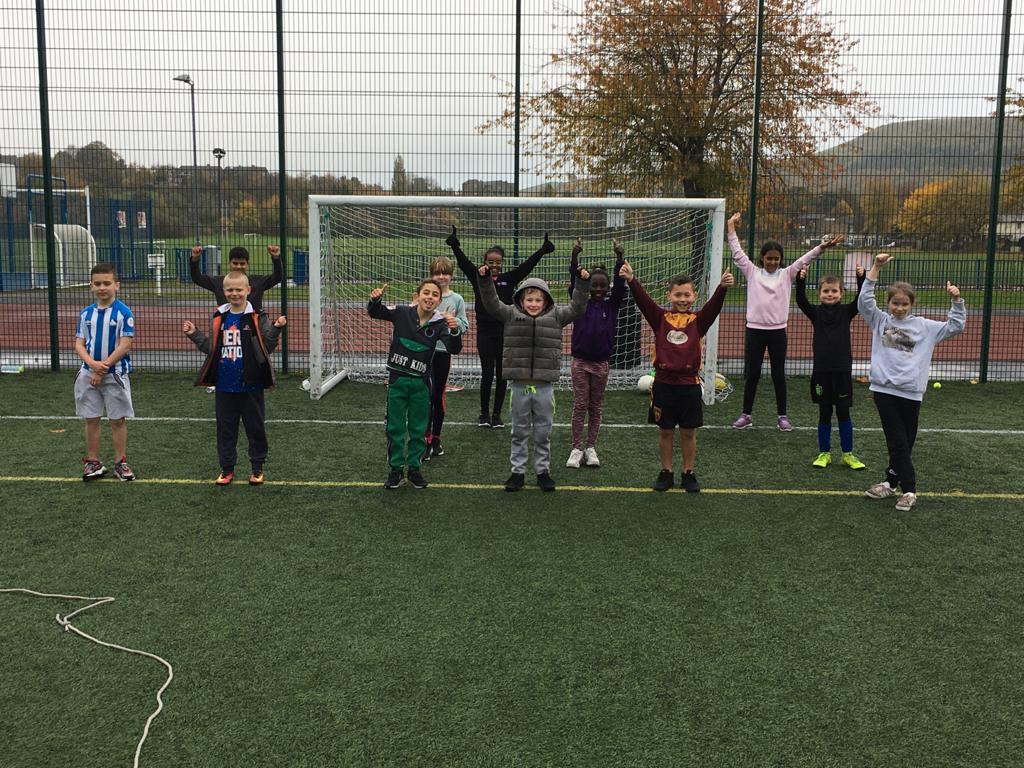 04 Nov

LEEDS ROAD CAMP SUPPORTED BY KIRKLEES COUNCIL'S OCTOBER HALF TERM ACTIVITY FUND

Every half term the Huddersfield Town Foundation runs Multi-Sport Camps for primary school children to try new activities and make new friends.

Last week's offering at Leeds Road Sports Complex was supplemented by 30 places for local school children, funded by Kirklees Council's October half term activity fund.

The Town Foundation worked with the ABC Community Hub, which serves the Ashbrow and Birkby wards, to identify children who would relish the opportunity to attend a half term sports camp.

Schools within the hub selected children between the ages of 5-11 to attend as a reward for their efforts within school, to support their physical and mental wellbeing or to simply have the opportunity to try something new.

The partnership with Kirklees Council has enabled the holiday camp to be truly inclusive, with un-funded places remaining available for booking so that children from across Kirklees could join in the fun.

The Town Foundation recognises the importance of providing safe, fun and engaging physical activities during the COVID-19 pandemic.

Our camps aim to support children not only with their physical and mental health, but to also inspire them to enjoy being physically active enough that it becomes a lifelong passion.

As well as developing their sports skills, children have also taken part in a workshop on the theme of Black History Month as we end a month of celebrations.

This workshop aimed to highlight the importance of this issue from a local, national and international perspective.

In addition to the three-day offering at Leeds Road, the Foundation also facilitated its first offering of a similar nature at Calderdale College in Halifax.

To register your interest for our December camps at either venue please contact Football Development Manager Gareth Davies on gareth.davies@htafcfoundation.com.

Cllr Carole Pattison, Kirklees Cabinet member for Learning, Aspiration and Communities, said:

"We were delighted to join up with the Huddersfield Town Foundation and fund extra places during October half-term.

"It's very important to us that children and young people can access holiday activities which are inclusive and support them to enjoy the best start in life."

Cllr Viv Kendrick, Cabinet member for Children, added:

"We have worked alongside many organisations to deliver half-term activities for children throughout Kirklees in a variety of settings.

"The COVID-19 pandemic has made it more vital than ever for children and families to be supported.

"Sport is a great way of helping children with their emotional wellbeing and physical fitness, and we hope the sessions will inspire a long-term passion."

Town Foundation Chief Executive Siobhan Atkinson commented:

"I'm delighted that the Foundation's application to receive funds from Kirklees Council was accepted.

"It really helps us to provide positive activities for young people at a time when they are greatly needed. We feel proud that the Council trusts us to deliver to our community."

For more information on the Town Foundation's sport provision in Kirklees and Calderdale, please contact Head of Education & Community Activity Katie Suttron on katie.suttron@htafcfoundation.com or 07947 564 331.