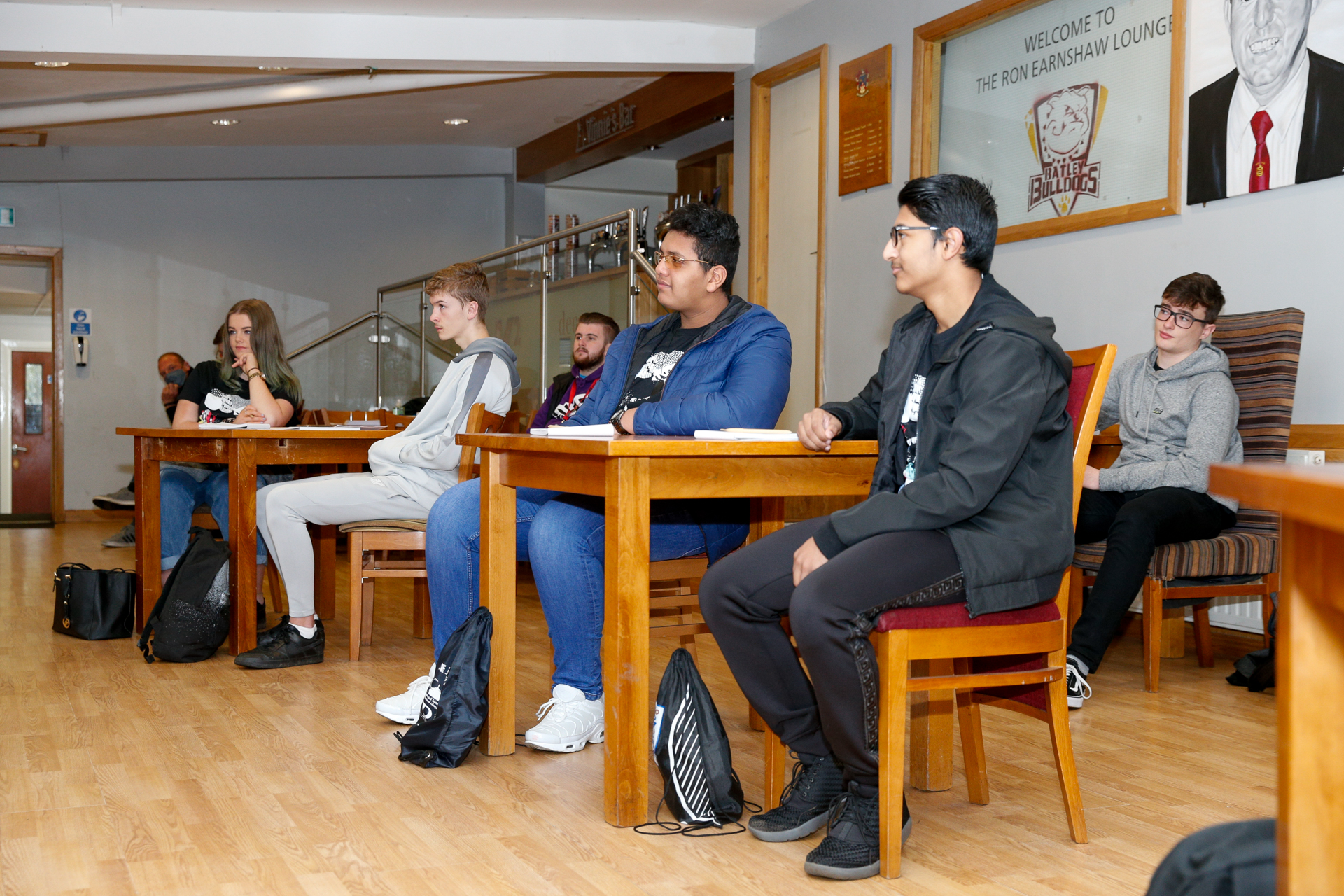 06 Nov

OCTOBER NCS PROGRAMME A HIT WITH BATLEY YOUNGSTERS AND TRACY BRABIN MP

In October Half Term the Huddersfield Town Foundation delivered National Citizen Service (NCS) to 16 and 17-year olds at the Fox's Biscuits Stadium in Batley.

As well as undertaking a range of activities and workshops, the young people enjoyed a visit from Tracy Brabin, the Labour MP for Batley & Spen.

NCS is a national programme that gives participants the opportunity to take part in challenges, make new friends and develop important skills for use in later life.

The week started off with a talk from Batley Bulldogs Head Coach Craig Lingard, who gave advice on building a successful team before joining in with team building activities.

Monday afternoon saw the young people hit the streets of Batley, visiting a variety of sites and learning more about their history.

There were a range of guest speakers throughout the programme, including Kirklees Electoral Services and Kirklees Democracy Commission, who spoke about the importance of young people influencing change.

Kim Leadbeater of the Jo Cox Foundation explained their work both locally and nationally, including the popular Great Get Together and More in Common events.

Participants also took part in a yoga, mental wellbeing and stress management dual-session facilitated by Yorkshire Yogi and the Town Foundation's Health Manager Richard Martinson.
A key part of NCS provision is the delivery of social action projects. The participants split into two teams, one choosing to support Batley Foodbank with a collection point and the other a Christmas shoebox initiative to provide an extra gift to people in need.
We were delighted to welcome Tracy Brabin, MP for Batley & Spen, for a Q&A session on her life and career – both as an actress and as a politician!
Tracy was impressed by the young people's attitude and the quality of questions asked – adding that she wishes them well for all of their future endeavours.
Danish, a student at Upper Batley High School, said of Tracy's session:
"Tracy showed us that if you follow a dream and have a will to succeed in life you can go far. She's inspired me to raise my voice to support my community, and stand up for my family and what I believe in. "
On the week as a whole, NCS Coordinator Evan Hall commented:
'We were delighted with the results of the activities and workshops we held on the Autumn NCS programme.
Our group of young people represented Batley, Dewsbury, Heckmondwike and Mirfield, and all formed great team bonds as the week progressed.
From public speaking workshops to hearing from the local MP and creating our own social action project, s it was a well-rounded experience. A few participants even said they wished it could have been longer than one week!"
The Town Foundation plans to deliver NCS again in Summer 2021. To register your interest in this programme, please contact Evan Hall on evan.hall@htafcfoundation.com or 07741 671 599.
😍 October half term saw young people from North Kirklees take part in @NCS!

📣 The #htafc Foundation welcomed a range of guest speakers, including @TracyBrabin, to @BatleyRLFC.

Find out more 👇

🎥 @SamTealeProduct | @Batleytrust | @EFLTrust

— Huddersfield Town Foundation (@htafcfoundation) November 6, 2020