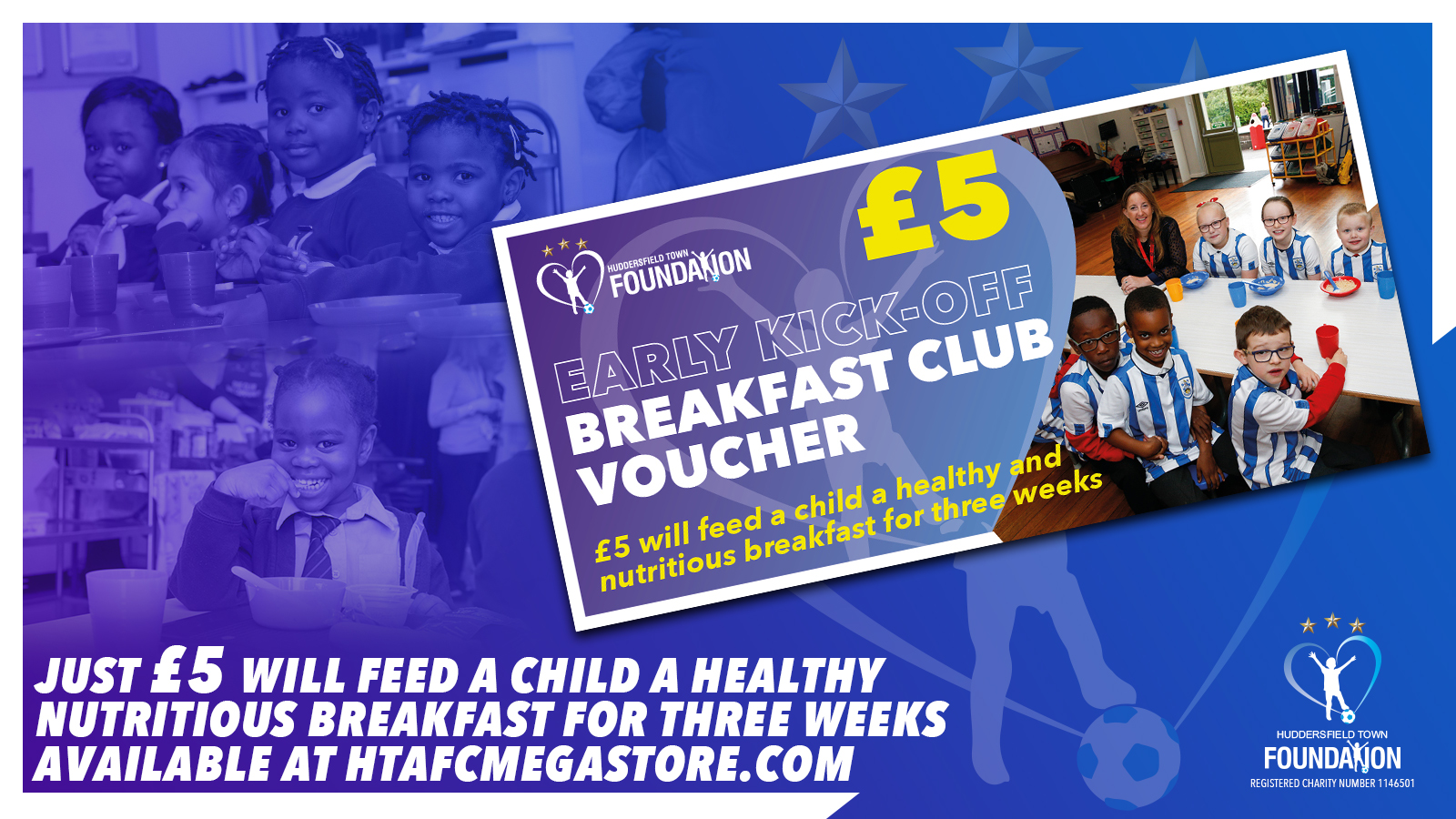 18 Nov

MORE THAN £750 RAISED IN BREAKFAST CLUB VOUCHER SALES!

The Huddersfield Town Foundation is delighted to announce that 158 Breakfast Club vouchers have been purchased by the club's supporters!

The voucher scheme, which was launched towards the end of October, gives donors an easy way of contributing to #HTFBreakfastClub, a staple of the Foundation's offering since inception in 2012.

Vouchers cost £5 and are available to purchase from the HTAFC Megastore, with all money raised from their sale going directly towards the funding of the project.

The amount raised so far, £790, will allow us to provide 2633 breakfasts to children in need over the coming weeks and months.

Since 2012 the Town Foundation has served more than 1.75 million free breakfasts to school children, with 41 Breakfast Clubs now in operation across the region.

With schools remaining open those clubs are still serving children every day, with the Town Foundation playing its part in ensuring they can kickstart a successful day of learning and activity.

On Breakfast Cub Voucher sales Town Foundation Fundraising Executive Lisa Bottomley commented:

"We're really grateful for the initial support received from the Huddersfield Town community on this scheme.

"Breakfast Club is arguably the project we are most well-known for and it's clear to see that the importance of it resonates with others.

"As a team we will continue to do our best to make the programme as good as it can be, and that it reaches those children most in need."

Vouchers can be purchased via the HTAFC Megastore, which is currently operating on an online sales only basis, by clicking here.

After purchasing you will receive an email to acknowledge and thank you for your donation.

For more information on #HTFBreakfastClub, please contact Lisa Bottomley on lisa.bottomley@htafcfoundation.com or 07741 671 596.