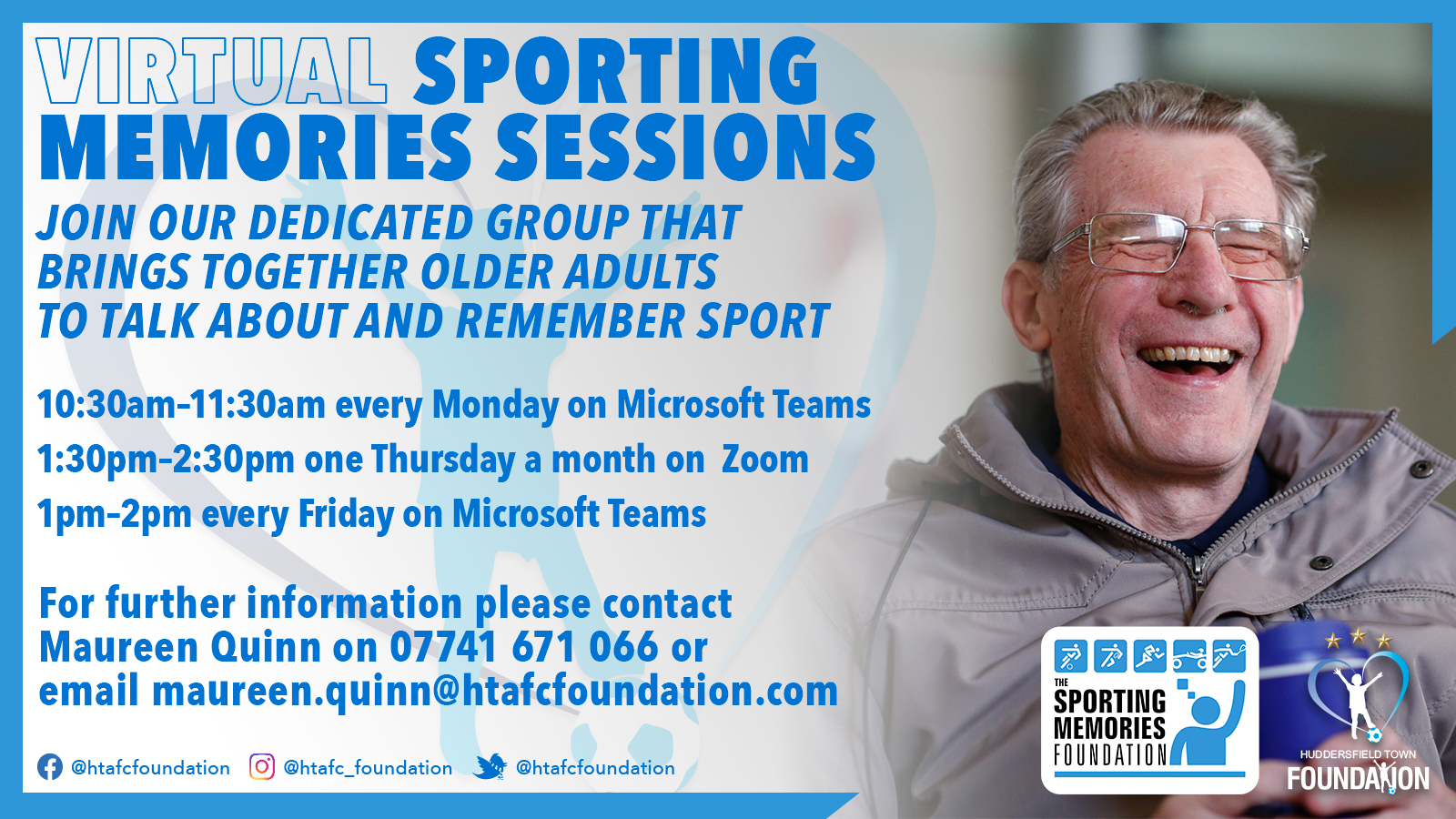 30 Dec

JOIN US FOR VIRTUAL SPORTING MEMORIES SESSIONS IN THE NEW YEAR!

The Huddersfield Town Foundation is delighted to be delivering its Sporting Memories sessions online!

The sessions, which include resources provided by the Sporting Memories Foundation, give participants the chance to reflect on past events and interact with other people.

2020 has been a tough year for many older adults, with the COVID-19 outbreak forcing them to shield at home.

In some cases this has led to people feeling isolated and has also affected their mental health, hence the re-introduction of Sporting Memories.

Originally held at Brian Jackson House in Huddersfield, the programme uses sport as a tool to engage people's minds and bodies.

This is done in a variety of ways, including but not limited to, the sharing of photos, watching videos and having discussions.

We will be holding sessions on several different days, with the aim of growing the group as far as we can. Times and dates are as follows:

Every Monday starting 11 January, 10:30am-11:30am on Microsoft Teams

Once a month on Thursdays 1:30pm-2:30pm on Zoom in partnership with Kirkwood Hospice.

Every Friday starting 8 January, 1-2pm on Microsoft Teams

We are delighted to announce that ex Huddersfield Town player and current club Ambassador Andy Booth will be joining the sessions on Monday 18 and Friday 22 January to discuss his career and more!

This programme is open to adults of any age, but the content is tailored towards the older generations.

We understand that some people may not feel comfortable joining online sessions, so are more than happy to discuss exactly how either of the online platforms work beforehand.

If you have any questions or would like to register your interest in any of the sessions, please contact Evan Hall on evan.hall@htafcfoundation.com or 07741 671066.